Jonah Hill and Channing Tatum 21 Jump Street Sydney Interview
Jonah Hill and Channing Tatum on Bringing 21 Jump Street Back For a New Audience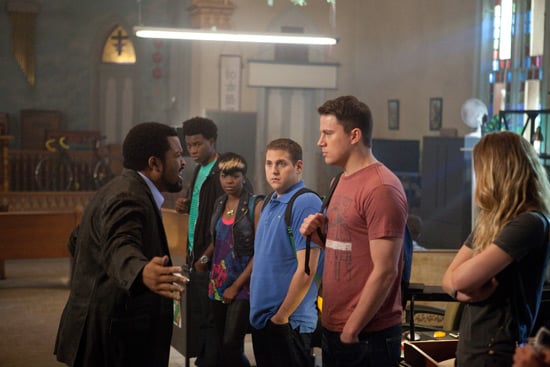 Jonah Hill and Channing Tatum pair up as one of Hollywood's unlikeliest duos in the upcoming release 21 Jump Street (out on Mar. 15), where they play two cops who go undercover at a local high school to bust a drug ring. The funny guys have spent the past few days in Sydney to kick off their promotion of the action-comedy, which is very loosely based on the '80s show starring Johnny Depp, and we had the chance to sit down with them for a chat yesterday afternoon. Here's a bit of what they said, with the full interview coming soon.
Jonah on whether there were any hesitations about rebooting 21 Jump Street: "When they approached me to do it five years ago, I rolled my eyes like anyone else would if you hear that a television show is being turned into a movie. You think it kind of seems like a corporate cash grab, to play on to something that was popular a long time ago. But we make that joke in the movie three minutes into the film, saying, like, 'We get what you're thinking, and we're gonna call it out before you can, and show you that it's a way better movie than you think you're about to see.'"
More from Jonah and Channing after the jump.
Jonah on casting Channing: "We pictured it would be me and an action star. That was kind of the idea — we wanted someone who was known for action movies, who was willing to play with that persona of being in a totally different film, and Channing is the best person working in that field. He was ballsy enough to take a leap of faith, to do something completely different. I love when any actor that has that kind of cojones to jump into something so foreign to them, is gonna be good, 'cos they're courageous."
On why Channing signed on:
Channing: "I only read 50 pages — he [Jonah] only sent me 50 pages!"
Jonah: "It didn't print out!"
Channing: "So he was like, 'Are you gonna say yes to 50 pages?' and I was like, 'I don't know, I wanna be in the Jonah Hill business! And that was it."
Photo courtesy of Sony Pictures