Joss Whedon Interview on Glee
4 Things to Expect From This Week's Episode of Glee
Thursday's episode of Glee will continue its reign of guest appearances with a visit from Neil Patrick Harris and as an added bonus, the episode was directed by Buffy/Dollhouse/Firefly creator Joss Whedon. (Whedon and Harris are old buddies thanks to Dr. Horrible). Personally, I can't wait to hear NPH show off those vocal chords again and Whedon jumped on a conference call with reporters to chat about what other surprises are in store. Here are a few details on the episode: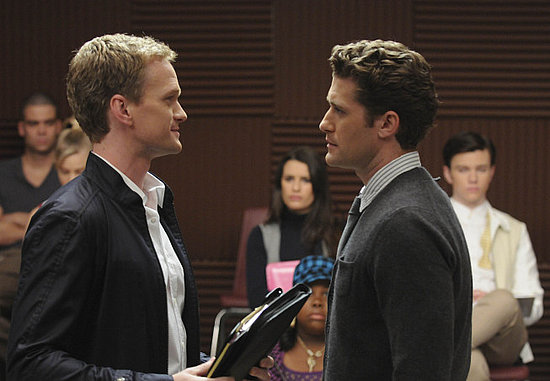 Neil Patrick Harris will play Bryan Ryan, Mr. Schue's nemesis. Whedon on directing the guys: I think you can see there's a little bit of a western element in there. That really came from the music but then it ended up in forming more of the show, I think, of how these guys face off against each other. Then ultimately, I don't have enormously grand designs about, "Well, he's a nemesis, so I need this and that." Bryan's not the most stable guy I ever saw, so it's just a question of tracking where he's going to go in any scene and making sure that it makes sense and that it doesn't feel random. That's as much Neil's job as well as mine.
To see what else is in store, just keep reading.
Keep readnig...
There will be a mall dance number. Whedon on directing it: Ultimately, it's a complicated, it's a big, big number, very gratifying, I think because we're seeing things we haven't seen before. I do pride myself on being the guy who knew we were actually going to be able to shoot it pretty quickly because once it gets dialed in, you pretty much just shoot them doing it. Because of the number of extras and the enormity of the number, people thought it was going to be much more of a bear than it actually was. We had two film cameras and four video cameras going the whole time, so the thing actually went pretty quickly. We were able to tack on another scene that day, which is great, because those schedules are a bear.
Neil Patrick Harris will rock a mullet. Whedon on NPH: Neil's great because he looked at the script. He was very excited. He had some very specific questions about even based on the vocal arrangements, what kind of guy am I supposed to be. So, it was a real collaboration. As for the mullet, there was definitely some talk about "Isn't that kind of the '80s, I mean, it's sort of the '90s, what's with the mullet?" And [Creator] Ryan [Murphy], without missing a beat said, "Achy Breaky Heart was '92." So, he's really on top of his game.
Artie finally gets a storyline. Whedon on the episode's subject matter: Well, the idea of the episode being "Dream On" really was let's take the things that are at the core of what people are. With Will, it's his desire to perform and what he may have given up. With Rachel, it's questions about who her real mother was and Artie obviously thinks about if he'll ever one day get out of the chair. These are very, very hard personal things that they don't necessarily talk about with other people. I was really lucky because there's a real fanatic coherence to the episode that really brought them all together on an emotional level. For me, it was just a question of making sure they dovetailed and didn't feel sort of random, but they all came together and you understood why these three stories were all in the same show.