Justin Lacko Love Island 2018 Elimination Interview
Love Island: Justin Thinks There's More to Eden and Erin That We're Not Seeing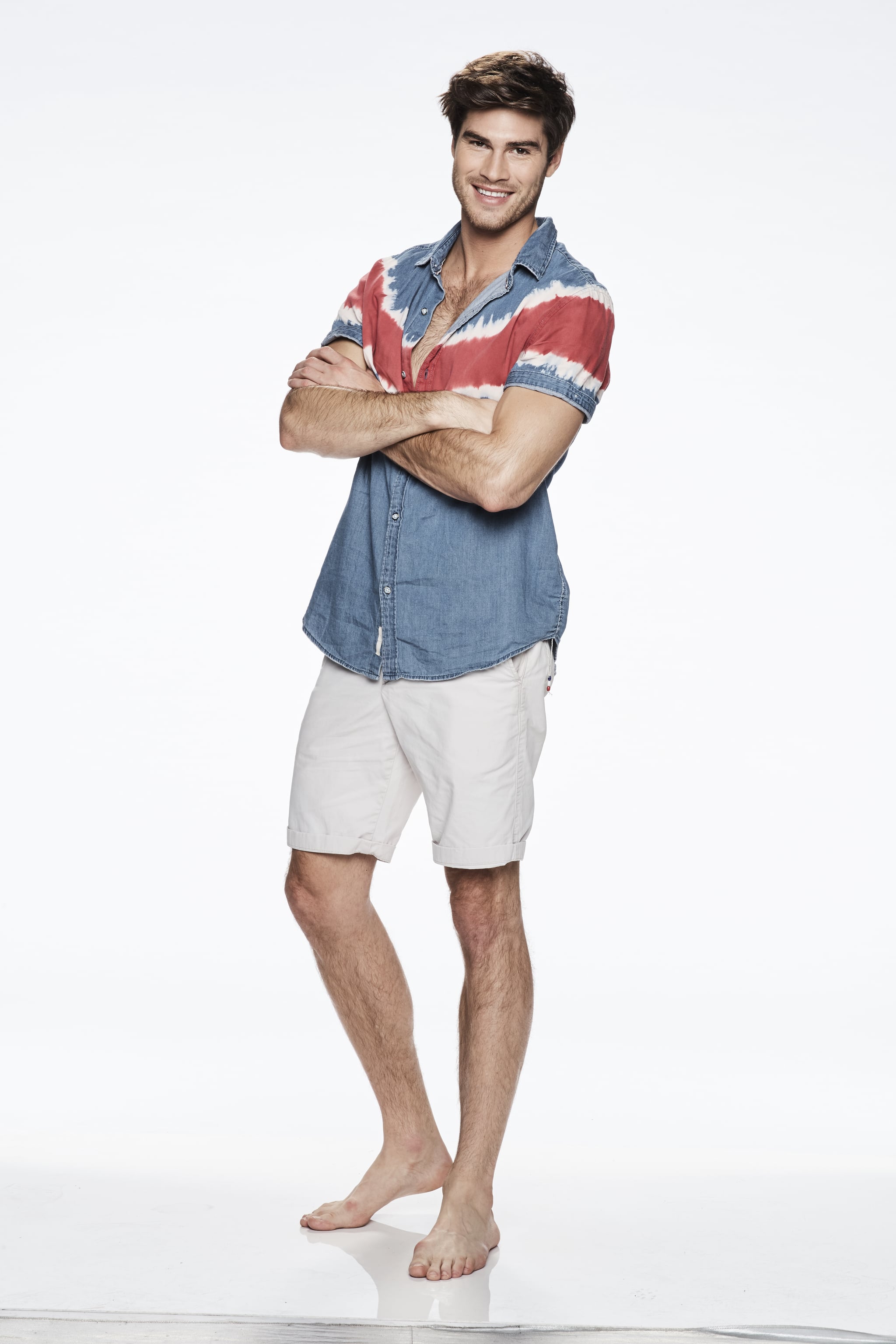 In a tense and emotional double elimination, Elias and Justin found themselves booted out of the Love Island Villa. The former, from receiving the lowest public votes, and the latter off the back of Eden's decision, who came out on top votes-wise.
After initially taking an interest in Millie and then Tayla, Justin failed to find any mutual connections on the show. As to why? Well, we're still asking ourselves that question, because looks aside, the 27-year-old is as sweet as they come, with some old-school, gentlemanly values to boot. Here's what he had to say about his time in the house, forging connections and what he thinks of the current couples.
POPSUGAR Australia: Hi Justin! How's it going?
Justin: I'm sad, but I'm OK! [Laughs]
PS: Are you sure?
Justin: Yeah, I'm OK. It's just sad to leave everybody. My time's up now and I wasn't supported by certain people in the Villa, but you've just got to take it and move on.
PS: Was it a shock?
Justin: Absolutely. It was a double dumping and it came down to Jaxon and I, and the decision was up to Eden, who had the most public votes. He got to choose one person to make the decision with him, which was Erin. They obviously felt like Jaxon deserved to be there more than me, which sucks. It was a shock and I just had to keep composed and keep it together. When you're in that situation, it's scary, it makes you feel nervous and you don't know how to deal. It's a horrible feeling.
PS: Why do you think they chose you to go?
Justin: Jaxon just came into the Villa and has been trying to connect with all the girls, it's just nothing's been reciprocated. I don't think any of the girls are interested in him at all. I don't know, I think the fact that Eden saw he was trying could've made him pick Jaxon. Eden and I also haven't met eye to eye, there was always a bit of tension between us both, because he was always the alpha in the house, and I'm kind of one too. I was quite liked by the girls and Eden was quite liked by the guys, but what can you do? He had the power and felt like Jaxon deserved to be there more. It just sucks because I put myself out there completely and really did want to find somebody, have the opportunity to stay there till the end with someone I really cared about and was falling for.
PS: A lot of people really wanted it to work out for you!
Justin: Oh my god, I wanted it to work out too! It is daunting to know that there are five girls in the Villa when you first walk in, and then the next day, there's a sixth girl, and you think, surely I can have something with one of these girls, otherwise what are we doing there? You go through a process of being set up with somebody who is compatible for you and then you question who it is, and the whole process is about finding which girl is for you. But it's not like the real world, that's for sure, it's hard. I'm really so grateful for it, still.
PS: Why do you think it didn't work out?
Justin: I walked in there and picked Millie based on her appearance. I thought that was the type of girl I'd be into, but she was a bit young, and a bit silly in how she held herself. And then I was a bit smitten with Tayla. I did talk to her and tell her I wanted to choose her, so there was a bit of excitement there, but it wasn't reciprocated. After that, you kind of feel a bit down. I was feeling a bit hopeless after Tayla said she didn't want to partner up with me. It was a bit of a sad feeling and I don't know if I can put myself out there so quickly again if I'm not 100 percent sure I like someone. It wasn't the fact that I didn't think no one had something for me, I may not have had enough for them either. It's a mutual thing, really. I did know that I went in there and did put myself out there, so I'm happy to know I was me and didn't beat around the bush. I wasn't in there to play any games or manipulate anyone.
PS: Well, you tried and it didn't work out, so it's fine!
Justin: Yeah well, how can five, six or seven girls walk in there and for one guy be able to connect with all of them and love them all? To me, that's a joke. All those women are completely different from one another, so I don't understand how a guy can fall in love with all those types. It doesn't make sense to me.
PS: What have you learnt about relationships from being on the show?
Justin: I don't think I've learnt anything about relationships. If anything, [it's reinforced] the key rules in life, which is to listen to somebody and get to know them. Don't take everything too seriously and definitely don't argue over the little things. Eden and Erin obviously had a really good start, but then they had a little bit of a hiccup in this last week. We were having a challenge where we had some balloons and some humping decisions [laughs], but I could see that either Erin or Eden got a bit funny, because they were on separate teams and there was a bit of cheekiness going on between Grant, Erin, Tayla and Eden. Obviously they're the ones coupled off, so they were probably just having a bit of tongue in cheek fun with one another, but Eden and Erin have been affected by it. It goes to show that you might look super strong in the house, but are they going to work out if the smallest thing can come between them? So yeah, definitely don't take things too seriously, trust your partner and be comfortable with their decisions.
PS: What do you think of all the couples?
Justin: At this stage, Grant and Tayla hands down, are my favourite. I love them both equally to bits. Grant is such a legend, he really is a good guy. He handles his emotions well, has a genuine heart and really does have strong feelings for Tayla. And it's reciprocated, she definitely really likes him. Eden and Erin, I'm not quite sure about that, I think we're not seeing the full story and there's a lot more to that relationship. I think in some form, it is them being show-ponies and showing off. They're a bit too comfortable thinking they have it all in their pocket, but I beg to differ, I think we've got to keep watching and maybe some things will unravel and their relationship will be tested. Cassidy and Dom, I don't know how things will go; Mac and Jaxon, that's not happening; Francoise and Elias, I think she was smitten over him but it wasn't reciprocated. Elias definitely wasn't there for love at all.
PS: How do want to approach dating now you're out of the Villa?
Justin: I think I'm going to lay low. This has been such an intense experience, and I really did have my hopes set on finding someone. I never thought in my wildest dreams I'd participate in an experience like this, I didn't really watch reality TV before but now I will, because I think Love Island is so much fun. I'm going to be as hooked as everyone else is, for sure. I'm going to keep doing me, work on myself and my career, and just wait for somebody. I'll be more open to things and taking chances, for sure.