Karl Stefanovic Wears Same Suit Every Day on Today Show
4 Things Karl Stefanovic Has Taught Us About Wearing the Same Suit Every Day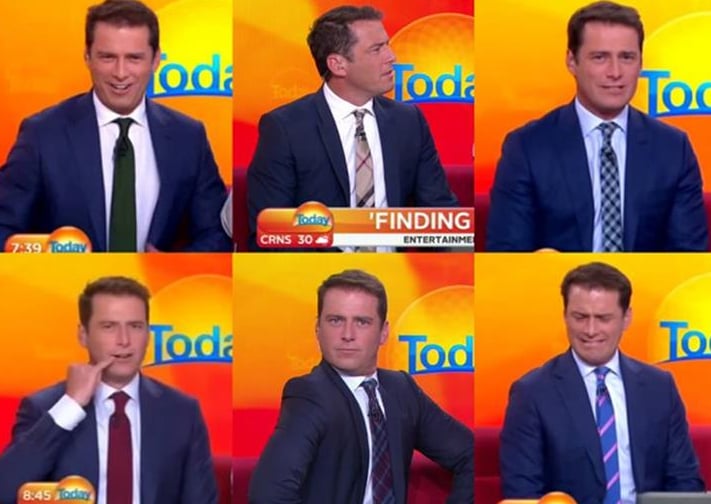 Over the weekend, Karl Stefanovic made headlines of his own when he revealed to Fairfax Media that he has been wearing the same suit almost every day on the set of his morning show Today as part of a sexism experiment. He wanted to see whether anyone would notice his repetitive style considering his co-host, Lisa Wilkinson, and good friend, Samantha Armytage (of rival show Sunrise), are criticised about what they wear daily. Here are the main takeaway points:
Men Can Wear Designer Knock-Offs
Karl described his navy suit as a "cheap Burberry knock-off." In contrast, female presenters are often expected to list everything they are wearing, right down to accessories. And very rarely is anything a designer knock-off.
Ties Become Important Accessories
When you're wearing the same suit every day, you must rely on your ties to bring a point of difference.
It Will Get Smelly
Karl said only Lisa and Today news reporter Sylvia Jeffreys knew he was wearing the same suit every day: "They often remark that it's getting a bit stinky. I'm hoping to get it into the dry cleaners at the end of the year."
Just 2clarify on the whole Karl-not-changing-his-suit-4-a-whole-year thing: he HAS been changing his tie, socks & presumably his undies tho.

— Lisa Wilkinson (@Lisa_Wilkinson) November 16, 2014
People Will Focus on Your Talent
"I'm judged on my interviews, my appalling sense of humour — on how I do my job, basically. Whereas women are quite often judged on what they're wearing or how their hair is . . . that's [what I wanted to test]," Karl told Fairfax Media of his experiment.
Since women are usually the subject of style polls, for fun we thought we'd turn the tables and feature Karl and his different ties: which one is his best out of this selection?