Karlie Verkerk MasterChef Australia 2017 Interview
Karlie on Winning MasterChef's First Ever Power Pin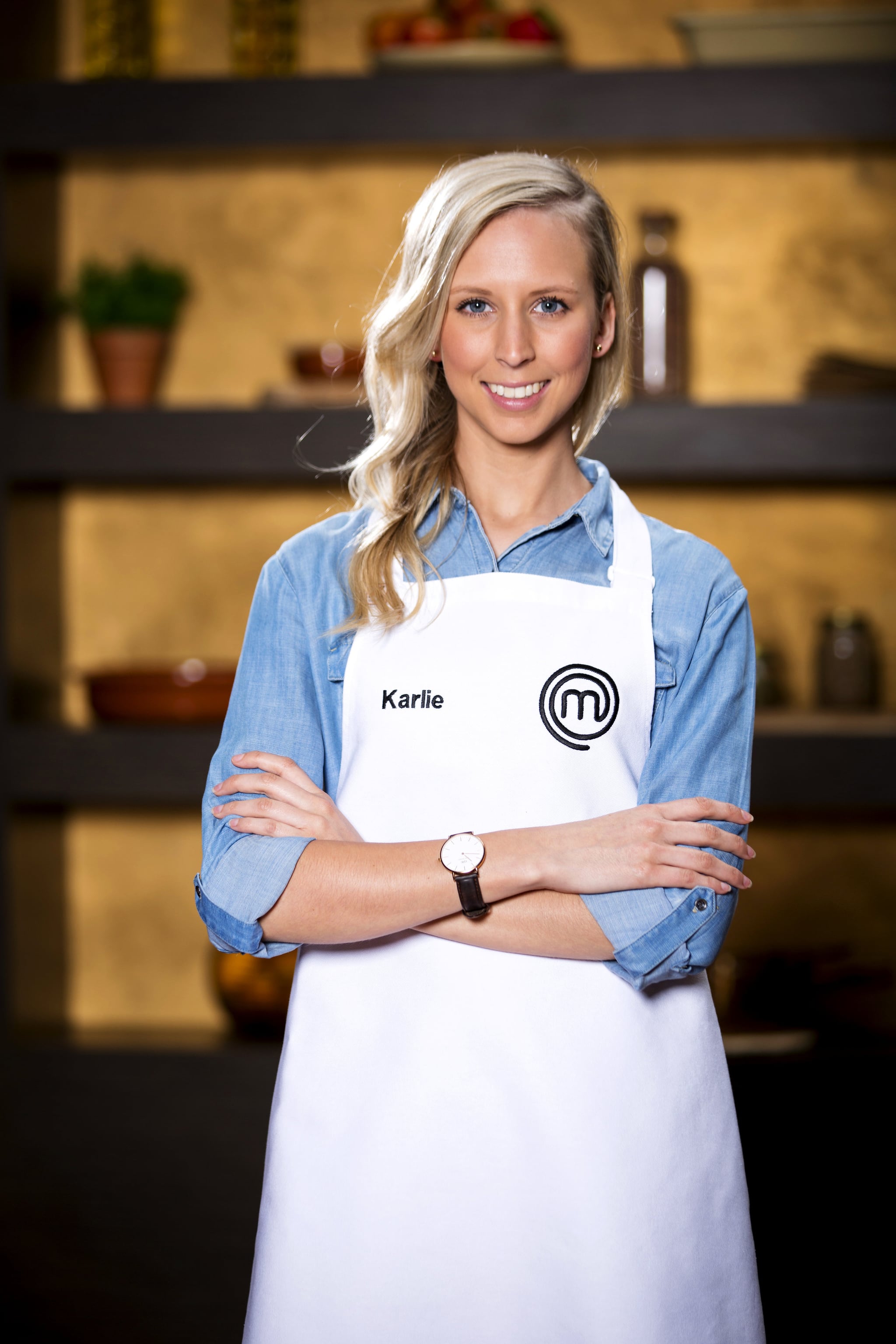 Just like risotto has come to be known as a MasterChef death dish (read: no one can ever get it right), there's a competition curse that no contestant who wins a MasterChef mystery box advantage can pull off a top three invention test dish. Except Karlie. On top of it all, she's also the proud winner of the show's first ever power pin, with the ability to add an extra 15 minutes onto any cook (a life-changer in the MasterChef environment). So, what's her secret, and how does having the power pin change the game? We got some time with the 26-year-old to find out.
POPSUGAR Australia: Congratulations on how far you've come in the competition — you're doing so well! How do you feel about your progress so far?
Karlie: Thank you! I'm really surprised at my progress so far, to be honest. I came into the competition without huge expectations, I was just going to take it day by day, so I think I've definitely surprised myself, and I'm very happy!
PS: You're really strong with Asian flavours. Tell us about how you came to love that type of cuisine so much and became so good at cooking it?
Karlie: I've always had a really strong appreciation for Asian flavours, that mainly started by travelling over to Thailand, China and Indonesia with my family when I was younger. Since then, my dad actually works in China and has been for about 15 years, so I was lucky enough to spend a bit of time over there with him. That's just sparked my love for the cuisine, and he cooks a lot of it himself, so that's definitely been the thing that's got me into it.
PS: What do you love about it?
Karlie: I love that it's really full of flavour, it's kind of a cuisine that you can throw a whole heap of things together and it still tastes amazing. It's refined in its own way, but not like French cuisine. I love the street food, where you're wandering down an alleyway, your feet take you somewhere and you don't quite know what you're getting, but it's always delicious.
PS: And you speak Mandarin, which is so impressive!
Karlie: Yeah, a little bit! [Laughs] I'm conversational in Mandarin, I've been learning the language for about four years. My dad speaks fluent Mandarin and I've always wanted to learn a language, so that sort of inspired me to take it on and try something different. I've learnt bits and pieces from him, but I've been taking classes and studying for about four to six hours a week. I don't learn from him, we just talk and always bicker about what word's what! He says not to learn from him because he's got bad habits. My studies have been put on hold while I'm away, but as soon as I get back home I'll start them again. The longer time you take off learning something like that, it's really difficult to get back into the swing of things.
PS: You've had a pretty strong past couple of weeks in the competition, how have you managed to keep the momentum up?
Karlie: Oh my gosh, to be honest, I don't know what the secret is — there's no secret! [Laughs] It's been really difficult. Like I said before, taking it day by day really helps to mentally prepare yourself going into the kitchen. Whatever happened yesterday, you have to try not to think about it — you have to go into the kitchen with a fresh mindset and just think, today's a new day. That's the main thing that has gotten me to this point, I don't know the secret to my success so far! I learnt early on that if you cook what you like to eat and what you usually like to cook at home for the people that you love, you'll usually do pretty well.
PS: You also won the first ever power pin. How does that feel and what's your strategy with using it?
Karlie: It's amazing. Walking into the kitchen that day and hearing there was a power pin up for grabs, I just thought that'd be amazing to get, and I ended up leaving that day with it. It's such a big advantage and considering it's the first one ever, I was so happy to get it. My strategy with using it is to hold onto it for as long as possible and not be tempted to use it if I'm really not in trouble. I want to use it when I'm in a really sticky situation. Not just using it at a whim, I want to use it when I'm maybe in the possibility of getting in the bottom three or not having a great cook. It's an extra safety net that I'm really happy to have.
PS: The judges have praised you for your inventiveness and creativity, what goes through your mind when you're given a brief and you need to conceptualise a dish?
Karlie: I think it's just finding the connection between what you eat and what you cook everyday, but putting a really interesting twist on it. With the deconstructed sushi roll, I thought, I eat a lot of sushi — everybody does — and I was thinking about how to use the elements that feature in it in a different way. To be honest, it's a lot of trial and error, sometimes you do things in the kitchen that don't work out how you expect, and sometimes they do.
PS: What's been your favourite moment of the competition so far?
Karlie: Winning the power pin definitely has to be a highlight, and also meeting Yotam Ottolenghi. I've got most of his books and really love his style of cooking as well, and he's the nicest guy! You see him on TV and think, oh, is he really that nice? But in person, he's the loveliest, most genuine person, and meeting him was definitely a stand-out.
PS: Who do you see as your biggest competition?
Karlie: I'd have to say Sarah. She's all about flavour and she's so honest with her cooking, and she's really talented, too. We're really great friends in the house, which is really hard sometimes. She loves cooking really bold flavours and so do I, so she's definitely my biggest competition.