Kathryn Bigelow Talking Best Director, Best Picture Wins at 2010 Oscars
Kathryn Bigelow Wins Big and Fields Questions on Directing, History, and Ex James Cameron in Press Room
Kathryn Bigelow made history yesterday at the Oscars, where she was the first female ever to win best director! Her movie The Hurt Locker also took home the night's top prize, Best Picture. In the press room she politely fielded the inevitable questions about her ex James Cameron, but also what it means to be the inaugural woman with a little gold man for directing. Here's some press room highlights: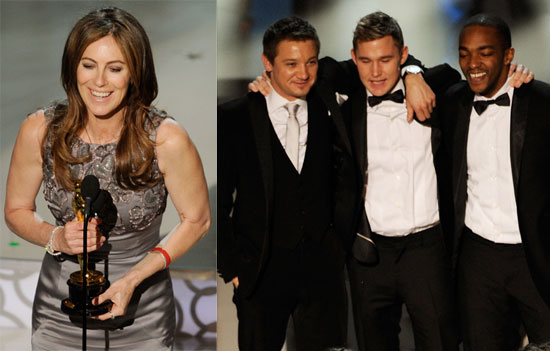 On what it means to be the first female best director Oscar winner: "Well, first of all, I hope I'm the first of many. Of course, I'd love to just think of myself as a filmmaker, and I long for the day when a modifier can be a moot point. But I'm ever grateful if I can inspire some young, intrepid, tenacious male or female filmmaker and have them feel that the impossible is possible and never give up on your dream."
On dreaming of The Hurt Locker's win: "Well, I don't think I ever dared to hope, but I will say that what was extraordinary was the love from the critical community, and that was like wind in the sails, and it just created a momentum that would not stop. And I hope somehow the critical community could know how much we appreciate it and I appreciate it. Thank you."
On competing against ex James Cameron: "What it means. Well, first of all, I think he's an extraordinary filmmaker. I have to say, all the nominees are phenomenal, powerful, talented filmmakers and what an honour. And for me, how humbling it was for me to be in that company, in that conversation. So I have to say, for me, it's a humbling experience . . . I think Jim is very inspiring, and I think he inspires filmmakers around the world, and for that I think I can speak for all of them. We're quite grateful."
Keep reading
Advice for aspiring filmmakers: "I would say, and I don't mean it to sound simple, but just to never give up on your dream. I mean, I've been making films for a while—about 30 years. So when I say, 'Don't give up on your dream,' I mean it quite literally. Be tenacious, but work on the stories you truly, truly believe in, because then no obstacle is too great."
On this year's competition: "This has been a really, really extraordinary year, I think for content and content-driven material that is diverse and rich and complex and exciting. Every one of those 10 nominated movies I personally find really powerful and extraordinary. So it's a good year, in my opinion."