Katy Perry Topless — Full Photoshoot From Esquire UK Magazine August 2010 2010-07-05 17:30:37
Katy Perry Takes Her Top Off and Talks Russell in Esquire
Katy Perry is topless on the cover of August's issue of Esquire UK and shows off her gym-honed body inside the mag too. She talks about her image, her Christian upbringing and of course her fiancé Russell Brand. Here are some extracts from her interview: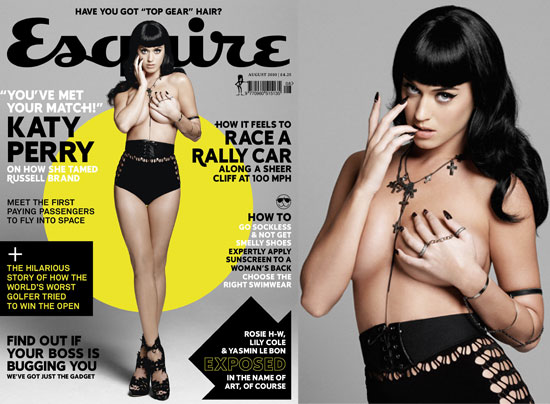 On her image: "I feel like I wanna be somewhat of a girl-next-door, but not as f**kin' sappy. People's attention span is so quick these days that if you don't burn an image into their brain, it will be covered up with something else."
On her childhood: "I grew up listening to only Christian music. MTV was blocked on the television. When I went roller-skating, I would go on Christian night: Tuesday night. It was just a part of growing up—parents are strict because they don't want you to turn into Charles Manson. I was always very manipulative as a kid—I got my way. Which has helped my whole life."
On Russell Brand: "He was a heroin addict and now he's not. He was addicted to all kinds of things, now he's not. And he used to basically be a professional prostitute. Now he's not. So he's an extremist, which can be good and bad. I always needed someone stronger than me. And I am, like, a f**king strong elephant of a woman. I say that hopefully in the humblest way I can. When we have an argument he knows I'm not going to throw m hands up and say 'OK, you win.' Let's get into it. Let's start debating. Let's wrestle, Russell."
Keep reading . . .
On meeting her match: "One night I picked him up from a meeting. It was just me; I was in my gym clothes, I walked into the meeting—he had his stylist, his seamstress, his PR person, hair, make-up. I'm like 'Oh my God, I am you. You are me' Two divas in one house. It's like splitting the atom: it shouldn't happen."
Pictures taken by Yu Tsai, used courtesy of Esquire