Khal Drogo Jason Momoa Instagram Pic of Khaleesi
Khal Drogo Backs Up His Khaleesi on That Final Epic Scene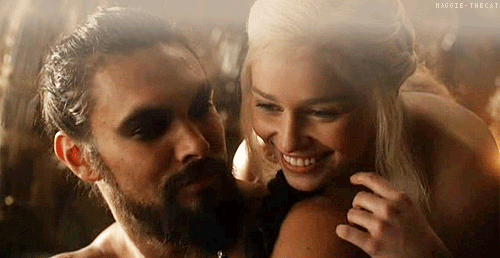 This post contains season 6 GoT spoilers
The Game of Thrones friend romance between Dothraki top dog Khal Drogo (Jason Momoa) and his Khaleesi, Daenerys Targaryen (Emilia Clarke), first of her name (Mother of Dragons, The Unburnt . . . yada yada) continues long after his demise on the show.
Momoa showed his support for his onscreen dragon mama by snapping several reaction pics to that epic season 6 finale. You know the one where (spoilers) Dany is leading a fleet of ships to Westeros like the kween she is to reclaim what is rightfully hers.

Momoa posted this snap to Instagram with the caption, "The world is yours baby kill 'em all."
Oh and Momoa has no time for Dany's current romantic entanglements. I mean, you can't compete with true love, right? He also shared a snap of the scene where she tells her lover Daario Naharis (Michiel Huisman) that he can't come to Westeros because she doesn't have time for distractions right now (get it, girl) with the caption "DROGO says f—k that punk."
Still can't get enough of Momoa's GoT fan boy moments? Scroll through the 22 times he showed his support for his former cast mates.
Oh and the time that Emilia and Jason hung out together in Paris.
Need more GoT? We have everything you need to know right here.