Khanh Ong MasterChef 2018 Elimination Interview
What Khanh Found the Hardest About Being on MasterChef Will Make You LOL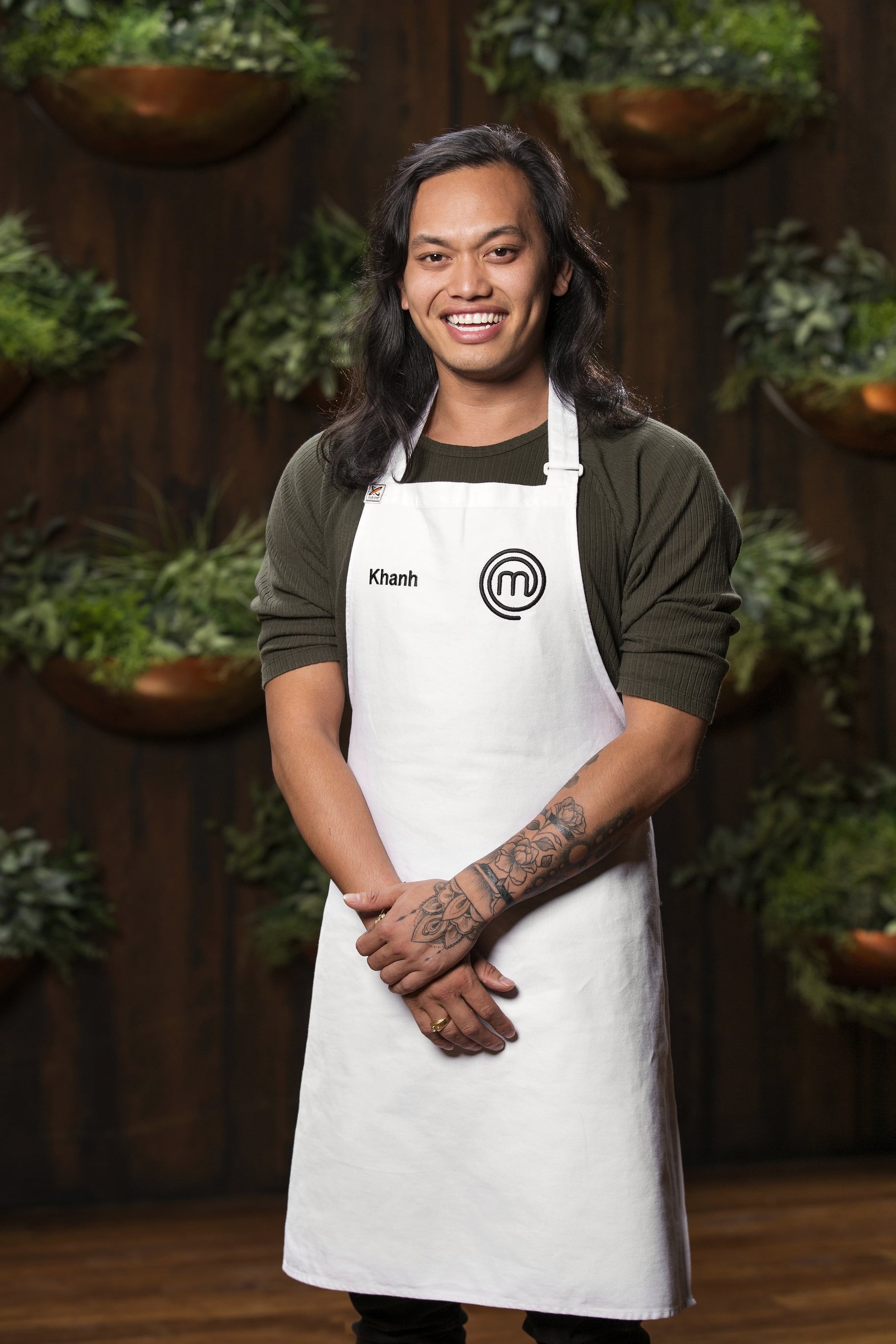 Sassy, determined and full of heart, Melbourne DJ Khanh has been one of this year's MasterChef favourites. But in an epic semi-final challenge that saw him battle against Ben and Sashi to cook up two courses for 20 MasterChef alumni, errors in both his main and dessert cost him a spot in the Grand Final.
This is definitely not the last we'll be seeing of him though. He's currently working on a cookbook featuring traditional and not-so-traditional Vietnamese recipes, a line of Vietnamese sauces and dressings, and shared that we'll be seeing him on TV again *very* soon. Until then, here's what he had to say about taking risks, finding his identity as a cook, and the hardest part about being on the show. Bless your heart, Khanh.
POPSUGAR Australia: I am actually so gutted to see you go!
Khanh: [Laughs] That's so sweet! No, it's been good. It's a non-issue, it's been such a great run. It's crazy, I didn't think I was going to make top 24, let alone top 10, top five, and now, top three. So it's been awesome.
PS: How did you find that semi-final cook?
Khanh: That cook was hectic! It was a lot of fun and I loved it, but at the same time, I was like, oh my gosh! I felt that kitchen was a bit jinxed for me, when things weren't going right, I was like, oh no . . .
PS: Is it one of those moments where when one thing goes bad, everything else does?
Khanh: Yeah, with that cook that day, I was just like, do you know what? Ignore it, move on. That's kind of how I deal with life, so I was like, OK, things are happening, just let it go, let's continue and try and get this done.
PS: Did you expect to leave?
Khanh: It definitely wasn't my best cook, and I knew I could've done better. But then again, you don't really know how anyone else went. You can't look over, but it's all about taste at the end of the day, so I was keeping my fingers crossed hoping I'd just make it through. Obviously I didn't, but it's fine!
PS: Was a part of you really disappointed in yourself for being so close to the final, or are you happy with how you did?
Khanh: Well the goal was always to make the top five, and then everything after that, I was like whoa, I can't believe that happened. When I was the first through to the semis, I was like, oh my god, that's epic. So no, there wasn't really any disappointment. I'm the type of person that thinks about like the pass and the universe. This is what was meant to happen, this was my pass, I'll just roll with it and see what happens next.
PS: How did you find finals week?
Khanh: I really enjoyed finals week. I actually enjoyed pretty much everything after Adelaide. I loved every moment of it, I felt really comfortable in the kitchen, I felt like the food I was producing was food that the judges liked, so I just felt really happy for that whole run from Adelaide onwards.
PS: Do you feel like you found your feet more?
Khanh: I feel like in Adelaide, I kind of showed the judges what I was about. Before that, they kind of struggled with my identity and point of view as a cook. From Adelaide onwards, they figured out what I liked to cook and that made me just continue on in that direction.
PS: How would you describe your identity as a cook?
Khanh: On the show, everyone kind of thought I just cooked Vietnamese food. I do, and I use a lot of Vietnamese influences and flavours, but technique-wise, I'm all French. So it's Vietnamese flavours, French techniques, and I use a lot of Australian ingredients. I don't know if it was touched on a lot, but I'm pretty sure every second dish I made had natives in it. I was heavy on the lemon myrtle, pepper berries, wallaby . . . I really love the native ingredients we have here, because we actually don't get a chance to always come across them outside of the MasterChef kitchen. So when I saw them, I was like, oh my god.
PS: Do you think you're better skilled at sweet or savoury?
Khanh: 100 percent savoury. For the viewers at home, they would've seen that I did a lot of sweets towards the end, and that was my way of proving to the judges that I was versatile. I didn't really do many sweets, I did I think two until top eight or nine, and after that, I was trying to prove, you know what? I can do sweets, I can do this, I need you to know I'm versatile!
PS: What have you taken away from MasterChef?
Khanh: I had a couple of moments in MasterChef that really affirmed that this was what I wanted to do for the rest of my life: I wanted to be in food. I had a few little breakdowns during the show and it all had to do with that! [Laughs] But you're like, this means a lot to me. I want to be in food, I want the judges to like my food, I'm putting dishes up that are going to be critiqued and going to be pretty shattered if the judges don't like it. MasterChef has really confirmed that I really do want to work in food.
PS: And that you have what it takes!
Khanh: Yeah, it's a nice little boost of confidence.
PS: Apart from being away from family and friends, what was the hardest part about being on the show?
Khanh: OK, having no memes. I know that's a ridiculous thing to say! [Laughs] But how often are you on your phone scrolling, you don't even realise you're looking at memes and you're like, haha, that's funny? I just didn't have that, so I was like, um, where am I getting all the fun stuff? That's my outlet, I look through my phone and laugh at things. My friends actually printed me memes and sent them to me, but that was literally the hardest thing.
PS: What was your favourite one that kept you going?
Khanh: They're all so different, but oh, the horoscope ones! I'm big on spirituality, so I get sent all of these ones about horoscopes, like, 'this is you to a tee because you're a Scorpio and we're like passionate.' It's insane, so stuff like that, it's fun. I think if anyone follows me on my socials, I use a lot of the content from the show to make my own memes, but I love it! [Laughs]
PS: Do you have a favourite moment from the show?
Khanh: My highlight would have to be the Vue du Monde challenge and also the week in Adelaide when I made the Vegemite dish. I literally had no idea what I was doing throughout that Vegemite challenge, I was like, OK, I'm going to try this, it could work, it could not, and to get such a great result out of it, I was over the moon. The same with Vue du Monde. It's one of my favourite restaurants in Australia and Shannon's one of my favourite chefs, I was literally star-struck every time he walked through the kitchen. When I won that challenge and got to work in his kitchen, I was like, um, what just happened?!
PS: Apart from reaffirming your decision to be in food, what has the show meant to you personally?
Khanh: You apply for MasterChef thinking you're not going to get in, and once you get in, you think you're not going to make it very far. And you take this risk by applying for it: I was very comfortable in my job, I was happy with what I was doing, I was happy with the direction of my career. So you take a leap of faith when you apply, and it just paid off. It made me think, you know what? I can take more risks now, because everything will always be OK. You just need to take the dive, and it'll be fine. That's something the show's taught me, that it's OK to take a risk sometimes, and being out of your comfort zone is literally how you grow.
PS: Did you expect the grand finalists to be who they were?
Khanh: From the beginning, I thought it was going to be Kristin and Reece. As the show progressed, I thought Sashi was definitely in with a chance, so was Jess, and by around the week before finals, I was like, Ben's smashing this. He's grown so much in a two to three week period, so it totally makes sense. The show's about your growth as well.
PS: What are you up to now?
Khanh: I've got a couple of projects. I'm working on a cookbook, but I've got a really exciting thing where I might be on TV soon! I can't say anything more, but I'm working with the production company now. I'm really exciting now!
PS: Are you still DJ-ing?
Khanh: Kind of. I'm really selective about the gigs I do take. I don't want to get comfortable again with it, it's more of an income until I get things set. That's my side thing, I might do a gig every month just to keep it going. I'm not going to get rid of it because it's a part of my life and my food dream. The venue I want to open one day will be a bar and a restaurant, and it'll be heavily influenced by music and entertainment.