Kim and Suong Interview My Kitchen Rules 2018
Kim and Suong on How MKR Made Them Stronger Women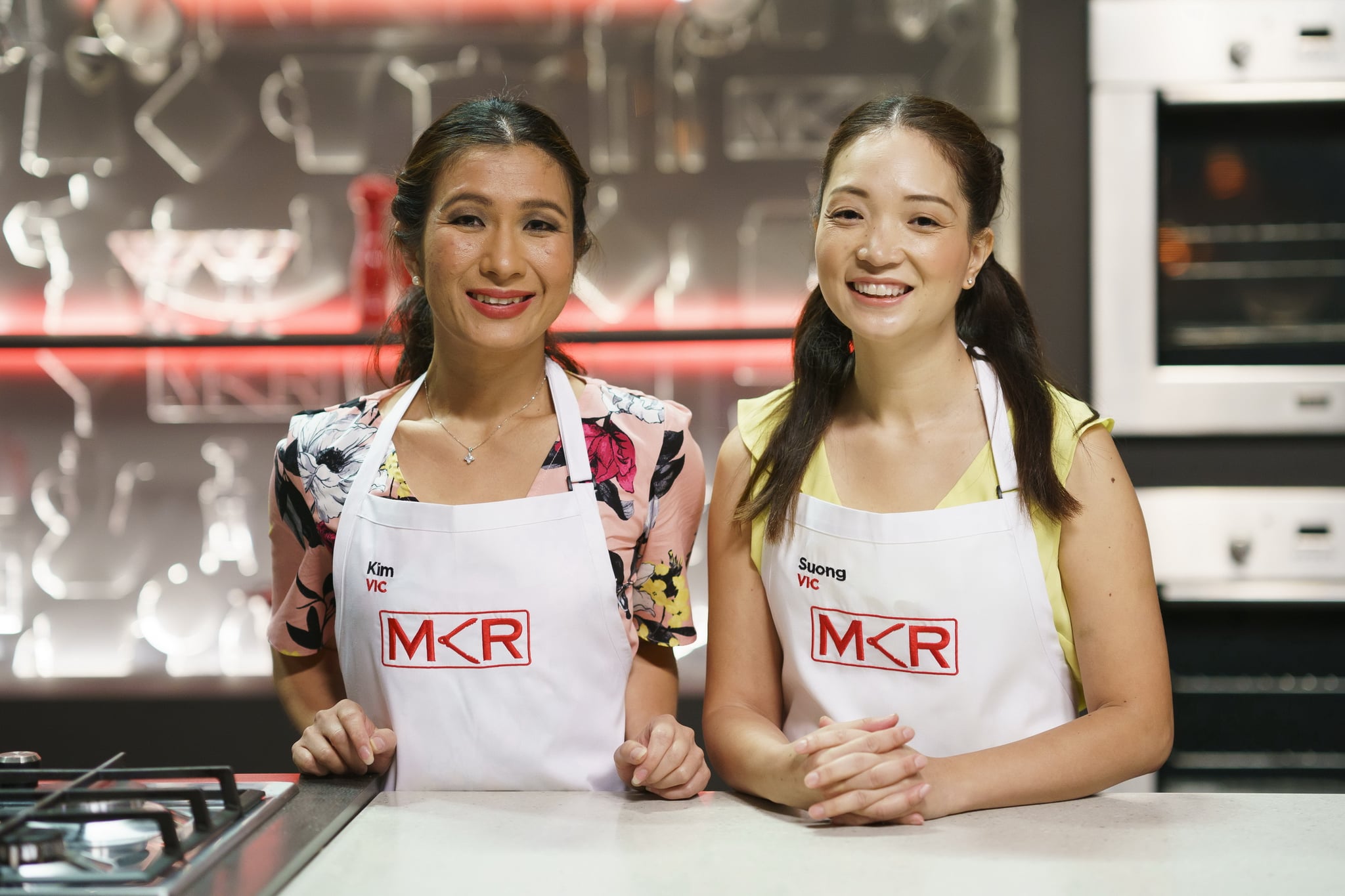 Melbourne mothers Kim and Suong have been the humble duo who could this season on My Kitchen Rules, cooking with their hearts and putting Vietnamese firmly on the culinary map. While their impressive five-course menu in the grand finale wasn't quite enough to beat Alex and Emily's, it's no secret that these ladies know their stuff — and the good news is, this isn't going to be the last we see of them.
More than renewing their passion for food though, MKR has also taught them something far more valuable: a new-found inner strength both as women and mothers. Off the back of the grand final, we caught up with the duo to chat about their experience on the show, future plans and valuable lessons learnt along the way.
POPSUGAR Australia: How was the grand final experience for you as a whole?
Kim: Intense, crazy, bizarre . . . It was amazing.
Suong: We actually didn't have time to think about much else because we were cooking! We were trying to work, work and work as much as we could, and now looking back, it's like, wow, look what we achieved.
PS: Were you happy with everything you plated up?
Kim: Yeah, I mean, we almost ran out of time for everything! [Laughs] But that's just because of our cuisine, it takes a lot of prep and cooking time. We ended up running out of time for plating, but we tried our best. We never gave up and made it as pretty as we could. And remember, we're not professional chefs, we're only home cooks! But I think watching last night, we did well, all things considered.
PS: Was there anything you feel like you could've done differently?
Kim: Look, if we could've had a bit more time to make it look pretty, I would've asked for that. But apart from that, we did so well with the flavours, the recipes, the ingredients, I couldn't ask for more. And maybe a bit more time to work on the dessert? I would've given us an extra 15 minutes to get that perfect.
PS: How did you guys end up resolving that argument about the dessert?
Kim: We'd done so well with our first four courses, and we got to the dessert round and we wanted it to be perfect. We'd never done well in dessert, so that was the time for us to prove it, and there was a lot of pressure on us in wanting to make it perfect and to do well. We just pulled our heads together and that argument kind of woke us up and made us realise what was more important.
Suong: We never gave up, even until those last 30 minutes, whatever chat we had, we pushed on to make sure it worked out.
Kim: We had the argument because we were just under so much pressure, and you have all those feelings of frustration and there's no one else to give it to but the person next to you! We just had to [take it out] on each other.
Suong: But once we got it out, we were fine! [Laughs]
PS: Both of you have mentioned how important the MKR experience has been. How has it changed your lives?
Kim: It's changed a lot! It's changed the way we look at food, we've learnt to cook fast, that plating is very important, how to deal with pressure, that time is important in cooking. We've learnt about ourselves and what we want in life. And we've learnt that we love food, we both love food, and now, the only way for us to go is down that path. And also, how much we actually enjoy being in the kitchen and cooking under pressure, and I think that's really important for us. That's what is making us wanting to pursue food, open a restaurant and start our own businesses.
PS: What have you learnt about yourselves specifically?
Kim: I've learnt to be strong, to deal with pressure, to step back, analyse and think. I've learnt to do what you want, if you love something, go for it. I think MKR has made me a stronger woman.
Suong: It's about inner strength and who we really are. We were happy about who we were going in, but we've come out upgraded versions.
Kim: I've mentioned before that I've always put my kids first. Before I did anything, I'd always think about it'd affect them. Now, I've learnt that if I want something, I'll go get it, and we'll have to work around it.
Suong: It's also about stepping out of that comfort zone and learning to love yourself again. We lost ourselves a bit when we had kids, but now to step into this new role and be who we are and do what we love, it's an amazing journey. This is our future!
Kim: I definitely feel stronger, more confident, and that I can definitely be out there and run my business successfully after the show.
PS: How has the show affected your relationship?
Suong: You will never understand! [Laughs]
Kim: Let me make it clear, there were instances where we wanted to grab each others' necks and strangle each other. We've been friends for a while, but we've literally never argued so much until we went onto the show. But you know what? We just talk about it and we laugh. I don't think MKR can break our friendship, even though we've learnt that Suong can annoy me and I can annoy her, but we'll become stronger. We'll probably talk less because we'll be so busy with our lives now, but when we come together, it'll be more meaningful.
Suong: We understand each other on a deeper level, and that's something that will never change. Now when we see each other, we'll know what we've both been through.
Kim: If anything, I think we've learnt a lot from each other and gained a deeper meaning of our friendship. Sometimes when I think about the show, I still want to strangle her! [Laughs] It's that love-hate relationship, like husband and wife, you know?
PS: Tell me about your plans post-MKR!
Kim: I'm planning to open a Vietnamese restaurant in June, I'll be in the kitchen and am now trying to find about two or three chefs to work with me. It'll be full on!
Suong: I'm focused on writing a cookbook and launching my own sauce brand, and teaching people with disabilities, so there's a lot on the cards. And then the kids.
Image Source: Channel Seven