Knight and Day Movie Review Starring Tom Cruise and Cameron Diaz
Knight and Day: Hot Fun To Warm Up the Winter Chill
I recently talked about the tricky territory that is the action rom com and the Tom Cruise/Cameron Diaz vehicle Knight and Day was poised to be another stone in the pile of failed attempts. However, the dynamic duo pulled through, and with the help of a clever script and lightning quick, entertaining action, they've delivered a perfectly fun little flick.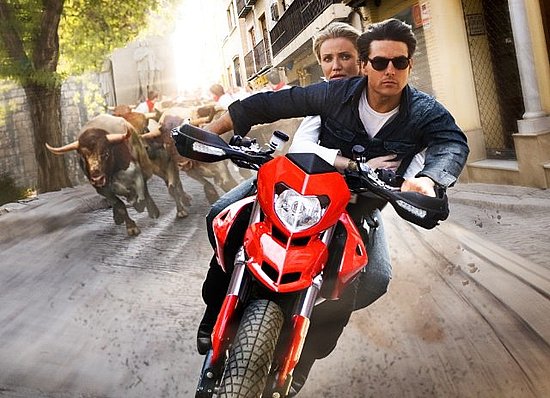 The lightweight story has enough intrigue to keep you interested, and Cruise plays Roy Miller, the kind of character he should be looking for more of in movies—a vaguely mysterious hero who throws punches more than he monologues. As June, Diaz is a perky delight, as usual (though her spotty Boston accent almost derails her). But generally, it's tough to complain much about Knight and Day as a popcorn flick; it's so fast-paced that all you have time to do is enjoy yourself. To hear what I liked about it, just keep reading. Keep reading . . . Roy and June bump into each other on a flight to Boston, but their mile-high flirting gets pushed to the side when—oops—Roy has to kill everyone on board. Turns out that he's just a rogue FBI agent and as an unwitting accomplice, June gets dragged on a breakneck cat-and-mouse game. Diaz and Cruise make a great team, in a much more pleasant scenario than the last time they met in Vanilla Sky. Their chemistry is not necessarily sexual (the scenes that are meant to be romantic sometimes feel forced), but the comfortable rapport of buddies who have known each other for years.

The dialogue is perpetually upbeat, even when lives are being threatened and the witty one-liners that sail out of the characters' mouths keep you on your toes. Even indie prince Paul Dano, as a young genius Miller must protect, gets a couple zingers in there. Overall, the movie is the equivalent of a Summer beach read: an entertaining bit of refreshment you can zip right through.