Kristen Sheffield MasterChef 2018 Elimination Interview
Nigella Lawson's Best Advice to Kristen Post-MasterChef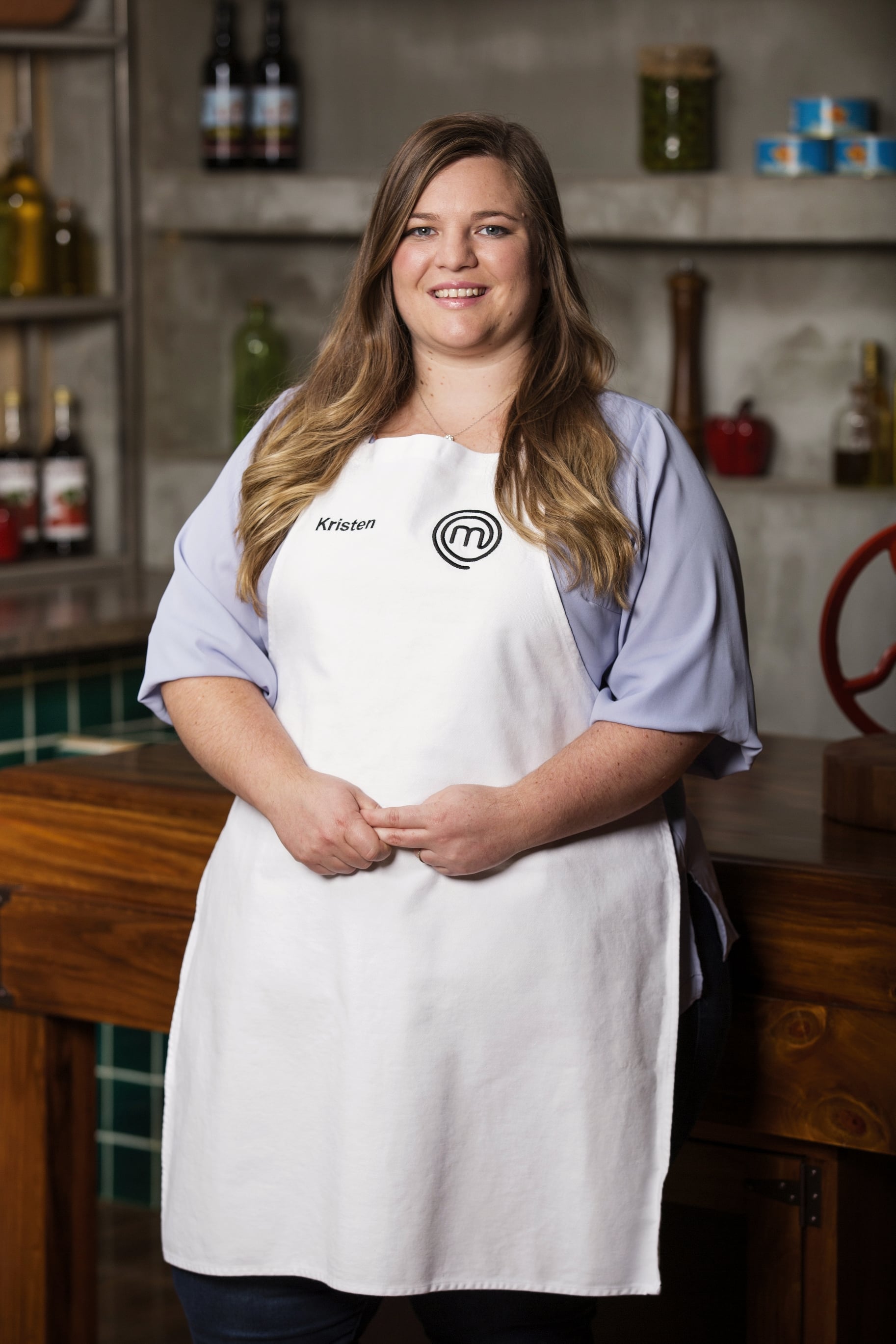 This week has been survival week on MasterChef, and with Chloe taking out the ten-year Super Power advantage (the chance to opt out of any tasting), the remaining seven contestants were in for an intense elimination challenge. Of course, when you need to set a Pressure Test of mammoth proportions, you call on Peter Gilmore and his famous Snow Egg, which each contestant had to replicate three (!) times over.
Failing to nail the ratio of her granita and as the one who's dish was the least balanced, it was Kristen's turn to bid adieu to the MasterChef kitchen. Below, she chats about the enormity of the challenge, her favourite moments you didn't see on television, and having high tea with Nigella Lawson in London.
POPSUGAR Australia: Sorry to see you go! How did you find the last-one-standing week in general?
Kristen: Yeah, that was a tough one for me, because obviously I was out on the first day, so you just have to stand by and watch everyone else cook. Every chance you get to cook in the kitchen is important for your development, so it pays to cook as much as you can. So it was a tough week sitting on the sidelines
PS: I can imagine. Looking back on your progress, how do you feel about your development on the show?
Kristen: It was such an incredible time. You're learning from the judges, and more so, each other. Being in that environment where you're with 20-something other people who all have their own skills and experiences was so fulfilling in terms of everything that I learnt. It was just an incredible environment and I really do feel like I progressed as a cook and have a bit more direction. I sort of used to like to cook anything, now I've sort of narrowed it down to my true passions.
PS: Are you disappointed to have gone out on a dessert challenge?
Kristen: [Laughs] Yeah, it's a bit bittersweet going out on a dessert challenge, and particularly the snow egg. I've been such a big fan of the show forever, and I very clearly remember the snow egg in the season two finale. So when Peter Gilmore lifted that cloche, I was so thrilled to get a chance to cook it, but then to not do it justice and go home on it, wasn't great!
PS: What went wrong for you?
Kristen: I started off pretty well, I was going really quickly. I went into the cook very conscious of the fact that we had 50 minutes less than they did in the finale of season two, and we had to produce three snow eggs where they only had to do one. I went in there guns blazing knowing that I'd have to go fast, and I felt like I was in control, until I saw the recipe and realised that the ice cream that I'd just got in the churner had the wrong amount of egg yolks in. But it just shows how much we've progressed over the last eight years, because I still managed to get the second batch of ice cream done and all three snow eggs completed within the time. And in fact, it wasn't my ice cream that ended up sending me home, it was my granita, which was the first element that I did before anything went wrong. So within five minutes of that challenge, I really was the one going home because my granita was runny.
PS: Were you surprised to go or did you kind of see it coming?
Kristen: I knew I had messed up and hadn't stayed calm and focused like the plan was. I didn't know for sure that it was me, but I had an inkling that I definitely was one of the few on the chopping block.
PS: The Snow Egg keeps appearing on MasterChef. How hard is it to recreate?
Kristen: I went into it feeling confident about it, because when you break down the individual elements — there's ice cream, there's meringue — it's things that I'm quite familiar with because I'm a dessert person. However when you put all of them together in that kind of time pressure and more importantly, the construction of it, it is really a mammoth challenge. My hands were shaking as I was putting the eggs out, I remember them just trembling!
PS: Can you imagine if it broke as you were plating up? I would die.
Kristen: Yeah, it was pretty close! [Laughs] I dropped it into the glass and my heart was like, oh my gosh, it's going to break!
PS: What's been your biggest takeaway from the show?
Kristen: I think the biggest takeaway has been what I realised at the beginning in applying for the show. You have to do what makes you happy. You have to follow your dream, because look what's come out of it. I wasn't going to apply because I was scared, but something tipped me over the edge and I did it, and I don't regret it for one second. I think I'm going to take that forward with me. If you're ever thinking about doing something, or want to do something, do it, you won't regret it.
PS: What sort of fear was holding you back from applying?
Kristen: I think it was the fact that it was a television show, so you'd be watched and judged. I'm my own worst critic and I used to be quite harsh on myself, so I thought the rest of Australia was going to be harsh on me. That's what stopped me, but I had to throw caution to the wind because it was what I wanted to do. It was such an incredible opportunity so I thought, just apply. I didn't even think I would get in, I just thought, "Put the application in and you won't regret it. Even if you don't get in, at least you tried." And then I happened to get in and kept going, and every day I was there, I woke up happy. That was the best part about the whole experience.
PS: How have you found the public support?
Kristen: Oh it's been incredible! You walk into the shops and people are like, oh my gosh, are you that girl from MasterChef? It's really awesome, there's been so much love and support. I get messages every day saying that I've inspired people to cook and follow their dreams as well, which is really cool.
PS: What was the hardest thing about being on the show?
Kristen: Being away from your friends and family. It's necessary, I think, in terms of allowing you to focus and not losing sight of what you're there for. I think if you got to see your family throughout the process, it'd be a lot harder. But still, there were days where you want to sit on the phone for an hour and chat to your friends, but you can't, and you can't for months. That was pretty hard.
PS: What are you doing with the $10,000 Coles money?
Kristen: I'd love to invest it in my business. I'm opening up my own business called The Flourist, which is going to be dessert catering for weddings, events, and there'll be a few pop-ups as well. I'll be investing it into that.
PS: Who did you see as the strongest cook in the competition and would like to see win?
Kristen: There are so many strong cooks. It'd hard because you don't really see it on screen, we see everyone cooking in the house, get to taste everyone's food and man, everyone can cook some delicious food. Dinner was my favourite part of the day, because we'd cook on a roster and there'd just be all these amazing dishes. So everyone's really strong, and I honestly feel that anyone left can win it from here, it's just about belief in themselves. If I had to narrow it down though, I think Reece, Sashi and Jess are just insanely talented and so good with flavour.
PS: What was it like having high tea with Nigella Lawson in London?
Kristen: Winning that prize in the first place was such a pinch-me moment. I didn't even think anything like that would happen to me, so to get over there and do it was so amazing. She's so lovely, genuine and warm, and it felt like I was just catching up with a friend. We sat there chatting about everything and nothing and eating delicious food.
PS: Did she impart any wise words of wisdom?
Kristen: She reiterated what I was talking about before, about doing what makes you happy. I talked about wanting to pursue pastries and desserts, and she said, whatever it is that makes your heart sing, that's what you've got to do.