Kylie Wins Second Immunity Pin Challenge on MasterChef Australia 2012
How Would You Change the MasterChef Immunity Pin Challenges?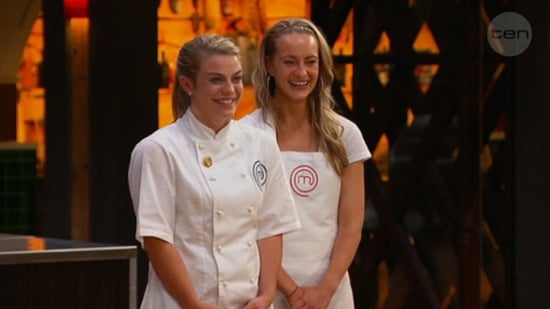 The second immunity pin of MasterChef 2012 was awarded to Masters student Kylie last night after she defeated guest chef Tomislav Martinovic with a three-course menu that used bread as a core ingredient. Unlike some of the previous immunity challenges, which have seen the eligible contestant pick two friends as assistants, Kylie was only permitted one friend as Tomislav had only brought along his sous chef. She quickly chose physiotherapist Mindy, the series' only other immunity pin holder, and she assigned the main course to Mindy while she worked on the entree and dessert. Unlike the time Mindy won her pin thanks to dishes prepared by assistants Audra and Amina when her own failed, last night Kylie won her pin after the two dishes she'd created had beaten those cooked by Tomislav and his sous chef.
More when you keep reading.
Inconsistency has been the biggest criticism of MasterChef's immunity challenges. Despite this year's new system, there have been random exceptions, such as when Amina competed alone in Tasmania against a single chef, and when Alice, Tregan and Jules competed as individuals against Jamie Oliver. TV blogs such as TV Tonight and Reality Ravings have raised questions about what will happen when it gets to the pointy end of the competition — for example, will contestants be willing to help someone else achieve an elusive pin when the end is so close? Or can we assume the model will change again? Fans have also voiced the opinion that Amina should have immunity as she's cooked so many amazing dishes that have beaten a celebrity chef's. If you've had similar frustrations about the immunity pin challenges, tell us in the comments how you would change them and make them fair.