Lara Bingle Interview on Reality Show Being Lara Bingle
Lara Bingle on Seeing Her "Crazy, Great Life" Played Out on TV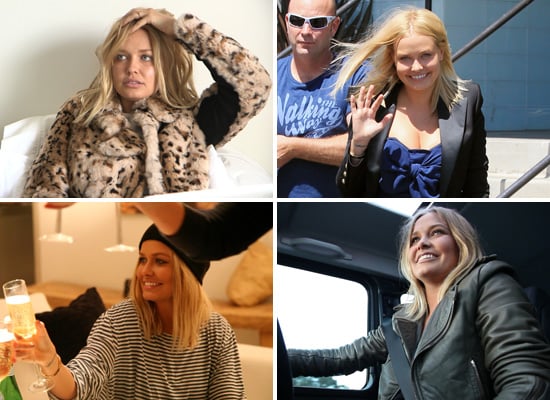 It was hard to miss the buzz surrounding the debut of Lara Bingle's reality show Being Lara Bingle on Tuesday night. In the first episode we got glimpses of Lara's professional and personal life, which included meeting the people closest to her (mum Sharon, brother Josh and best friend Hermione Underwood — even her nan through voicemail!). The fast-paced footage also set up what we can expect to see more of as the series unfolds over the next nine weeks: photo shoots, trips to LA and India, and Lara's upcoming birthday celebrations. We chatted with the sunny 24-year-old about editing, ignoring the cameras and getting on with the show.
Are you guys busy shooting today?
We are. We're starting in a little bit but I'm having a slow morning. Hermione and I just did yoga so we're feeling good for the day.
Congratulations on your show's premiere on Tuesday — who did you watch it with and what did you think?
I had some friends over and we all watched it together. It's such a surreal thing to watch your life played back, especially since three or four weeks ago we filmed all of that. It makes you realise how lucky and blessed we are living this crazy, great life, but at the same time it's like wow, so much happens! You just keep going, I guess. It's weird.
More from Lara when you keep reading.
The first episode felt so fast-paced and like so much has already happened. Do you know where the show is going?
The first ep was an overall introduction, more or less, to what's going to happen. I guess next week, from what I'm aware of, it's a lot slower and there's more of a story. I felt the same way as you. I was like, "Wow, this is so fast, I can't even breathe right now!" We were just laughing the whole time. We were telling everyone, "Can you just be quiet?" because we were trying to listen to it. Everyone was making funny remarks.
I've heard you don't have control with the editing, so does the editing team consult you or is everything you see also a surprise?
We have a really good relationship with the whole production team. There are probably times where there's stuff I would take out, but then it's like people have to watch and it's gotta be interesting and entertaining at the same time. I don't think I would want to edit it. I think I would want them to do the show because I'm my worst critic. At the same time I'm just trying to get the show finished. Hermione and I didn't know whether we should watch it, but we ended up watching because we couldn't hold out. I have people in my team that have watched it before me, and if there's anything damaging to my brand they will pull it all up and try to work that out. But it hasn't been a problem.
Is it possible to ignore the cameras, or do you think you censor yourself when they're around?
The first two weeks were pretty full-on because there was the first bit of [the first] episode and then Fashion Week. It was a really busy time for me and I was starting a new job as well. Now it's calmed down and there isn't that much happening day-to-day. Obviously I'm working every day — I've done three photo shoots this week and stuff like that. It's more work-driven at the moment because so much is going on. The thing is we want it to be fly-on-the-wall, so between shoots and things at home and day-to-day antics we get up to, amongst all of that they have a pretty good storyline to go off.
There's a lot of discussion as to what your job is — what would you say your main occupation is?
First and foremost I'm a model — that's the grounding and where it all started for me. I've got a lot of things coming up — I have endorsements and I'm the face of things, but at the same time I'm trying to move more into designing and collaborating with brands rather than being the face of them. I feel for longevity it's better. And it's more interesting and gives me a lot more to do than just turn up to a shoot.
I know you've said your boyfriend [fashion designer Gareth Moody] is really private. Do you think he'll appear on the show?
I watched it with him the other night and he is like my biggest supporter. He's obviously a fashion designer, but he's like an escape — we don't talk about this, we don't talk about the show. He supports the show and he supports me, but he's not gonna be in it, only at my birthday, which is in two weeks. He has to come [laughs] and they're filming that, it's like 30 to 40 people and a sit down dinner. We might go away after the show but it's my thing, and he doesn't wanna be involved. I think you have to keep things sacred in life because from what I've had and experienced in the past, things get out of hand.
Being Lara Bingle airs on Tuesday nights at 8 p.m. on Network Ten.
Photos courtesy of Network Ten