Larissa Takchi MasterChef 2019 Winner Interview
MasterChef's Youngest Ever Winner Larissa Takchi on How "Age Is Just a Number"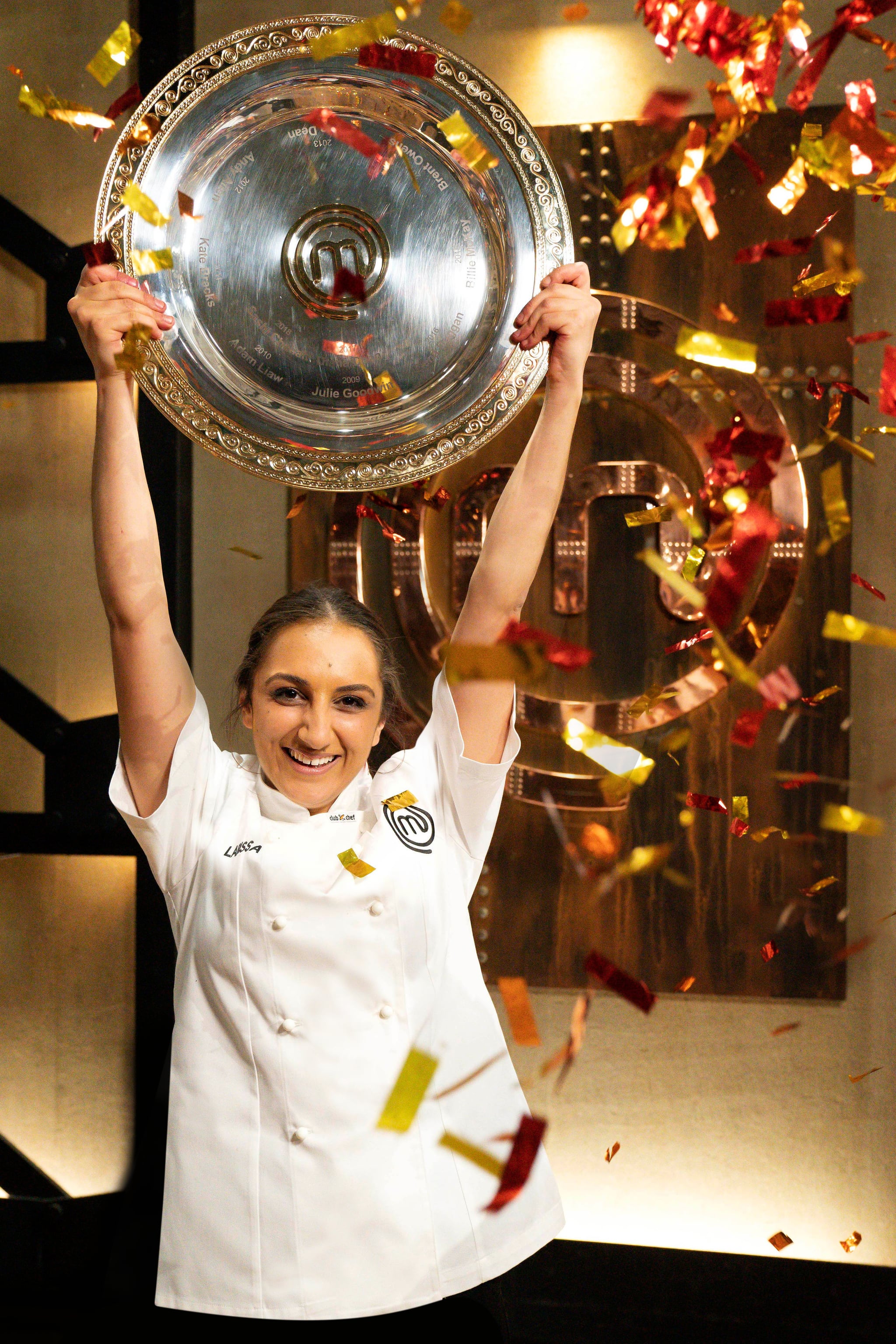 Although MasterChef has been a a staple of Australian TV for over a decade now, the show still manages to outdo itself each year. Eleven seasons in, it has now crowned its youngest ever winner, Larissa Takchi. At just 22, Larissa was one of the most adventurous cooks in the competition, making a name for herself through her unusual flavour combinations and willingness to take risks. Although her final challenge wasn't without its shaky moments, she managed to pull it together to score an impressive 85 out of 90, eight points ahead of second place finisher, Tessa Boersma.
Below, Larissa talks through all the highs and lows of her road to the win.

POPSUGAR Australia: Congratulations! How does it feel to be the youngest ever winner of MasterChef Australia?
Larissa: It feels amazing. I never expected to ever hear those words said to me. It's kind of even hard to hear, because it's something I never comprehended would happen to me, but I just feel really proud of myself. I feel like I achieved something, I feel like I'd never really achieved anything that I can say I'm proud of before this, I haven't even finished my business degree yet. So, I feel like this is something that could be inspiring for the younger generation to encourage them to pursue their dreams, I'd love to be a representation for them. Don't ever feel discriminated against because you're young. I think people underestimate you if you're young, but age is just a number.
PS: How do you feel you went last night? You were in the lead each round, but there were still some mishaps along the way. . .
Larissa: Yes, I was in the lead, but I think getting there was such a struggle. I think if you just watched that struggle on its own without seeing the results, you would have thought that there was no way I was going to win, or even just get any food up at all in time. I really underestimated the amount of things we had to do. It was a crazy, crazy task and by far the hardest task I did in the competition. I was ambitious with my menu, I wanted it to be perfect, since it was my last day in the MasterChef kitchen. I felt that pressure to put up something amazing. You're putting yourself on the plate, so I didn't want to embarrass myself and put nothing on there. The pressure was there, yes, but I just had to keep thinking about the bigger picture and really appreciate what I was doing.
PS: How do you think your cooking style evolved throughout the competition?
Larissa: I think it changed massively. I was the youngest contestant on the show, and while I've said age is just a number, at the same time I didn't have my forte established. I didn't know what my food taste was, and what I loved cooking. I feel like other contestants already had that down pat, and knew what they were passionate about. For me, I knew I loved cooking, that I loved eating out and I loved eating food generally, but I think I've now learnt the style of food that I like. I also treat ingredients with so much more respect, and generally working in the kitchen has given me the confidence that I can open something up one day, and know how to work that kitchen really well.
PS: Apart from confidence, what else have you taken away from the MasterChef experience?
Larissa: I think just the knowledge of food, and the skills that we built. I think it was George that said that the three months of us being on MasterChef was equivalent to almost three years of a chef apprenticeship. It was so jam-packed with so much information in such a small amount of time, and it's just amazing how much I've learnt. I've learnt not only cooking skills, but also how to deal with pressure. I think that's one thing that's a major life lesson for us. In the real world, the kitchen is high-pressure and full of hustle and bustle. We have to know how to deal with that, not just how to cook.
PS: Talk about a baptism of fire then! Can you pick a favourite dish you cooked in the competition?
Larissa: There's been many highlights, but I definitely think the parsnip ice cream with the pear and chocolate sauce was the most daring I could have pushed myself to be. I like taking that risk of doing some insane flavour combinations and actually pulling it off. Gary alway said that my creativity is amazing, but it could be my downfall as well. So I had to think about that and make sure that I wasn't going too far, but also far enough to be satisfied.
PS: Apart from being away from your family and friends, what was the hardest part about being in the competition?
Larissa: I think the hardest part was the pressure of having to have an idea all the time, with every challenge presented to you. The show actually is what you see on TV. It is legitimate, so when they say 'your cooking time starts now', it actually does start now. You don't have the time to think about what the dish is going to be. So for me, I was constantly studying every single day for month and months, because I was scared that my downfall would be if they gave me a challenge that I had no ideas for. The hardest part was dealing with the pressure and the anxiety that came with that, for sure.
PS: With it having been sadly announced that Matt, Gary and George won't be returning to the show next year, what legacy do you think they'll leave behind?
Larissa: They were absolutely amazing and I was so privileged to have worked with them. I think they played a huge role in both the show and my life, I said in the episode last night that they were like my three dads, which they really were. They helped me grow as a person and as a cook, and each judge brought something different to the table, which is what made it so fair and interesting. But I don't think it's a sad moment that they're leaving, it's sad in a way, but also so exciting to see the new chapter of MasterChef evolve and see who are going to to be the new judges. It's going to give a different taste to MasterChef that could be exciting.
PS: Tell us a bit about what you're doing now?
Larissa: Right now I'm taking a few weeks off just to comprehend this whole thing. But also I'm getting straight back into kitchens, I want to do some work experience at some amazing restaurants in Sydney. I'm also thinking about opening up a dinner at my mum's cafe just to kick-start my food dream, which will come a lot later down the track. I'm still very much invested in food, and want to forever be in that environment.