Liam Cunningham Interview on Game of Thrones Ser Davos
Love Ser Davos on Game of Thrones? Read Our Interview With Liam Cunningham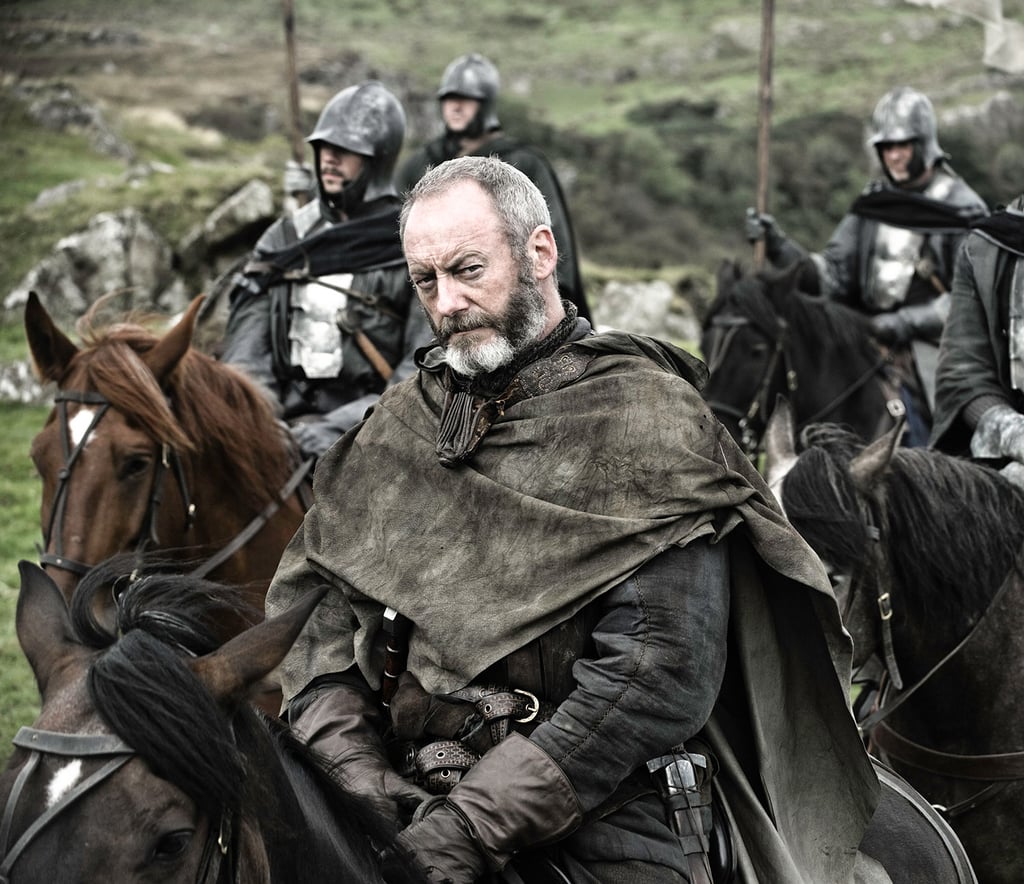 Irish actor Liam Cunningham has had a long and successful career, but the role he's best known for at the moment is that of Ser Davos Seaworth on Game of Thrones. The character is a favourite with fans of the books as he's one of the few with good morals, and the end of season four set up an exciting storyline for Davos and his leader Stannis Baratheon, who showed up at the Wall to defeat the wildling army at the Battle of Castle Black. Cunningham is in Sydney for the launch of Game of Thrones: The Exhibition at the Museum of Contemporary Art on Monday night, and POPSUGAR Australia caught up with the actor to talk about what fans can expect from the exhibition, why he hasn't read the books in George R.R. Martin's A Song of Fire and Ice series, and why we don't get to see dragons that often on the show.
POPSUGAR Australia: When I told my friends who are Game of Thrones fans that I was interviewing you, they all said, "I love Davos!"
Liam Cunningham: [Laughs] He's one of the few decent people, which means I'll probably get killed!
PS: What are the most exciting things for people to see in the exhibition?
LC: One of the major things is that the stuff has to be out of here in the next couple of weeks because we're going to be wearing it! We start shooting in about three weeks' time so they have to make sure it's back. Otherwise we'll be all naked on the show [laughs], which wouldn't surprise me much, a naked episode!
PS: Proof that it's all legit in the exhibition.
LC: Oh, it's all real stuff. It's not reproductions or anything like that. The props are real, the swords. There's a lot of the background stuff with the production and design. It's the real deal. And the Oculus Rift, the virtual reality thing, is really, really cool. You've got to do that. You finish the tour with it, and you're at the Wall at Castle Black, and you're climbing the Wall. I did it in Toronto. It's wonderful.
PS: It's a shame it's only here for such a short amount of time!
LC: I know! Well it's only five or six days in most places. It moves around. The first time I saw it, before it had the Oculus Rift thing, was in São Paulo, but it started in New York, and it was five hour queues to get into it. It was really popular. We had it in the Natural History Museum in New York. If you're a fan it's well worth a view.
PS: The attention to deal with props is amazing, like all the books having writing in them and all that.
LC: Yeah, yeah — when I'm doing a reading, it's all been hand-done. Because you're creating a new world with this thing, everything has to be made from scratch. I remember someone was talking about the wildlings and what they wear, and someone said, "Basically, what would people wear?" They were being practical about it, and I remember Michele [Clapton], who does the costumes — it's a brilliant job for somebody like that, to let your imagination off the leash — she said they'd definitely be using skins, because they [the wildlings] don't have factories and things like that. There's a kind of Inuit feel with the wildlings. And then at King's Landing, it's elaborate, where they've got money for Jaime, and Brienne, who got her new armour this season; it's spectacularly, beautifully made, especially the weapons, because it's so detailed.
To give you an example of the attention to detail, which most people don't know, at the beginning of the first episode in season four, where Tywin comes in and he's got a sword made of Valyrian steel — I think it's Ned Stark's sword, and he melts it down — the guy he's speaking to, the guy who's actually doing the melting, is an armourer; it's Tommy Dunne. He's the guy in the shot, so he knows what he's doing and he's the real deal. So they have that, and that's the kind of attention to detail that I really love about the show. Everybody is, in a sense, given freedom to do as well as they can. It's not just a cynical, money-making opportunity — which is one of the things I love about the exhibition: that it's free! They could have charged for something like this, and it's very expensive to move around the world.
PS: As the actor playing Davos, do you believe in Stannis? Do you believe Stannis would make a good king, or would he be viewed as a tyrant? Basically, do you agree with Davos?
LC: You know what? It's one of those weird questions where, 'Do I have to make a leap of faith?' is basically the question. No, not really, because on paper, he's [Stannis] is the one with legitimate claim to the throne! Joffrey shouldn't have been there because he's not even a Baratheon, and we know Daenerys was thrown out, but she was never queen at the time; the king was killed and that happens in feudal societies. So when Robert Baratheon came in, and he died, next in line was Stannis! On paper, he's definitely the man for the job.
In regards to my belief in him, again, that's one of my favourite reasons for playing Davos, it's not even a conscious decision about his loyalty and his honour and his decency. One of the reasons he does back Stannis is because — even though he did that [demonstrates cutting off fingers] to him — he did it for the right reasons, and Davos has a certain respect for that. Stannis took Davos out of being a small-time criminal, made him a knight, and as he says to [his son] Matthos on the show, "He gave you an education I could never have given you. He's given you a life; he's improved our lives." The irony is, with Davos bring from Fleabottom, the lowest of the low, he's probably one of the most noble characters in it, and yet he's a small-time criminal. And I love that about the show, that the people who should have had an education, should have had the decency and freedom and money to be a good person, are usually, as we know in life, not the most reliable of people; power corrupts. And I like that the show holds that mirror up to society; there's magnificent people who are poverty-stricken, but have a dignity about them. And Davos is one of them! And I like that.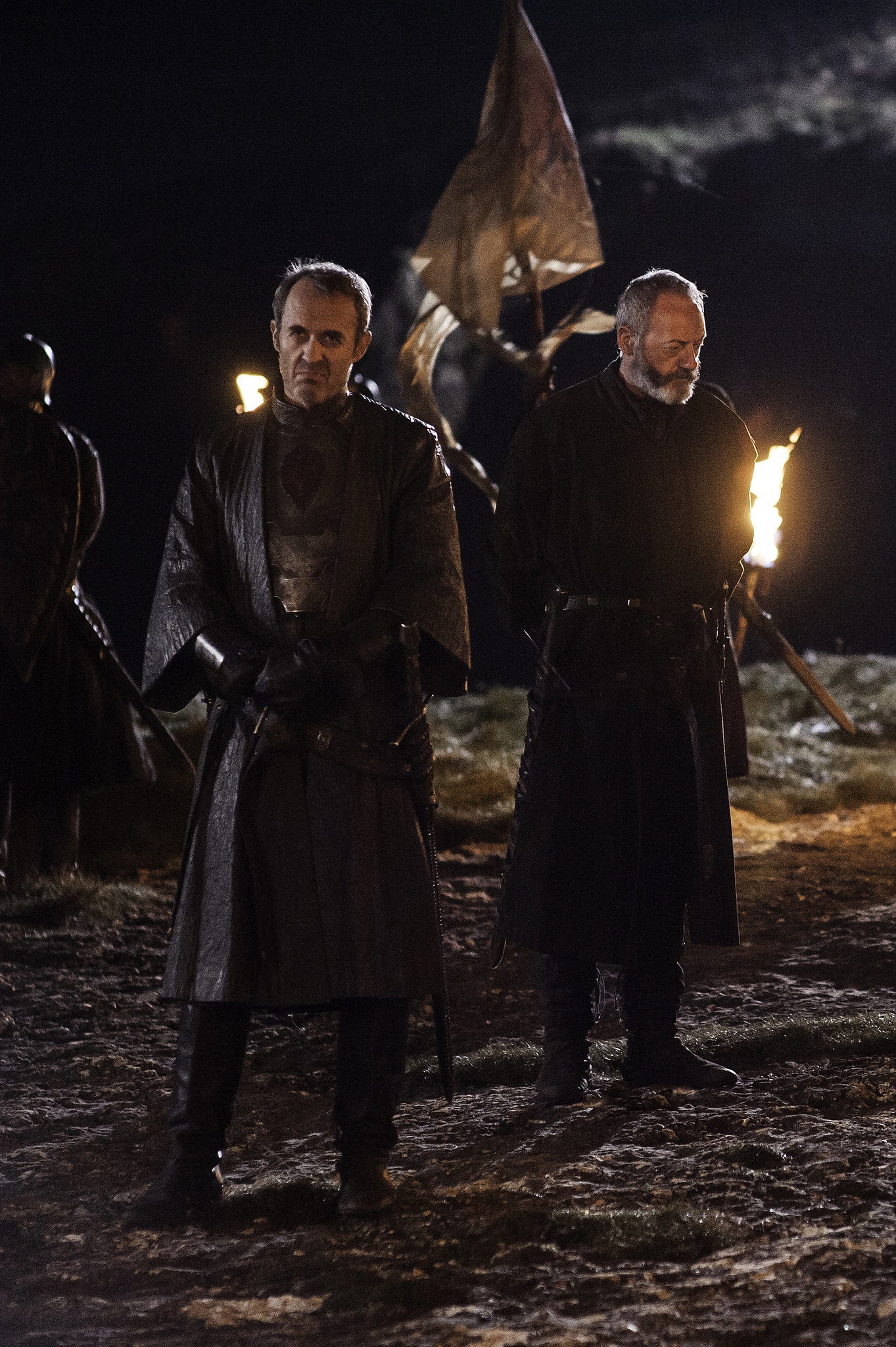 PS: Have you read the books?
LC: Nope.
PS: I assume you're aware that Davos is a massive fan favourite from the books?
LC: Yeah, I'm kind of getting that as we go along! I know he's a point-of-view character and so on. If we were making a movie I would have read it — I think. But I like the rollout of this, the fact that we're shooting season by season, and in a sense, it helps me as an actor to not know what's coming next; I deal with the problems that we have when we're given the scripts. Obviously I know season to season, but I don't really follow that, or want that. It takes the spontaneity out of it, and I don't want to be playing what's two books ahead; I don't want to be trying to clever about it. I want things to be surprising to me. Charles Dance and Peter [Dinklage] haven't read them either.
PS: You said you're shooting in about three weeks — have you received scripts for season five yet?
LC: No, but I should be getting them in the next two weeks!
PS: Season four ended with a big set-up for your storyline.
LC: Yeah! Well George said a really interesting thing; I saw an interview where he was asked about Stannis. And he said what's interesting, what has changed in Stannis' thinking about everything, is from wanting to be king and saving the realm, it's now the other way around. It's now saving the realm that will make him king, so there's been a 180 in the thinking, in a sense. So it'll be interesting where this goes. We're right up north of Westeros, and obviously we have our eye on King's Landing, but we've got get south, so it will be interesting, what I presume will be that journey to get south, and what happens along the way.
PS: With your shooting schedule, do you have to be on location the whole time?
LC: No, no, no. I get to do other things. I have four movies [in the works], so I find the time. I mean they do have a certain amount of, as they call it a 'golden handcuffs' deal, where there's things we aren't allowed to do — for obvious reasons. They want a kind of exclusivity. They don't want you all over every American show, because it dilutes it for the fans. They pay for the privilege of having you, of having a certain amount of exclusivity. Like I can do English TV, an American guest spot and movies, but to do a long-running part on another American TV series wouldn't be fair to the fans.
PS: Do you have any physical stipulations in your contract, like having to keep your beard? Kit has said he can't cut his hair.
LC: His hair has its own contract! [Laughs] I tell you one thing, one of the descriptions of him [Davos] is that he's got a greying beard, so I do remember the first day I showed up — I grew this thing for a few months so it was quite dense — and when I showed up you could actually see the hair and makeup people go, 'Ohh!' They were so delighted that they didn't have to dye me, or anything like that! In a sense I fitted the descriptions, a bit, and they liked that. So that was good. What's good about it is that, because the show is so popular and it's very difficult to go to any country and not be asked for a photo within five minutes, is that come mid-December I'll have the razor out and I'll take it off, and disappear into anonymity again for awhile, with people looking questionably at my face going, 'Where do I know him from?'
PS: How do you watch the show?
LC: I watch it with the family — I watch it with that 13-year-old over there [points to son]!
PS: Your 13-year-old is allowed to watch it?
LC: Yeah, well one of the reasons is because I'm in it. I have three kids, and my daughter is actually working in VFX at the moment. We tend to record them — it's been tricky this year because I've been travelling — and the last few we would watch them together. They come out on Monday in Ireland, and we usually sit down on Tuesday, phones off, close the curtains, and then [hums the theme song]. And there's lots of screaming.
PS: Are you aware of everyone else's storylines as you're shooting or do you just get scripts for your part?
LC: Everybody in the cast will get the 10 episodes, or the main cast anyway, which most of us are. It's wonderful, because one of my favourite ways of working, for not the obvious reason, is ensemble. It's all well and good if you've got the ego to want to be your Tom Cruise or whatever and lead a pack of actors, but with this, what's wonderful about it, is that one of the reasons why it's so good is because there are so many beautifully drawn characters. That's the toughest thing for a writer — not only for a novelist, but for the guys doing the show, David [Benioff] and Dan [Weiss], and Bryan [Cogman] and George [R.R. Martin], who write the scripts. It's a difficult thing to write, but if you can pull it off, those relationships are just wonderful, because you've got your fully-formed characters. You've got Jon doing his thing, and in the season that's just gone, it was quite weird for Stannis, myself and Melisandre to show up at Castle Black, when for four seasons we've never seen it! Which is really kind of odd, and it's like two worlds colliding.
To go back to your original question, bizarrely, everyone thinks once the actors are up there, we're camped in a hotel the whole time. But people go in and out all the time. We do other things. And it's remarkably efficient. We shoot from the last week in July until the middle of December, and in that time each character is lucky to be up there for about a month out of that whole period. It might be two days here, off for three, back up for one, off for two weeks. And they've got two units; it's basically two shows you're doing at the same time. It's incredibly complicated and difficult, and the logistics are a nightmare. It's a military campaign to shoot this thing! If I ever decide to go to war, against whatever country, I'm going to the crew, and the people in the office who organise this, because they're astonishingly efficient.
PS: But all that hard work has paid off. So many people are obsessed with the show, and I will read about 10 articles after I watch an episode, from director interviews to recaps.
LC: And it's great! I'm the same — I will read what [director] Alex Graves has said, and [director] Neil Marshall is a friend of mine, who's directed episode nine [in seasons two and four]. I did his first movie, and his last movie, and he'd never done television before; his first ever time doing television was the Battle of Blackwater. He loves it. It's beautifully efficient, and it's different from film. A lot of the time when you're doing a movie, it's very much the director's genre. It's like sculpture — you do a movie and you end up with a large block of marble, and then they edit, or cut, the movie out of this marble to make the statue. And it's different from TV, because we don't have a $150 million budget with this. It's very tight and has to be very specific and organised, so the efficiency is great because you're not doing as much hanging around. And I like to work like that because I get bored quite easily.
PS: I've read some articles where people comment saying they want more dragons, but people who work on the show say dragon CGI is expensive!
LC: I think there's a crew out in Canada that does the dragons . . . But the vast majority of it is done in Stuttgart, and there's a little bit done in Ireland as well. It's very expensive, and it's time-consuming, because to get it done quick you have to hire a lot of people to do it, and that's an expense as well. But 10 years ago you couldn't afford to do this, because you'd need five times the people to do it, so as it goes on it is getting cheaper. However, it gets more complicated for us, because the show doesn't get cheaper, it just gets more beautiful, if you know what I mean. HBO have got deep pockets on this, and they took a huge chance on this show, and it's really, really paid off.
Game of Thrones: The Exhibition opens in Sydney at the Museum of Contemporary Art on Tuesday, July 1.