Lindsay Lohan's Court Notes Transcribed
Lindsay Lohan's Court Notes About Her "So-Called Friends"
Lindsay Lohan's dramatic court date yesterday—which ended with her tearful breakdown as she was sentenced to 90 days in jail followed by a 90-day inpatient rehab stint—was full of hidden messages. She made headlines this morning with the secret "F*** U" nail she had on one hand and it turns out that her manicure wasn't the only memo on her mind. She took notes during the proceedings and held them up at the end of the afternoon. We've transcribed what LL wrote down, which began with the date and time, "July 6, 2010 1:40 pm @Beverly Hills Court (Dad's sitting behind Aliana/Those are her -so called- friends. . ." It seems like Lindsay was looking to detail exactly what she missed and when, while also keeping her mind on the media presence in the room as it was live streamed to the Internet—check it all out below.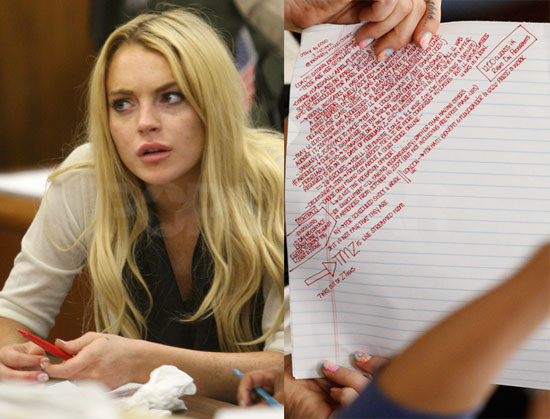 Keep reading...
July 6, 2010
1:40 pm
@Beverly Hills Court

(Dad's sitting behind Aliana
"Those are her -so called- friends

-Cherie Marshall - April 19, 2010
Scheduled class on April 14, 2010 &
Who re-scheduled for April 15, 2010)

-Beryl indicates LL has an excused
A deposition "Lavely/Rice/Ed" - in which
Attend deposition (b/c it was postponed) LL was
Delayed for class "right on" & was not able to attend

-May 6, 2010 Letter was addressed. In regards to LL's progress
-August 17, 2009 - which has stated LL being more progressively compliant
- Jan 2, 2010 (face to face - but D.A. doesn't have it / BUT Shawn does!)

#Absence - due to a signature on the wrong "sign sheet" line (mistake)
-February 2, 2010 - signature on 1 on 1 & not group class b/c that's all LL was required to do on the date of February 2, 2010 - #missed on November 14 & made it up @1 day after.

=26 groups - for LL; 15 minute 1 on 1's & 1 hour 1 on 1's (interviews and groups)
-December 5, 2009 - progress reports for LL to be more consistent w/ classes - but - LL was @ classes 4 weeks in a row
-Cherie only found out about a court order online - is not the probation officer!

-re-enrollment = LL taking responsibility; rather than having others
9 absences from October 16, 2009 (but not including pre & post makeups)

NY - for scheduled shoot & work
London - for Haiti benefit & fundraiser & 6126 & work

Contract
-enrolling 21 day - no contact -
only time program
needs to contact the court and judge

*It is not fair they are

TMZ is live streamed from

7 wks out of 27 wks