Lisa Carlton Interview For The Bachelor 2017
Lisa Carlton on Her Connection With Matty J: "He's an Absolute Babe"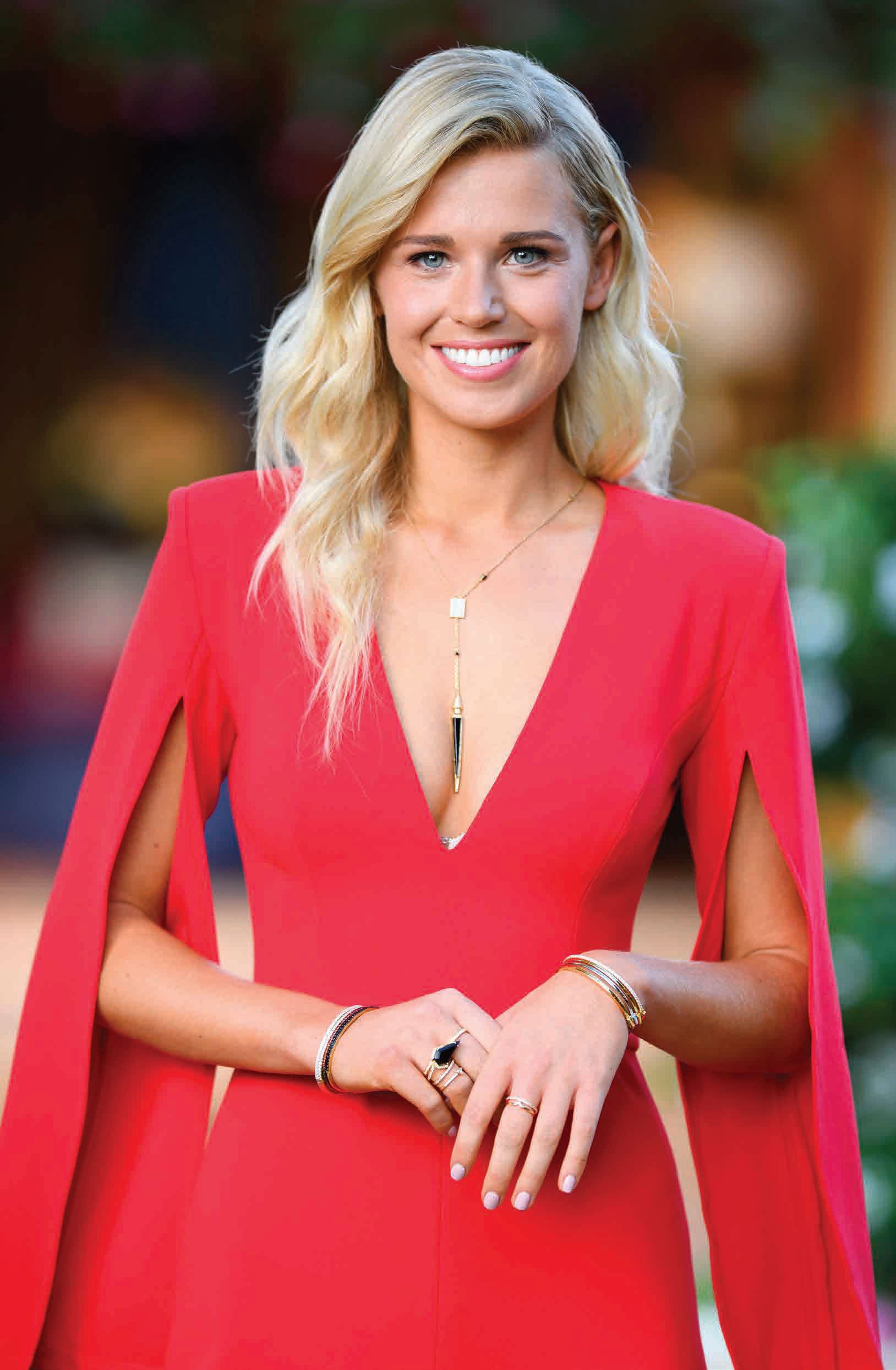 Lisa Carlton stole the show on the launch episode of The Bachelor 2017, by shyly stealing Matty J's words and his cool. The blonde model, 24, was sweet and stunning in a red jumpsuit, and scored the first invite to the romantic "secret garden" area with Matty. Earlier, we spoke to the Melburnian about that first night and how she feels about being left in the dark when your heart's on the line.
POPSUGAR Australia: How did you feel when you met Matty J?
Lisa: When I met him on the red carpet, I didn't actually know that it was going to be him. I didn't really know much about him because I hadn't watched The Bachelorette when he was on it. But I was actually pleasantly surprised because he was so lovely and sweet and he's really easy to talk to — it kind of made me excited to get to know him.
PS: Did he make you nervous?
Lisa: Not on the red carpet, but when I spoke to him at the cocktail party I got really nervous.
PS: That's funny because you made him lose his words on the red carpet!
Lisa: Yeah, it was like a total flip.
PS: Did he seem nervous to you, the first time you met?
Lisa: No, I don't know . . . I mean he probably had a thousand emotions going through his mind. We only had to meet him, whereas he had to meet 21 other girls, so I'm sure he would have been feeling a few different things.
PS: How did you find the girls on that first night? Did anyone strike you as a threat straight away?
Lisa: No, I clicked with a bunch of girls, literally straight away, and they were pretty much my go-to throughout my time in the house. In terms of threats, I didn't really look at it like that — I just think it's silly to see other girls as competition, because we are all really different. And, to be honest, I don't even remember if I spoke to everyone that night. I just kind of clung to the girls that I'd spoken to at the start and we just seemed really alike. We're still friends today.
PS: It must make it a lot easier to have a core group of people to go through it with.
Lisa: Oh my God, yeah and going into it, I had no idea what the other girls would be like. I thought I could potentially be completely on my own, but I guess because we're all in the same boat, we had the same emotions and feelings towards things, so we stuck together and tried to support each other as much as we could.
PS: Throughout your time in the house, did you ever find it all too hard?
Lisa: There were definitely times when I was very overwhelmed, and I think it does happen to everyone. But I tried to stay as positive as I could and to just think things through and not get involved in any of the drama or anything like that. I pretty much I stayed true to myself as much as I could. There were days when some were long, some you were working really hard . . . but you look back and you're like, "You know what, it was so totally awesome and I would do it again 1,000 times over."
PS: When you're in the moment at the cocktail party or wherever, did you ever say anything and then think, "Oh sh*t, I shouldn't have said that"?
Lisa: I guess at the start, there are all the cameras around and the microphone, and you're kind of very wary of that . . . but then you very quickly settle into it and you don't even realise that they're there. So, when it shows, I'm probably going to watch and be like, "Oh my God Lisa, why did you say that?" [Laughs] But at the same time I think everything that I said and I did, I meant. I wasn't trying to be somebody else or pretend to be something else. I'm sure everyone says things that will probably get embarrassing at times but, you know, whatever.
PS: Do you feel weird seeing yourself on TV ads?

Lisa: Yeah, to be honest I don't really watch that much TV as it is, so when I do see an ad, I'm just like, "Oh my God!" I can't even watch it! I don't know, it seems weird. I'm like, "I have the weirdest, most annoying voice." Anyway, whatever [laughs].
PS: Did you have any run-ins with Leah or Jen?
Lisa: I didn't really get too close to them. They were involved in the drama straight away. I wanted to distance to myself from anyone and anything that had anything to do with drama, and I wasn't in the house to get caught up in that stuff. I was there to get to know Matty. I don't know, of course there were times when I didn't agree with things that they did or things that they said, but I tried to be as civil as I could as possible.
PS: What did you think of Matty as a person?
Lisa: He's an absolute babe, he is so lovely, so humble and I got along with him really well, which was awesome. He just, I think, he made me feel really comfortable. He's just an all-round good guy.
PS: Did you feel a spark?
Lisa: Yeah, on the red carpet. Definitely, like, straight away. I think there was something there.
PS: How do the rose ceremonies feel?
Lisa: They're kind of weird. They're really nervewracking but at the same time, they're kind of funny — which of course they're not going to show on TV. Because he's trying to be really serious and then we're all trying to be really serious, because someone's going home, but then someone would do something funny or make a noise or . . . I don't know, yeah they were strange. Obviously, if you're in the bottom two or got a feeling as though you're going home, then you're a bit stressed out. You just have no idea what's going to happen.
PS: What's it like having all control taken away from you? You don't really ever know what's happening — does that feel weird?
Lisa: Yeah, we definitely are left in the dark and you don't find out anything until the last minute. But it's kind of good in a way, because you're just always guessing and speculating, "What's going to happen?" or, "What are we going to do today?" or, "Who's going home tonight?" They just pull things out, left, right and centre. It's super crazy, but it is fun. It's different to normal life, because normally everything plays out and you know what you're doing every day. On the show, it's just completely different every day.