Lisa Diep MasterChef 2018 Elimination Interview
MasterChef's Lisa on Cooking Generously and Her Favourite Red Lipsticks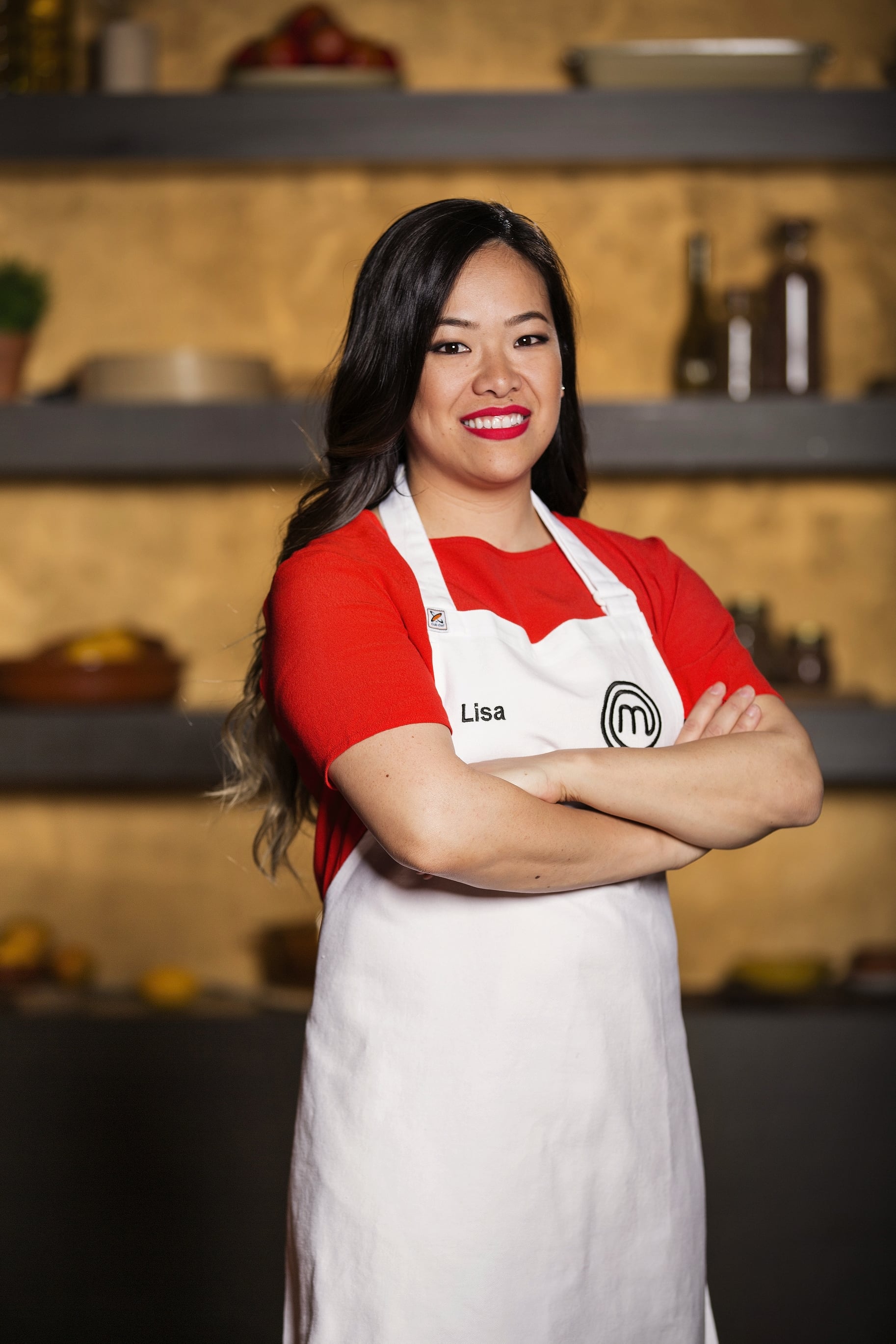 As much as MasterChef Pressure Tests kind of blow for the people involved, as the competition goes on, the upside is that the dishes the contestants are tasked with recreating grow increasingly mouth-watering. Take Monday's challenge for instance, where Lisa, Sarah and Hoda had to recreate the Autumn Harvest set by Alla Wolf-Tasker, of the Lake House fame.
The dish — a refined combination of confit duck yolk, chestnut pasta, foraged mushrooms, celeriac puree and chestnut chips — pushed everyone down to the wire. Although there were missteps with all three dishes, the judges found Lisa's dish to be off-balance and sent her home. Off the back of her elimination, we chatted to the 32-year-old mum from NSW about what went wrong, her family's unwavering support and her favourite lipsticks (because in case you didn't notice, the girl's red lippie game is strong).
POPSUGAR Australia: How are you finding things at this point in the competition?
Lisa: It's crazy, it's definitely a year of surprises. Going through crazy challenges, the individual cooks, having amazing chefs come on the show, going to South Australia . . . It's definitely been a crazy, fun roller-coaster.
PS: That Pressure Test was insane! How did you find it?
Lisa: That dish was definitely Autumn on a plate, it was so beautiful and had a lot of elements. It was definitely a hard one, and it's funny, because before going into it, I was thinking to myself, I hope it's savoury. And in the end it was, and it was the one that got me out! But it's all good. [Laughs]
PS: When you taste Pressure Test dishes, are you genuinely enjoying it or does it just stress you out more?
Lisa:[Laughs] It's funny, because half of you is eating it and thinking, wow, it's just so yummy, but the other half is thinking, wait, stop, you need to think about the elements in the dish. What does it look like? What does it taste like? So it's a bit of half and half. You enjoy it, but also need to think about recreating it and making it taste good.
PS: What did you find hardest about that Pressure Test?
Lisa: For me, when I first went in, I had a bit of a shaky start. The nerves got the better of me — I was reading the recipe and trying to follow the steps, but I was a bit flustered in the beginning. After the judges came up and spoke to me, I regrouped and just kept going, because I wanted to get it done and plate up a dish.
PS: What happened with your plating at the end?
Lisa: Basically, the judges said that my individual elements were good, which I was happy about, but I was just a bit heavy-handed with the puree, which threw off the balance of the dish. We're at that point of the competition, halfway through, where the slightest things can send you home.
PS: It must've been annoying to know that everything was cooked fine, it's just that you put too much of something on the plate?
Lisa: Yeah, I did kick myself a little bit after where I was like, if only I put just a little less! But you know what? I'm really generous with my cooking and wanted to make sure there was enough for four people to taste. In my second-chance cook at the start of the show for the apron, I made a crab and it was enough to feed four people, so that's just the way I cook. Maybe I need to [go easy] next time, but it is what it is! I can only walk away smiling.
PS: What made you so emotional at the end of the cook?
Lisa: I actually burnt my hand holding the pot at the end of the cook, so I was in a bit of pain! I was also emotional because how much I wanted to be in the competition actually dawned on me, and it was just overwhelming. You're going through an intense amount of pressure for a short period of time and all of a sudden, there's release, so your emotions just come out. That's how I felt in the moment.
PS: How have your family been supporting you throughout this journey?
Lisa: Oh my gosh, if anything, this has made me appreciate my family so much more. I've been watching the show since season one, and it was my family that encouraged me to apply and chase my dreams, and then I finally bit the bullet and did it. Without their support, I wouldn't be able to go on the show. My husband has sacrificed more, because he said, you go and focus on this, follow your dreams and I'll take care of everything. I have a big family and a lot of sisters, and they said, just do this, we'll watch everything at home, just focus on it and don't worry about it. My family mean everything to me, and without them, I wouldn't have gone on the show.
PS: What have you taken away from MasterChef?
Lisa: I've learnt that the skills you learn in life are transferable no matter the situation or environment. When I came across stressful situations on the show, I knew that I could get through it through having a plan and staying focused. And if things didn't work out, that was OK, you just needed to regroup, adapt and continue on. I've learnt that I can be quite resilient and to never give up.
PS: Did anything surprise you about being on the show?
Lisa: 100 percent. As a viewer, you only see the output of it, and going on the show, I definitely have an appreciation for the logistics that go on behind the scenes. There's so much involved! You really appreciate all the crew and everyone that puts in their best efforts to put the show together.
PS: Who do you think has the best shot of winning the competition?
Lisa: At this point, I'm putting my money on the bling brothers — Sashi and Reece. They have the immunity pins and have done so well for the past couple of weeks, as well as the pair challenge.
PS: Tell us a bit about what you're doing with food now!
Lisa: I did some work experience with Reynold [Poernomo] at KOI. That was amazing, because desserts aren't my strength and I really wanted to improve on that. I also love them, so I thought if I wanted to work experience, I had to do it there. I still really want to publish my modern Vietnamese cookbook, and just be involved in everything food. I'd love to work for a food magazine so I can learn the tools and tricks of the trade. There's a lot I want to dip my foot in!
PS: Also, out of curiosity, what lipstick do you use? It always looks great on the show!
Lisa: [Laughs] Thank you so much! Lipsticks are definitely my love, I use MAC ones. I love the reds they have — Relentlessly Red, Lady Danger and Ruby Woo — they're my three red colours.