Lisa Hyde Bachelor in Paradise Elimination Interview
"Unfortunately, Luke Broke My Trust," Says BIP's Lisa Hyde After Their Surprising Split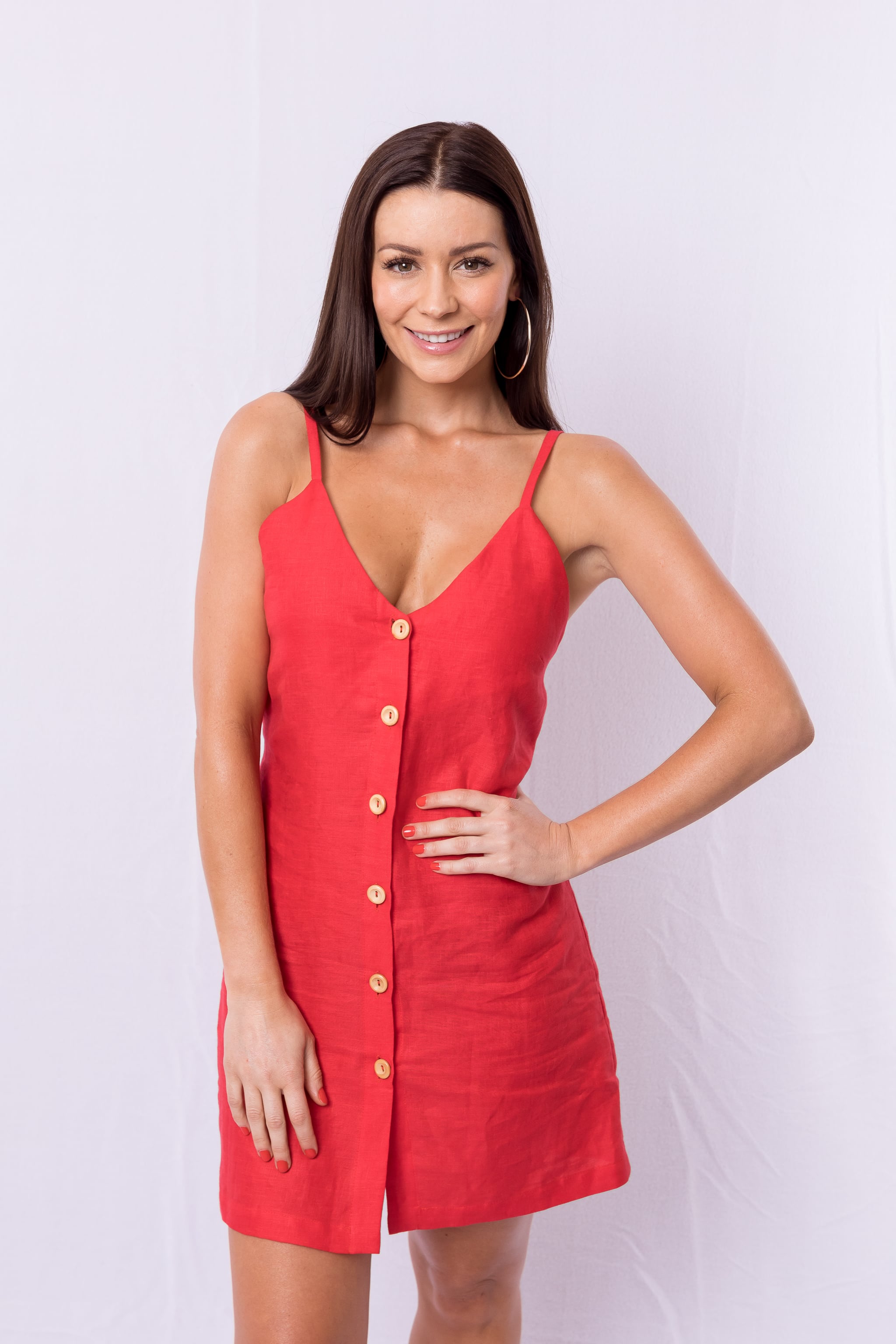 Lisa Hyde and Luke McLeod hit it off straight away on Bachelor in Paradise. Before long, they'd established themselves as probably the most rock-solid of the group, so comfortable and close that it seemed like they'd been together for years already. When they made the joint decision to leave the show as a couple in Monday night's episode, we were sad to see them go but also excited to hear where their relationships has developed to now, in real time.
Sadly, though, it wasn't meant to be. We now know that Luke and Lisa didn't last, and have gone their separate ways. Despite meeting each other's families and giving things a good go after the show, things haven't worked out — and we asked Lisa for all the detail she was willing to share in our chat earlier today. Here's the low-down . . .
POPSUGAR Australia: First question: why did you decide to leave the island?
Lisa: Maybe it didn't come across because they only have a certain amount of time to show what happens — a lot of that day got chopped out, which is probably why it's confusing. I had a work opportunity come through and aside from that, I spent three weeks there and while it's all fun and lovely being on holiday . . . I guess I met Luke and I was really happy to have met him. I think we had a very strong connection and we both live in Sydney and we both were in a position where we had to get back and so we kind of made the decision to test it out back at home. Instead of drinking daiquiries and talking about everyone else!
PS: Well, that's the other thing: it looks like heaven! I'd never want to leave.
Lisa: Yeah, it was really fun, it was great — but I think I'm just more of a realist when it comes to these things. For me, it was great being on holiday and getting to know Luke. I don't usually give myself that much time to get out there and date because I work a lot. But when it came down to it [I knew that] Luke is in the same city as me, I think we were just ready. We kind of got to the point where we were not really involved in the drama, we were kind of just cruising around on the beach. When things call back at home and things have to happen, it's just life. You've got to support each other and you've got to make it happen. I was really happy that Luke supported me and was wanting to leave as well.
PS: I think his final decision was a pretty good indication of how he felt about you at that point.
Lisa: Yeah. And you know, with everything, you want a man who's sure. I guess for me, at the end of the day, it's all great to sit around there and laugh and have fun and enjoy the moment, but are we all being serious? This wasn't Survivor, this is about meeting someone and I was sure in Luke. Let's get back to the real world and start living and dating. A date without cameras in our face!
PS: Well, what happened? I know you guys aren't together anymore.
Lisa: Aw, look, it was very unexpected for myself as well. It's something that I didn't think would happen, it's out of my control. We did date for a couple of months coming out, we spent nearly every day together, which was really lovely. He met my family and I was fortunate to meet his lovely family as well but . . . for certain reasons I had to end it. It's hard for me to go into detail because I don't think that that's a nice way to share it on someone else. But I think Luke is responsible for his actions and he's manning up and he's taking it as it is. As a woman I stand up for girls being treated right and I think that's just the way that I am. I feel like, you know, it's a hard one to go into the details. I do still . . . I'm still on a friendly chat level with Luke and we've spoken about it obviously. We know that our relationship was in the public eye and it's something that's going to be spoken about so we've been mature enough to get over it. But yeah, very unexpected and not how I wanted it to end. You can't do much about it but be confident that the right man is out there for you.
PS: Sounds like you held your head high and didn't waver on how women should be treated.
Lisa: Oh, 100 percent. I just feel, if I had a girlfriend who was in the same position I wouldn't . . . oh, it's a hard one, because I know that he does mean well. He's not a bad person, he just made a mistake.
PS: Would you say you were heartbroken by it? Were you falling in love?
Lisa: Yeah, well I wouldn't have left the show if I didn't know it was right. It was a definite shock to me, it was very unexpected. Especially after getting family involved. But . . . life goes on and you can't dwell on it, you've got to look for something better.
PS: How do you feel now? Do you feel like you're moving on?
Lisa: Well, I did move on! [Laughs] But the show's brought back a lot of feelings and emotions. You know, you have good days — you go up and down. But I've had a lot of support from everyone here at Channel 10 and Warner Bros., as well as everyone on the show as well. They know how it feels. Being in the public eye, it's not just on me — it's on my family, on my aunties, on my uncles . . . everyone wants to know. The hardest thing is talking about it. We have spoken and, you know — what are you going to do?
PS: Are you angry with him?
Lisa: Well, obviously you're going to be upset by it, but you can't do anything about it. I stand up for all women and I just feel like I have too much respect for myself to stay in a position like that.
PS: So I can make sure I've understood this correctly: did something happen, or was it a combination of things that led to this point?
Lisa: Unfortunately Luke broke my trust. After that happened it was very hard to go back from that.
PS: Looking back now, knowing how it's turned out, are you glad you went on the show or do you wish you hadn't given it that emotional energy?
Lisa: Ohhh [laughs] a bit of both, I guess. I always learn something from doing these experiences. I take the best away from it. I met a lot of great people, everyone's really lovely to work with. It's a tough thing. It's a lesson learned, and I think it puts me one step closer to meeting Mr. Right.
PS: So there was nothing there between you and Michael?
Lisa: This is a tough one; a lot of people have asked me this question. Michael and I had a really strong friendship and the three of us, Michael, Luke and myself, we were the oldest there so we're more mature and I think all of us were really wanting to find that special person. And I think because Michael and I were really close, we could connect on a certain level — I think maybe because it was hard for him to find anyone, he kind of found that more in me. I think it was really courageous of him to step up and there and say, "You know what, it's not a game of Survivor, I'm actually going to give [the rose] to the girl that I want to give it to." I like a guy that does that. I like a guy that stands up and says, "No, I'm not waiting for another girl to walk through the door, you're the one for me!" You know? There was a special friendship there that we had but he did know that Luke and I were hanging out every single day and we had something that was more of a relationship.
PS: Whereas with Michael there was no romantic chemistry?
Lisa: No, there wasn't.
PS: Have you met anyone since?
Lisa: [Laughs] No . . . I think, I don't know. When you watch yourself on TV I don't really go, "Wow," like I'm doing well, but I've actually had a lot of guys message in and say, "If you don't end up with anyone, can I take you on a date?" I've had some really, really good-looking men ask me on a date [laughs]!
PS: Yesss, that's awesome!
Lisa: So that's nice — if anything happens from it, it's for the right reasons. I think I really want to meet someone the old-fashioned way, and maybe just in a more authentic environment. Not so much putting myself in a dating [show].
PS: It must be hard to watch the show back — or do you avoid it?
Lisa: I watch bits and pieces. I'm really happy for my friends that have found love. I've made some really close friendships and good connections — I'm really happy with the way that it's gone down for other people. At least I'll be going to a wedding! It might not be mine, but I'll be going. [Laughs] Always the bridesmaid!