Little Mix Australian Interview on DNA, Fans, One Direction
Little Mix in Australia: The Girls on DNA, Bonding, One Direction Comparisons and Amazing Fans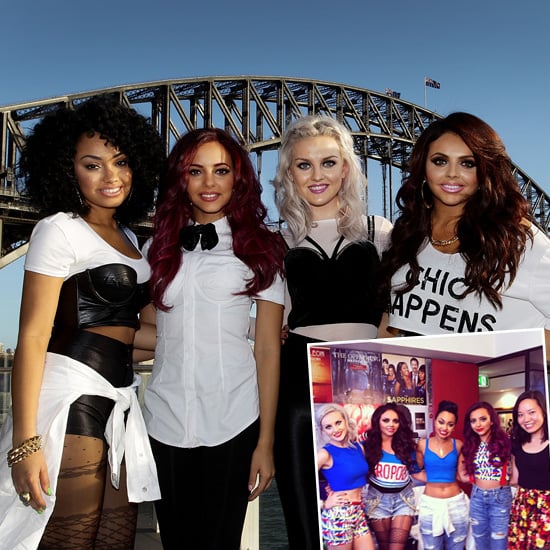 If you grew up in the '90s, you'd remember when girl power was omnipresent and female groups ruled the music charts. It's been a while since we've had an all-girl music force like the Spice Girls or Destiny's Child, but Little Mix are determined to change that. Formed on The X Factor UK last year, Leigh-Anne Pinnock, Jade Thirlwall, Perrie Edwards and Jesy Nelson went on to win the 2011 series and are just about to release their debut album, DNA. Their hit single "Wings" is also flying up (pardon the pun) the Aussie iTunes charts. The girls have been referred to as the female answer to One Direction — Perrie is dating Zayn Malik — but as much as they want to emulate the boys' success they're adamant the acts are "completely different." I chatted with the girls yesterday afternoon to discuss their fast rise to fame, recording their album, the Little Mix brand and more — it turns out they're also big Home and Away fans! Read the interview after the break.
What were your impressions of Australia and how does it compare now you're here?
Leigh-Anne: I think it's literally everything and more. It's probably one of the most beautiful countries I've been to. It's just amazing. And the fans that we have here are just unbelievable! We've had so much support and it's going to be a shame to go home, isn't it? [Girls laugh] Have I got lipstick on my teeth again? I'm walking out. I can't deal with it! Why is this happening?
Jesy: Your lips touch your teeth when you talk.
You do have great fans — you were greeted by hundreds at the airport and I saw the crowd gathering outside Sunrise this morning. Do you have any particularly crazy, memorable fan experiences?
Jade: I don't think we'll ever forget when we first came out of the airport to Australia. That was just overwhelming, wasn't it? We knew we had a lot of fans in Australia but we didn't realise until we stepped out at the airport and there were a couple of hundred fans just chanting and screaming and crying. It was like, wow. And it was the first moment that we've felt like pop stars.
Leigh-Anne: We have a fan base in England, and there's a group of girls who follow us everywhere. They know what we're doing before we know. It's really strange. I don't know how they find out where we're gonna be, but I was talking to one, and I can't remember what they said but they told me where I was going! I was like, "Huh? How do you know this?"
You've brought back the girl band phenomenon. Which girl bands did you love growing up?
Jesy: When I was really young I loved the Spice Girls. I think that goes for all of us. We literally were fanatic about them. And then as we got older and the Spice Girls split up, it was Destiny's Child. We absolutely look up to them. They're amazing, with everything they do — the way they performed, the way they sung their harmonies, the way they looked as a group.
Leigh-Anne: Probably the best girl band in the world. And then also girl bands like TLC, Vogue, SWV, all those old school ones.
Perrie: B*Witched! I had to put them in there because everyone always forgets. And All Saints, Pussycat Dolls. There's been too many boys out there lately. We need some more girls.
Leigh-Anne: We're bringing the girl power back!
You're often described as the female One Direction — how do those comparisons make you feel? Obviously they're very successful and not a bad thing to be compared to . . .
[Girls laugh]
Jesy: I think we're completely different to One Direction. I think we get compared to their personalities. They're very down-to-earth like us, and obviously come from the same show. They got put together like we did. But in terms of music and stuff, we're completely different. It's a massive compliment to be compared to them because they're so successful, and we'd love to follow in their footsteps and be as successful as them.
When you were put together on The X Factor, what did you do to bond?
Jade: We got put together and we had about two weeks before judges' houses, so we went straight to Perrie's to practise and bond with each other. We had nights in together, watched films — it was like having a sleepover!
Leigh-Anne: I miss those times!
Perrie: Every night we used to go to [British supermarket chain] Asda, get loads of popcorn, sweets and chocolate, pick a favourite movie and go home and watch it. Then we'd rehearse for hours. We'd take a five-minute break and be like, "Come on, we need to rehearse again." We were so tough on ourselves but it worked out for the best.
Leigh-Anne: I think the best thing about us as well is learning about each other's banter and funny things. We've got so many weird inside jokes that we do. It's just been amazing getting to know everyone's senses of humour and personalities.
How easy or hard was it to blend your music tastes and fashion tastes together considering you had limited time to do it?
Perrie: I think it just worked, didn't it? With vocals, we've got four completely different voices, but when we sing together and sing the harmonies it seems to just gel. It's weird how it happens. With style, we've kept our individual styles and we've got our individual icons — I think we've made it work by keeping our individuality.
What were the biggest challenges of recording DNA?
Jade: I think just saying what to put on it, because we had so many songs that we loved, and we made more than enough to put on the album, so it was quite difficult to pick what was actually going to be on there.
Leigh-Anne: We also wanted to make sure that we had a good variety because we wanted to put all of our musical influences onto it, and obviously it still has to go together and still fit.
Perrie: And the fans' ages as well. We've got a lot of tiny little fans, we've got fans our age, and then we've got a lot of older fans as well, like the mums and dads, so we've tried to put on as many things as we can for all ages.
Did you feel a lot of pressure with your first album, especially coming from the show?
Jesy: No, I think we were more excited to start working and finding out what our style of music was. Coming from The X Factor we did a lot of covers and you don't really get to do your own music, so it was so exciting finding our sound as soon as we'd come out. I think we knew what we wanted ourselves to be so it came quite easily.
Leigh-Anne: That's the good thing about us — we always knew the kind of sound we wanted. And the lucky thing was that we all wanted it. Can you imagine if one of us didn't want to do a certain type of music?
As you've probably seen from our X Factor, putting people together in a group has become a thing now following the success of you guys and One Direction. It's such a risk but if it works the pay-off is really good.
Perrie: Definitely. The producers and judges are there for a reason and know what they're doing. They've had experiences as well and know the industry. We were really lucky to be put together by them.
Did you ever have any hesitations about it?
Jesy: We did at the start. We were solo artists and when we got told by the judges, "We can see you as a group," we were like, "Oh." And then obviously when we went through the stages of boot camp, we realised that we all lacked in confidence being solo artists on our own on the stage, and as soon as we got put together we just had a whole new lease of confidence. And that's when we knew we were better in a group.
It's also such a nice thing to experience with your friends.
Jesy: We say that all the time. We wouldn't want to experience this on our own. If we could be given the chance to go as solo artists now we wouldn't do it. We just have so much fun. It does sound cheesy but we genuinely mean it when we say we are the best of friends. It's so lovely to be able to experience it with each other.
Perrie: Especially on the show, we were just thrown into the deep end, and that would've been a lot to take in by yourself.
Who is on the top of your dream collaboration list?
Leigh-Anne: We've all got individual people that we'd love to collaborate with. Personally, I would love to do a slow jam with Usher. That is my dream. That would be insane.
Jade: I think it would be good to do a duet with Nicki Minaj.
Jesy: Mine would be Missy Elliot.
Perrie: Mine would be Steve Perry from Journey. I say this all the time but it's a bit out of reach. But it's my dream, right? It's never going to happen but I would die if it did.
Little Mix isn't just a band, it's also a brand — you've got dolls coming out, a book . . . How hands-on are you with the other projects?
Jade: We're hands-on with absolutely everything. We think it's really important that we have as much involvement as possible, because at the end of the day we are a brand, and we're selling it, and it's our idea. People can tell if it isn't. Even at the beginning when we first became Little Mix, before being signed, we had this vision of being artists but also having dolls, and a brand. We came up with having an icon each. It's very, very important that we have as much input as possible — we see every photograph that goes out, we see every stage of the dolls and every bit of merchandise, the designs of the clothing range — everything!
Perrie: People think that we just walk in and they're like, "Oh, we've made you a doll. This is the outfit. This is the hair." We'd be like, [shakes head]. We ask so many questions as well. We're like, "What about this? What about that?"
Leigh-Anne: We're four very opinionated people.
Perrie: In a good way. We just want the best.
One final question: what do you do in your downtime when you get any?
Jesy: We sleep.
Perrie: Put on a onesie, watch the telly!
Jesy: Take off our eyelashes and makeup!
Leigh-Anne: We embrace those days, we really do. And appreciate them.
Jesy: They don't come around that often!
Jade: We see our family whenever we get the chance, because obviously now we don't get to see them as much.
Perrie: When I used to finish school or college, I'd go home and watch telly, and I'd be like, "I'm so bored of this." But now when I watch TV I'm like, "Oh my gosh, I can watch television!" I get so excited.
Leigh-Anne: How weird is it that we don't watch TV anymore? I used to be into all the soaps, all the kids' programs.
Jesy: Every time I watch EastEnders, I don't know who's on it now.
Jade: But I think we'd much rather do this.
Perrie: Oh definitely! We're not complaining. We're just saying that we appreciate things more.
Jesy: But I am missing out on my Home and Away episodes.
Have you managed to meet any of the actors here?
Jesy: No! And I really want to.
Perrie: She's got a thing for Romeo.
Leigh-Anne: She won't stop going on about Alf, either — she's got a thing for him too! [Laughs]
Jesy: Shut up! He's older than my granddad! [Laughs]