Little Mix Interview in Australia October 2013
We Catch Up With the World's Leading Girl Band, Little Mix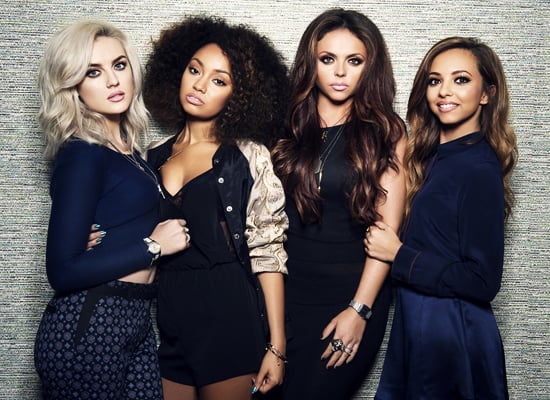 It was almost a year ago that Little Mix first graced our shores, and they were back in Australia this week to promote their new single, "Move," the leading track from their second album, Salute. In the year that's passed, Little Mix — Perrie Edwards, Leigh-Anne Pinnock, Jesy Nelson and Jade Thirlwall — have gone from girl group formed on The X Factor UK (they took out the 2011 series, the first group to ever win the show) to one of the biggest girl bands in the world; their domination includes breaking records, extending the Little Mix brand, and building up an even bigger fanbase. There have also been personal highlights, such as Perrie's engagement to One Direction's Zayn Malik — a match made in pop music heaven. We caught up with the girls in Sydney this week to talk about their maturing sound, beating a record set by the Spice Girls, and what it's like to record their songs in other languages, like Korean!
POPSUGAR Australia: How are you enjoying Australia second time around?
Perrie: As much as the first time. We just absolutely love it here. We think it's amazing, so it's good to be back.
Leigh-Anne: It's beautiful [weather]. We got to enjoy it on the first day because we got a day off. We sunbathed and it was just lovely. But the sun is quite dangerous out here, like it's really hot, so missy here [Perrie] got a bit burnt.
Perrie: Yeah, I burnt my face a little bit. And then she [Jesy] burnt her whole body, but I just burnt a bit of my face.
PS: Did you use SPF?
Jesy: I used Bio-Oil.
Leigh-Anne: She frazzled!
PS: Well you girls have a makeup range now — would you consider adding fake tanning products?
Perrie: I'm too pale for that.
Leigh-Anne: Probably not, but what we would love is a perfume. That would be lovely, a nice fragrance. And I think it should be a multi-pack, because I know we're not all going to agree on a smell, so there should be a multi-pack with a smell for each girl. And that would sell good because you could smell differently every day.
More from Little Mix when you keep reading.
PS: It's been a massive year for you since you were last here — what have been your personal highlights?
Leigh-Anne: My personal highlight was doing so well in America. We got a number four album, so for us that was probably one of the biggest achievements. America is such a big market, so that's amazing.
PS: And everyone's talked about how you broke a record set by the Spice Girls, who are legends to you girls. How do you feel when people mention those stats?
Perrie: It feels amazing. It's a massive compliment. I think we hold two records at the moment: first ever girl band to win The X Factor.
Leigh-Anne: First-ever band.
Perrie: Yep, band — boy band, girl band, any band, to win The X Factor in the world. And then the highest charting debut girl band in America. So we're holding two titles.
PS: Do you wonder why it seems so hard for groups to win The X Factor?
Jesy: I think a lot of why we won was because the footage that was aired of us as a group was like . . . We honestly are such good friends, we absolutely love each other to pieces, and I think that showed in all our footage. We were just silly, and I think a lot of girls could relate to us — like we didn't care what we looked like, we weren't bothered if the camera crew came in and filmed us looking like crap. I think lots of girls saw us and thought, 'That's a girl group that I could actually be friends with, or see myself being in.' We're just really relatable, and I think that's a big part of why we won.
Leigh-Anne: I was going to say that with groups it takes longer to get to know the group because there's more than one person. People can automatically connect to a solo artist because it takes less time, but like you said, with us, we had the opportunity to show our personalities off.
PS: What is it about "Move" that makes it the perfect track to kick off with from your second album?
Jesy: We just think it's fun. It's what Little Mix are about. The song's about not taking yourself too seriously. I still feel like it's got the same vibe that [debut single] "Wings" had, but it's more mature and grown-up. Our music is just evolving, as we are.
PS: What were the differences between recording Salute and DNA?
Jade: Less time.
Leigh-Anne: But it's good, because even though we had less time, we're even happier with this album than the first album. First of all, we wrote even more of it — and we did write a lot of the first — so that was good. It's a lot more mature, more R&B, and everyone's stepped up a gear as well, so we're just taking it to the next level.
PS: Is there a theme or music direction with Salute?
Jade: I think it's just us growing up, as writers, as singers, maturing slightly. The first album was more like an experiment, just writing loads of different songs, and with this album we've found our niche a bit more and we're kind of stuck to it.
PS: Did you have to fight to be more involved? Sometimes with these talent shows, I know there can be a rush to get things out quickly, but when you're more involved it's more time-consuming.
Perrie: I think the first thing we said when we came off the show was, "We don't want to be puppets. We don't want to be told how to dress, we don't want to be told how to sing," and stuff like that, and it just comes with being able to compromise with your label and management and everything. They've been so amazing with us to let us do our own thing. Everything's come from us — we dress how we want. The way we are is the way we are, so that's nice. We haven't had to change ourselves for anyone, and we wouldn't want to anyway. It's cool, we have got a lot of freedom with it.
Leigh-Anne: But like you said, with time frames things do have to be out at a certain time, so that can get stressful, because the label knows that everything has to go through us. They trust us. And I remember, the first X Factor show we did, we went in there with our own arrangement of a song, and with a rap, and what we wanted, and from then, they let us just do our own thing.
PS: I read that you re-recorded "Wings" in Korean — what was that experience like, and have you done any other languages?
Perrie: We did "Wings" in Korean in one day, and it was amazing. We just learned it as we went along. We tried to learn all the different syllables and phonetics [Perrie demonstrates], and we don't have that, so it was quite difficult. But we loved doing it. And then when we went to Japan, we decided to learn a bit of Japanese to be down with the kids. We learnt to sing a bit in Japanese. I think it's becoming a bit of a habit, but now that we've done that I think everyone's going to want their language now!
Leigh-Anne: I don't know many artists who do that, like sing stuff in a different language.
PS: Favourite country or place you've been to, and why?
Jade: It's hard, because when we go to countries, we don't get that much time to experience them. So we have to just go by the view from the hotel, or the food. This is one of our favourite places to come to, just because of the weather, and the people are awesome. It's such a beautiful place.
Perrie: I liked Italy. To be honest, everywhere we've been we've been really welcomed, and all our fans all over the world are really supportive, so we're quite lucky. We never go somewhere and the fans aren't interested. They're very dedicated.
PS: Is there a country where the fans are particularly crazy?
Leigh-Anne: I always think our American Mixers are pretty insane. We love it, because we are as well.
Perrie: The crazier the better.
PS: Who is the person you've been most excited to meet, and how did you react when you met them?
Jade: We always get a bit star-struck by people we've grown up listening to. I remember on X Factor we met Mel C from the Spice Girls. And Emma Bunton.
Leigh-Anne: We met Mel B [when we were here] last year.
Perrie: We've almost met all of them now.