Liz From The Bachelor 2017 Interview
Liz Spills on the "Misunderstanding" Between Her and Jennifer on The Bachelor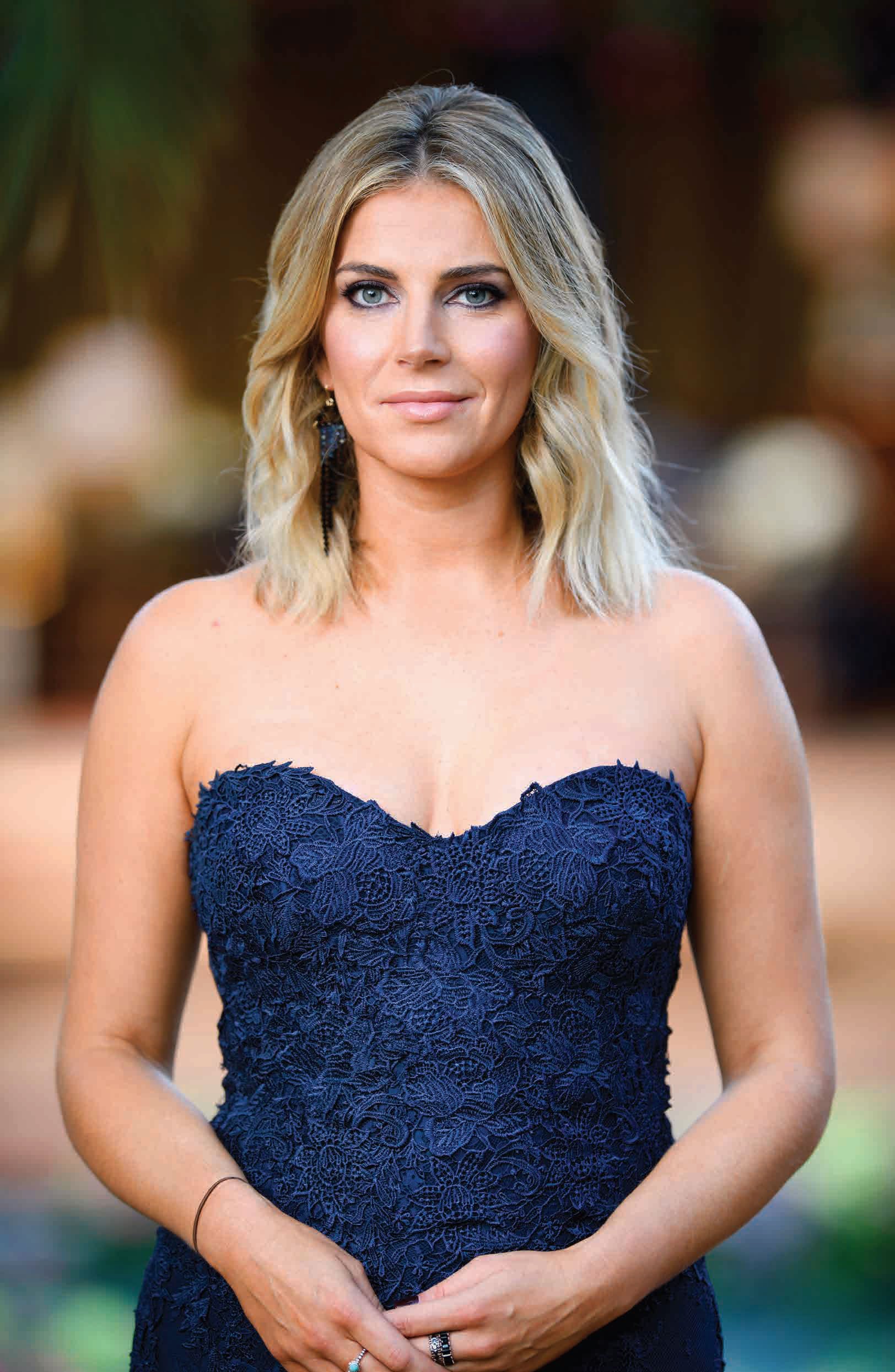 Liz, 31, is one of 22 women vying for Matty J's affections on The Bachelor this year, and she tells it like it is — but she isn't looking to hurt anyone's feelings in the process.
During the launch episode, she unwittingly became the catalyst in the first drama of the season — so we asked her to tell us her side of the story.
PS: Can you tell me a bit about how you were feeling ahead of the show?

Liz: I don't think there's enough words to describe how I was feeling. Sick to the stomach were a few of them. All the usual things, I'm sure, that everybody is going through at the moment.
PS: Yeah, it must be weird!
Liz: It's so bizarre. It's like when you listen to yourself on voicemail. You're like, "Oh, do I actually sound like that?" That's kind of what I'm going through. It's excited, anxious, nervous and everything in between. I definitely feel like I just want to get it over with, not in a bad way. I wish I could have seen it before it goes to air. You kind of prepare yourself. But I don't think you can fully prepare yourself for what is about to happen. But that's alright.
PS: Things just play out differently when they're watched by so many people. It's going to be so interesting, but I feel like you can only enjoy it. You can't do anything else but enjoy it.

Liz: I keep reminding myself that I'm very much true to myself through the process, and that's all I can be. My friends and family that are important to me know who I am. That's all I just have to remember, just be faithful in the fact that they love me and they do support me, and whatever happens happens, and this is what we all put our hands up and signed up to do. That's it, I guess.
PS: I feel like people generally see the truth. There can be variations, but for the most people I think they will see if you're a good person. That's going to come through.

Liz: Yeah, you're exactly right. I was completely 100 per cent true to myself. I know there's going to be people out there that actually don't like me, but that's just a fact of life. It's not TV land, just because you've done a TV show. You work with people you like, you work with people you don't like. That's life. It's more prevalent because you're in front of millions of people.
PS: And you can never please everybody.

Liz: That's exactly right.
PS: Can you tell me about meeting Matty J? Did you know it was him, and how did you feel when you met him?

Liz: No. I did not know it was him, not until we pulled up in the limo. At first, I couldn't really see him until I physically got up to the stairs and was like, "Oh my God." Then I got nervous because I hadn't planned anything to say. I have barely any recollection of what I said to him, I was so nervous. I just made a complete fool of myself, and just dribbled something out. I hoped it was coherent. I vaguely remember finding out that . . . Somehow we go onto the subject of whether he wore boxers or briefs. Apparently he's a briefs man. That's all I remember.
PS: Hahaha! How did you get to that point so quickly?

Liz: To be honest, it's so bizarre, and I keep trying to replay it in my mind. I'm just like, "No, I can't remember how we got there." I have a feeling it had something to do with when he asked what I'm looking for, and I said my best mate, somebody I can hang on the couch with in my underwear. Then he was like, "What do you think I wear?" I was like, "I don't know. Boxers, maybe. I don't know." [Laughs] We actually got to that really quickly. Anyway, what will be will be.
PS: I think you were doing a service for the country by finding that out for us.

Liz: [Laughs] I'm sure a bunch a people want to know that.
PS: There was a bit of drama with you and Jen tonight?
Liz: I guess you can call it drama. I call it a misunderstanding.
PS: A misunderstanding. That's a better word. Fill me in from your point of view.

Liz: My perspective is: It's been such a whirlwind of a night, and I think it's really weird how you become so accustomed to have cameras and mics strapped to you. You almost forget that they're there, it's just so much going on. Because the weather had been so horribly bad, and it was raining during the filming . . . Jen was wearing a white dress. I just happened to sit down, and looked down at the bottom of her dress, because she was standing in front of me, and there was three inches of mud on the bottom of her dress. I'm very open and vocal, and I just call things how I see them. I just went, "Oh my God. That dress is putrid." I meant dirty. That's what I meant by it. I didn't mean it was ugly. Then she somehow . . . she overheard me. I didn't whisper it. It wasn't like I was trying to hide what I was saying. I went, "Oh my God." She sort of turned around and went, "I heard that." I went, "Yeah, and it is. I mean, look at it. It's got three inches of mud on the bottom of it." Then drama ensued. I think it was just completely taken out of context. I do remember, not long after, sitting down with the girls, and we all wrung the bottom of our dresses out, because we were all in the same boat. It was so much more prevalent because her dress was white. I remember ringing the bottom of my dress out, going, "Oh God. This is so tacky." From my perspective, that's what happened.
PS: Is it a bit of a storm in a teacup, do you think?
Liz: I do definitely think a mountain has been made out of a molehill. It's definitely a storm in a teacup.
PS: Did you explain to her you meant the mud? Did she believe you?

Liz: I did, and to be honest, I don't know whether she did or she didn't. I suspect there's a certain level of not believing my explanation.
PS: Well, that's not up to you anyway.

Liz: Exactly, right. That's her perspective, and I can't change her perspective. It was a misunderstanding. There was no ulterior motive or anything else . . . it's so funny. If I wanted to call the dress ugly, I would just say it was ugly. I wouldn't hide behind a different definition.
PS: Did you bond with any of the girls quickly?

Liz: I did, actually. I feel like we're all sort of kindred spirits: Alix, Lisa, Cobie, Laura . . . we clicked and didn't want to be part of the drama. We just wanted to hang out, have a laugh. We ended up getting . . . we had our bedrooms together, which was amazing. We had the best time.
PS: That's awesome.

Liz: Yeah. I genuinely, aside from Matty and all of that, [the friendship] is definitely, I now know, one of the reason why I was supposed to do that show.
PS: I absolutely love the friendship stories that come out of these shows, it's pretty amazing.
Liz: It really is. I can't speak highly enough of those girls. I love them dearly.
PS: What do you think of Matty as a person? Is he someone you could see yourself with?

Liz: Yes, totally. I can see it. He is definitely someone I would want to be with. I think he's just an awesome guy. He's really funny. He's got a great sense of humour.
PS: He's super easy to get along with.

Liz: Yeah. He doesn't take himself too seriously, given the pressure. I suspect we probably built it up in our heads, "Oh my God, he's up on a pedestal." But he's just a normal, regular guy. He's very charming, very endearing, just one of those . . . this sounds really hippy, but he's got that demeanour that makes you feel relaxed.