Loki Madireddi MasterChef 2018 Elimination Interview
Loki on Not Using His Immunity Pin: "I Wanted to Stand By My Team Mates"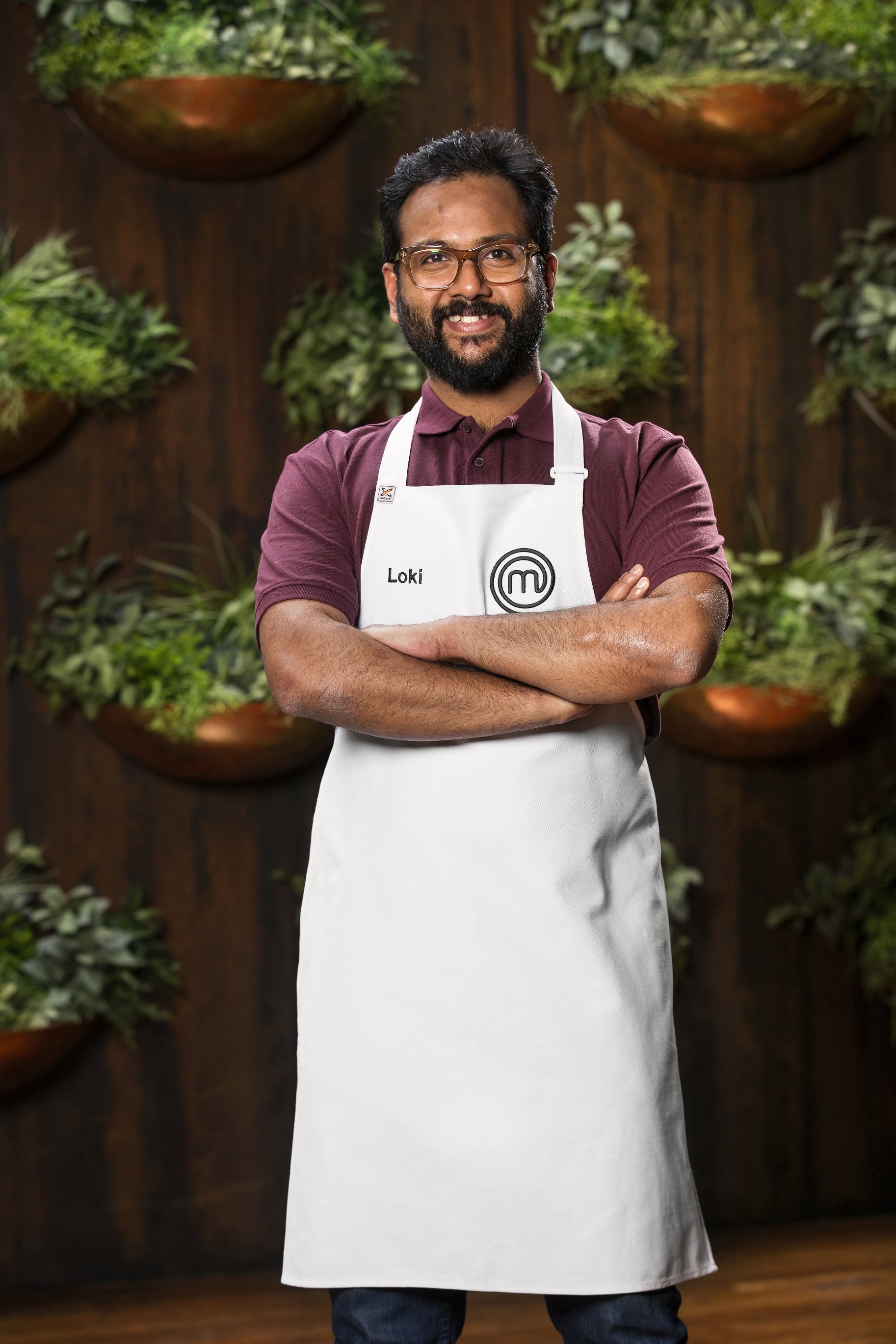 MasterChef immunity pins are pretty much considered the holy grail of the competition, offering the lucky owner a chance to save themselves from elimination. So you can imagine how big a gamble it was that Loki Madireddi, despite have said pin, chose not to use it during Thursday's Pressure Test. As fate would have it, his dish wasn't up to scratch, making him the first contestant in MasterChef history to go home holding an immunity pin.
Despite what may seem as a mild tragedy though, Loki stands firmly by his decision, and frankly, his attitude about it all is incredibly refreshing. Here's what he had to say about his time in the MasterChef kitchen.
POPSUGAR Australia: I was legitimately bummed to see you go tonight.
Loki: It is what it is! [Laughs] Something good will happen, for sure. I always look forward to the positivity.
PS: How much are kicking yourself for not using that immunity pin?
Loki: Absolutely not kicking myself. I am so happy and standing by my decision. I would take it to the end, I don't regret a moment of not using it.
PS: How come? It'd mean that you would still be in the competition.
Loki: Everybody sees this as a competition, I'm looking at this as an experience where I know who I am, irrespective of whether I do or don't hold the trophy. It was this moment that I was longing and waiting for, and my wife actually brought out that opportunity for me — to see who I became. So I know who I am and I wanted to stand by my team mates. It would've been an unfair advantage if I'd used the pin, because it wasn't the bottom three dishes or something I didn't cook well that got me in the Pressure Test. It was a team challenge and fair and square for everyone to be there.
PS: So if it wasn't a team challenge, you would've have used the pin?
Loki: Definitely. When you plate up a bad dish, it might be that you had a bad day in the kitchen and using the pin would be an opportunity to correct yourself. When it's not that, it just doesn't feel right in your gut that you're not doing the right thing, so I wanted to stand by my friends.
PS: Were you confident that you could get through that challenge?
Loki: When I told them I was holding onto the pin, I said, I can do this. There was a strong feeling that I could, but [deep down], I knew something was going to go wrong. You have a feeling, but you don't know what's going to come, so it rattles you. At that time, I knew I was an instinctive cook and could pull a rabbit out of a hat, because I'm good on my feet. But when it comes to recreating dishes, I'm not a reader or writer, I'm a visual person, so if I'd seen Gordon Ramsay cooking, I could've done it, because it didn't involve reading and writing. I know that's something I need to work on, but it's not my forte, and I make mistakes when I have to read. If you watch my cooking, I never measure my stuff, it's all touch, feel and smell. It's all my senses that are working. So yeah, that's what happened. I missed steps and misread things.
PS: How does it feel to be the first MasterChef contestant to go home with an immunity pin?
Loki: There's a first time for everything! [Laughs] I created this history, so some people would probably be scared to do the same thing. I think the remaining contestants would be thinking not to do that. But I'm not feeling anything about making history, it's about being myself, and I'd do the same thing. I'm really proud of myself for who I was then.
PS: Where are you keeping that immunity pin now?
Loki: It's very special and in a very safe place!
PS: What does it mean to you?
Loki: It showcases my confidence. The person who did not believe in himself finally does, so that's a reminder every time I don't believe in or trust myself. When I have the smallest doubt, the pin is a reminder for me.
PS: What have been some competition highlights for you?
Loki: The joy in my son when he knew when I got the apron. He was disappointed when I pretended I didn't have it, but when I took it out of my hand, the joy in his eyes — that's the moment I love. He thought I didn't get it and was drooping, but when he saw the apron, he lit up the entire place with his smile.
PS: Who do you see as the strongest cook in the competition?
Loki: Ben and Brendan are both awesome cooks!
PS: Can you tell us a bit about what you're up to now?
Loki: I just recently completed a short three-week stint at Gaggan, one of the best restaurants in the world. I had an amazing experience there, learnt many techniques about food, and I was able to understand the intricacy of each dish and how the techniques were used. I'm also working on my own projects. One of the things I want to do is make people aware of the olden traditional techniques of Indian retreats. I want to take people on an experience, like what they can get out of the original cooking. It's cooking with earth, basically. The second one is a kids workshop. I want them to understand where the food is coming from and to be playful and creative, like grow stuff in the backyard and understand how they can make cooking fun. I'll always be the first person to jump with joy at the opportunity to work with kids. The third is open-source learning, so I want to bring out any kind of knowledge for free for people to share and cultivate something new that they might not know. That's a blogging centre that I want to make.
PS: Sounds awesome, I love how they are quite lifestyle-centred!
Loki: Yes, when people waste their food and don't know what goes into it, they need to know where it's coming from — how people who have worked so hard to grow one single crop, how much energy has gone through etc. People should understand that, especially kids.