Luke Evans as Gaston in Beauty and the Beast 2017
Why Luke Evans' Gaston Is the Best Part of Beauty and the Beast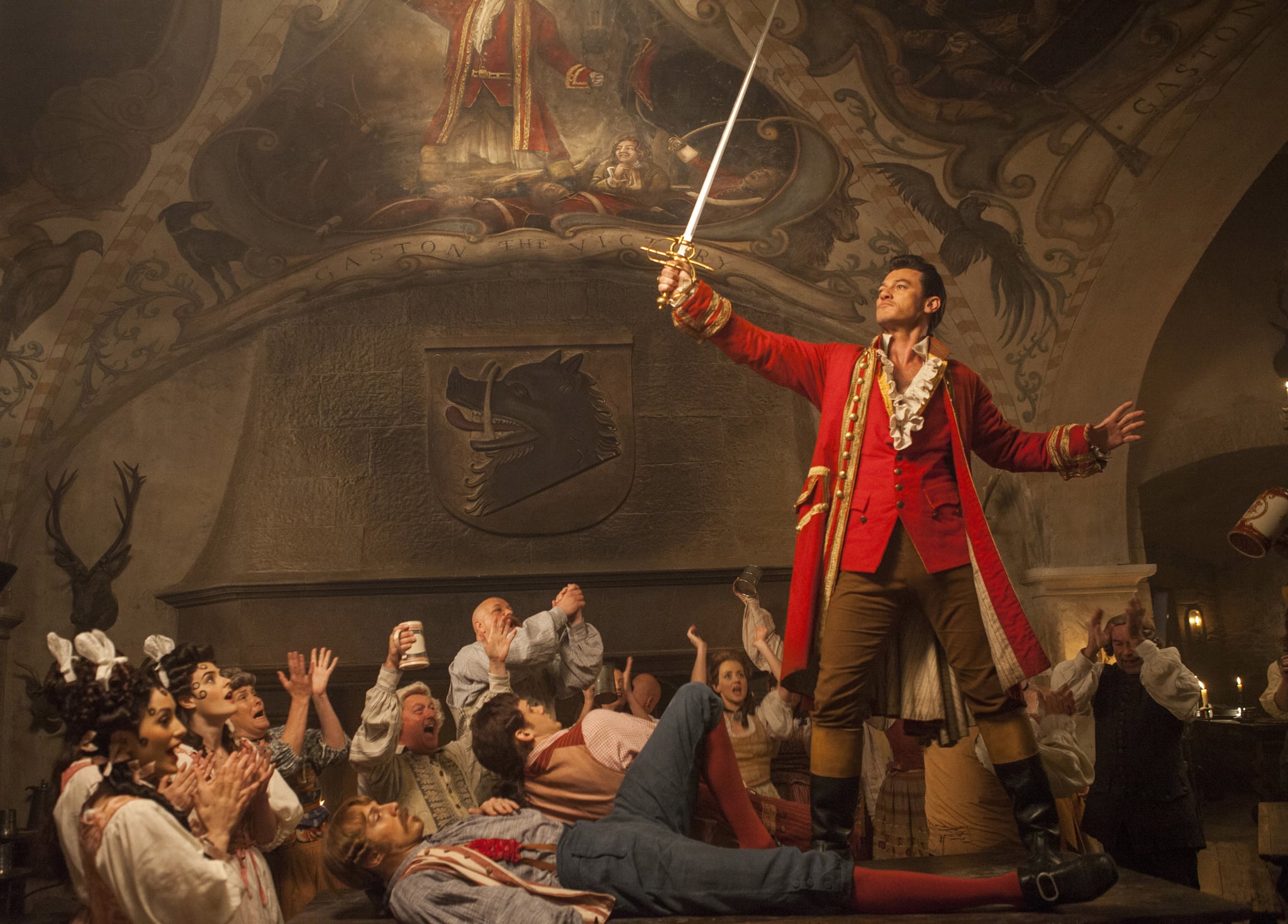 When Disney's live action Beauty and the Beast opens nationwide this week, there will be plenty of breathtaking elements fans will no doubt want to relive over and over. The magical, expansive set that is the Beast's castle, those classic musical numbers from your childhood, the infamous ballroom dance where Belle dons that yellow gown . . . But unlike the original, what the live-action remake completely makes you come out on the other side of is Luke Evans' portrayal of Gaston.
Many of us watched the 1991 animated version wishing Gaston would just disappear and let Belle live her life — he was the repulsive and annoying character written into the standard Disney villain role. And don't get me wrong, the 2017 Gaston is still self-centred, egotistical and a jerk, but there's a lovable element to him that's impossible to shake every time he's on screen.
The Relationship with LeFou
No praise of Gaston can happen without mention of LeFou, played to perfection by Josh Gad — especially with the new remake. The pair has a different dynamic to what many will recognise with the original — instead of a servant-master relationship, we see a shared understanding and welcome co-dependency. Despite being vastly different personalities, they accept and lean on each other to have the others' back, albeit sometimes in a manner too close for comfort. Gaston gets to be the most Gaston because LeFou feeds his ego, and LeFou is able to slowly come to terms with who he is through Gaston's rise and inevitable fall.
The Singing
We're more familiar with blockbuster Luke Evans rather than musical theatre Luke Evans, and in this role, we're getting the best of both worlds. There's a heartiness, strength and power that he brings to the screen in a way only seasoned theatre vets know how, and it's great to watch. The "Gaston" number comes to life in such a way that makes full use of the set and ensemble cast, complete with twirls, claps and the kind of dramatic crescendos that make you forget about everything else. No one does it quite like Gaston Luke Evans indeed.
The Charm
If you questioned your moral compass because Gaston was suddenly . . . attractive in the film, you're not alone. Gaston believes no one compares to him, hence the apparent ridiculousness of Belle's refusal of his hand in marriage. And it's in all this self-obsessed indulgence, exaggerated masculine bravado, cheeky smirks and smoulders that the 2017 Gaston gets an upgrade. You almost don't believe he's as villainous as he is, because this time, Gaston is fun, he's goofy and frankly, too entitled to care about anything, or anyone else.