Luke Hemsworth Interview on Bikie Wars: Brothers in Arms and Working With Chris and Liam
Luke Hemsworth Talks Bikie Wars and Working With His Brothers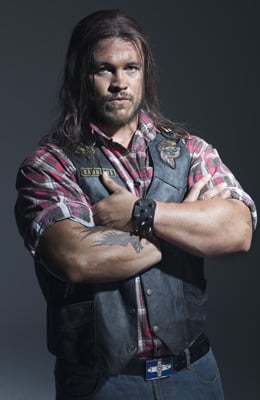 The Milperra massacre is coming to the small screen tonight in Network Ten's Bikie Wars: Brothers in Arms. On Father's Day in 1984 two motorcycle clubs, the Comancheros and the Bandidos, were involved in a fight that resulted in death of seven people, including a 14-year-old innocent bystander. The events were recorded in the book Brothers in Arms, which serves as the source material for the six-part series. As part of a star-studded cast, Luke Hemsworth stars as Shadow Campbell, one of the Bandidos, and we spoke with him about how he got into character, his experience with motorbikes, and if he has plans to work with Hollywood heartthrob brothers Chris and Liam.
How did you get involved with Bikie Wars: Brothers in Arms?
I just did an audition. I got a call, put an audition down on tape in Melbourne, sent it off, didn't hear for a couple of weeks, didn't think anything of it, and then bang! [They asked] "Would you like to play Shadow Campbell?"
Were you familiar with the story of the Milperra massacre?
Not really. I would've been three or four when it happened. I'd heard of it but I couldn't have told you what happened. I'd seen something a couple of years ago, I think it was a documentary about it, and I remembered it was about the Comancheros, but that was all I knew. I just did a bit of research and used Google a lot to find out everything I could.
Did you read the book it's based on?
I did. It's good. There's a lot of stuff in there that gives you an idea of where these guys are coming from. But also there are lots of conflicting stories as well. A lot of it is left to an actor's interpretation in a lot of ways.
More from Luke when you keep reading.
What's your experience with motorbikes like?
Pretty good! Some of my earliest memories are on the front of a motorbike. My dad raced Kawasaki 900s at Bathurst and in production races around Victoria and Australia. We had trail bikes as kids growing up. I've never had a bike as an adult, but I'm pretty confident on a motorbike. A Harley [Davidson] is another game altogether, but basic controls and functions are all the same — you've still got a clutch, throttle and gears. I think I was pretty comfortable and hopefully that comes across.
Can you tell me about your character, Shadow?
He's one of the Campbells and the Campbells were recruited to the Comancheros as the fighters, basically. They had a big reputation back then as being really good fighters and the leader of the Comancheros, Jock Ross, wanted to make sure that he had the toughest and hardest guys around, so these guys were recruited and were catalysts for the split at the club. Jock Ross went one way and the Campbells and the Bandidos went the other.
How did you get into character?
The wig and the vest do half the work for you! You pull on the boots, put on the vest, sit on the bike, and you don't have to do much else in terms of getting into character in that sort of respect. That's probably the best way in — it's through their gear, I find, and then for me it's a just about being truthful to the moment, that sort of thing.
And I read that Shadow had a pet Tiger snake, so is that in the series?
It is, yeah. It's not a Tiger snake though, it was a Diamond Python. But yeah there is a good scene where I feed the snake and the snake climbs up the glass tank, and we had a stare-off competition [laughs]. It was pretty freaky, actually.
Were you comfortable working with a snake?
I was, actually! I was surprisingly comfortable. I don't mind snakes and reptiles; spiders I'm not too keen on, but I was pretty interested in having a play with the snake.
What was it like to film the fight scenes?
It's hard working filming fight scenes. You practice them over and over again and you roll and everything goes out the window, basically. There's a lot of adjusting to certain things, you always get a few scrapes and a few knocks, but ultimately it's pretty fun — you're beating someone up without actually beating them, so it's a win-win situation.
You're a father of three — will you be giving Chris any advice? [Chris and wife Elsa Pataky welcomed a baby girl, India, last Friday.]
No I won't give them any advice [laughs], you want parents to learn the hard way like you had to. I'll give him advice if he wants it, but I don't know how helpful it will be. [Laughs]
You've mostly done Australian productions but your brothers are in some of the biggest blockbusters this year, so does that make you want to try Hollywood as well?
Yeah, definitely. I'll head over there at one stage I think in my life, hopefully sooner rather than later. But yeah we'd all like to work together.
Have you discussed maybe coming up with your own project or anything that you guys could do together?
I think we'd probably like to come up with our own project. I think we'll go down that road at some stage. Chris is pretty heavily booked for the next year or so, and these things take a long time to get up and get going so it's [about] finding the right project and the right time.
Bikie Wars: Brothers in Arms premieres tonight at 8:30 p.m. on Network Ten.
Photo courtesy of Network Ten