Mad Men "The Suitcase" Episode Recap
Mad Men's 5 Maddest Moments: Episode "The Suitcase"
For such an innocuously-titled episode, this week's Mad Men is anything but. There's both potty humour and the raw honesty, and by the time the vomit and ghosts appeared, I was convinced I was watching the wrong show.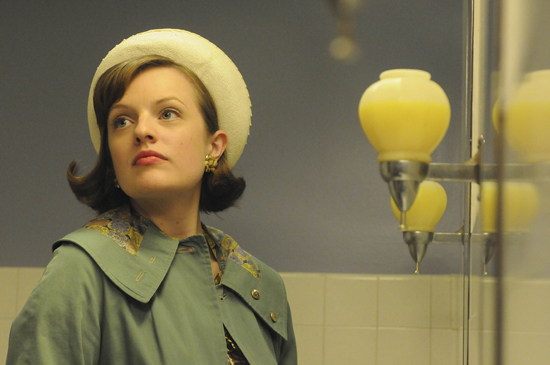 The series really roughed up its Emmy-fresh sheen to peel back the curtain and show us a more, uh, interesting side. Aside from the boxing and strength metaphors, this episode is really about Don and Peggy and exposing a new facet of their relationship. Let's get to it, shall we? To discuss the maddest moments of this week's episode, just read more.
Keep reading . . .
The Match: The excitement in the office is around the Cassius Clay/Sonny Liston fight, but the real heavyweight match is between Peggy and Don. It's her 26th birthday, and she's detained by Don until she can come up with a usable idea for Samsonite. The resentment Peggy feels for being ignored when Don won the CLIO last week bubbles up and comes right out of her eyes. After Don yells her into the ground, Peggy breaks Kelly Cutrone's cardinal rule by crying in the office.
How not to break up: Ugh, good riddance, Mark. Peggy's boyfriend arranges a surprise dinner for her that includes her family, and he's more than irked that she can't make it. After ripping her a new one for ditching him for work, he then breaks up with her over the phone from the restaurant, in front of her family. No one should be dumped on their birthday, and not while their family awkwardly listens over oysters.
Unwelcome goodbye: Don gets an urgent call from California regarding Anna, and he knows it's bad news. He waits until the morning after Peggy's birthday to call, and it confirms that Anna has passed away. Don knew it was coming, especially after glimpsing her ghost as he slept off his drunkenness. We see more vulnerability from Don as he gives into his grief in front of Peggy and sobs, letting her comfort him.
If it walks like a Duck, it's probably drunk: The only person more of a hot mess than Don Draper this week is Duck Phillips. Fired from his job, he sends Peggy a birthday bouquet and a stack of presumptuous business cards. The desperation (and alcohol) on his voice is thick, and he describes the agency he wants to form with Peggy from the ground up. She extracts herself from the painful phone call and when she next sees him, his pants are down and he's trying to defecate on Roger's couch. And though I'd like to forget it even happened, I have to say it: Someone farted on Mad Men.
Time to get personal: Don and Peggy's relationship stops being polite and starts getting real after their epic fight. Making up over the hilarious tapes of Roger's recordings for his book (I'll never look at Cooper the same way again), they go out for dinner and drinks. I was shocked by how much comes out; Don freely makes references to his old life as Dick Whitman, and then they talk honestly about why they've never slept together (the rules). Is it cute or weird that Don tells Peggy she's "cute as hell"? The season one revelation of Peggy's illegitimate child also comes up, and Peggy admits that her mother thinks it was Don's baby. They're being so open that I'm surprised they stop before Peggy admits that it was Pete who impregnated her. The bonding continues after that—she helps him as he gets sick, falls asleep with him on his couch, and by morning, he tenderly strokes her hand. I've always been weirded out by a possible Peggy-Don love connection, but the sequence of events that leads to them having a new understanding of each other is so touching that I'm almost rooting for them to get together.
What did you think of "The Suitcase"? Were you as shocked as I was that they went so far with some things (yes, I'm thinking of all the bodily function situations). Chat me up with your reactions below!