Mariah Carey Explains Her Speech at the Palm Springs Film Festival At the People's Choice Awards
PCA Press Room: Mariah Talks Precious and That Other Acceptance Speech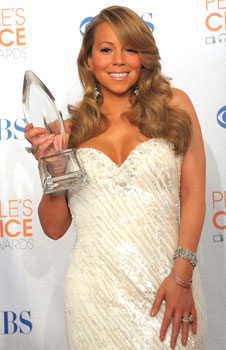 After scoring the trophy for Favourite R & B Artist, Mariah Carey made her way back to the press room. I couldn't help but notice that she had an entourage helping her down the stairs (including husband Nick Cannon), but Mariah assured us, "I'm really nice, but people think I'm a diva because i walk around with 800 people." She also confessed to having a secret new year's resolution and joked that Lee Daniels is to blame for her much-talked-about speech at the Palm Springs Film Festival earlier this week. Here are more highlights:
On what's next:I loved, loved doing Precious. It was one of the most incredible experiences of my life so I'm hoping to continue doing films.
On who would play her in a biopic: Me. That would be something I wouldn't let go because unless they tell the real story, it would be boring.
On whether or not she was tipsy at the Film Festival: Everybody in the club gettin' tipsy.
On how her speech was received: If people don't understand me and think I'm just some girl who stands by a microphone who sings "Hero", then they wont get me. But I have a sense of humour and that's what gets me through life.