Mark Ruffalo Confirmed to Play The Hulk in The Avengers
Chris Hemsworth and The Avengers Cast Come Together at Comic-Con!
Chris Hemsworth has been promoting Thor at Comic-Con and was involved in some real life drama when a fan wearing a Harry Potter T-shirt was accused of stabbing another fan in the face with a pen. Police were called, which delayed his event by an hour, but all was well in the end. One of the best surprises was getting to see Chris and the full cast of The Avengers together for the first time ever! At the end of the Thor panel, Samuel L Jackson took the stage to introduce the actors we already knew, while Robert Downey Jr  took on the duty of showing off the latest additions. Here's the first photo of the full cast—RDJ (Iron Man), Clark Gregg (Agent Coulson), Scarlett Johansson (Black Widow), Chris Hemsworth (Thor), Chris Evans (Captain America), Samuel L. Jackson (Nick Fury), Jeremy Renner (Hawkeye) and Mark Ruffalo (The Hulk). Joining them is Joss Whedon, who will direct. They are definitely a ridiculously talented (not to mention good-looking) bunch, but how do you feel about the band of caped crusaders?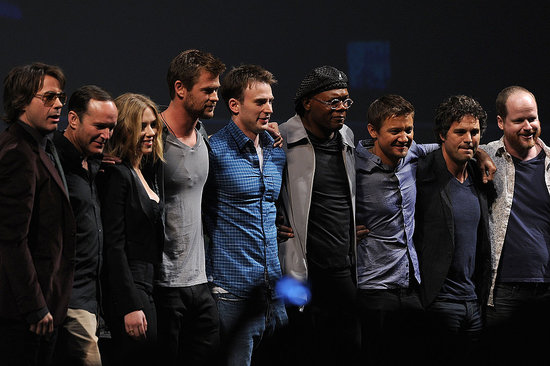 To see a video of the Comic-Con announcement, just keep reading.
.