Married at First Sight 2017 Finale Dinner Party Details
MAFS' Final Dinner Party: Nadia and Anthony Are Over and Lauren Confronts Jonesy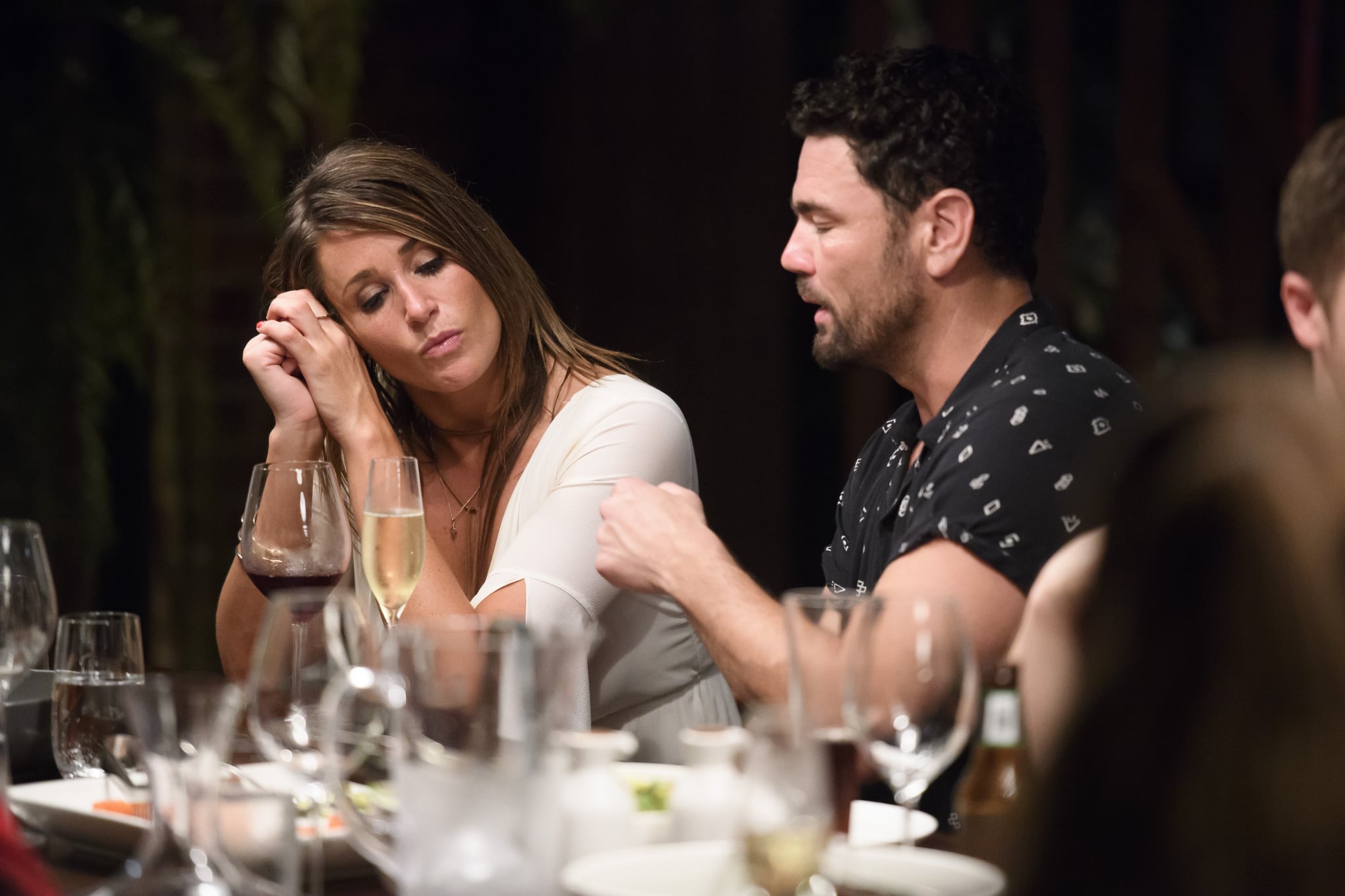 The endlessly entertaining 2017 season of Married at First Sight is ending on Monday night, but not before an epic dinner party with all the contestants took place. We covered the biggest moments of the second-last episode below — scroll to read!
1. First of all, Jonesy and Jonathan immediately bonded in a "we dated the same girl" kinda way. No direct talk about Cheryl, but her dad came up. They both scoffed about the grilling he gave each of them, then they returned to their beers. Cool.
2. Jonathan revealed he's seeing someone (not from the show).
3. Deborah and John are the first failed couple to reunite and she's as demanding and entitled as ever. Just going to throw it out there that Deborah doesn't come across too well on this show . . .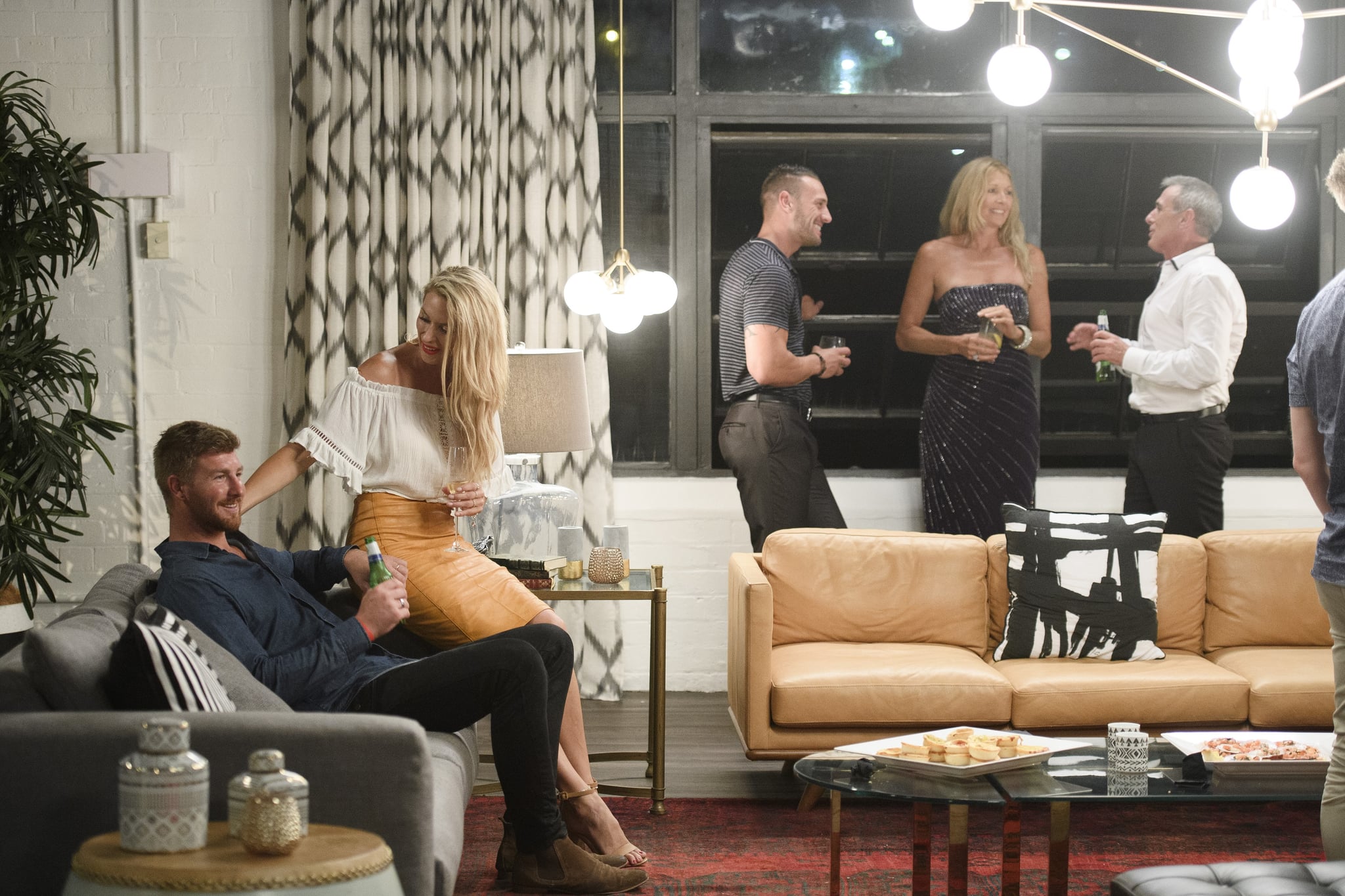 4. Michael enters the room and Scarlett looks mildly annoyed by his presence. They greet each other normally and proceed to ignore each other.
5. Sean and Susan reunite and UGH WHY AREN'T THEY TOGETHER THOUGH? They're perfect. They look like they're in love. Waaah.
6. Nick and Sharon still together and in love, tick. Alene and Simon still together and in love, tick.
7. OK, Scarlett is making a move on Jonesy in the BIGGEST way. Holding his hand, giggling into his shoulder, making sex jokes within two seconds, bitching about Cheryl in that underhanded way . . . he's lapping it all up and it feels a little bit icky.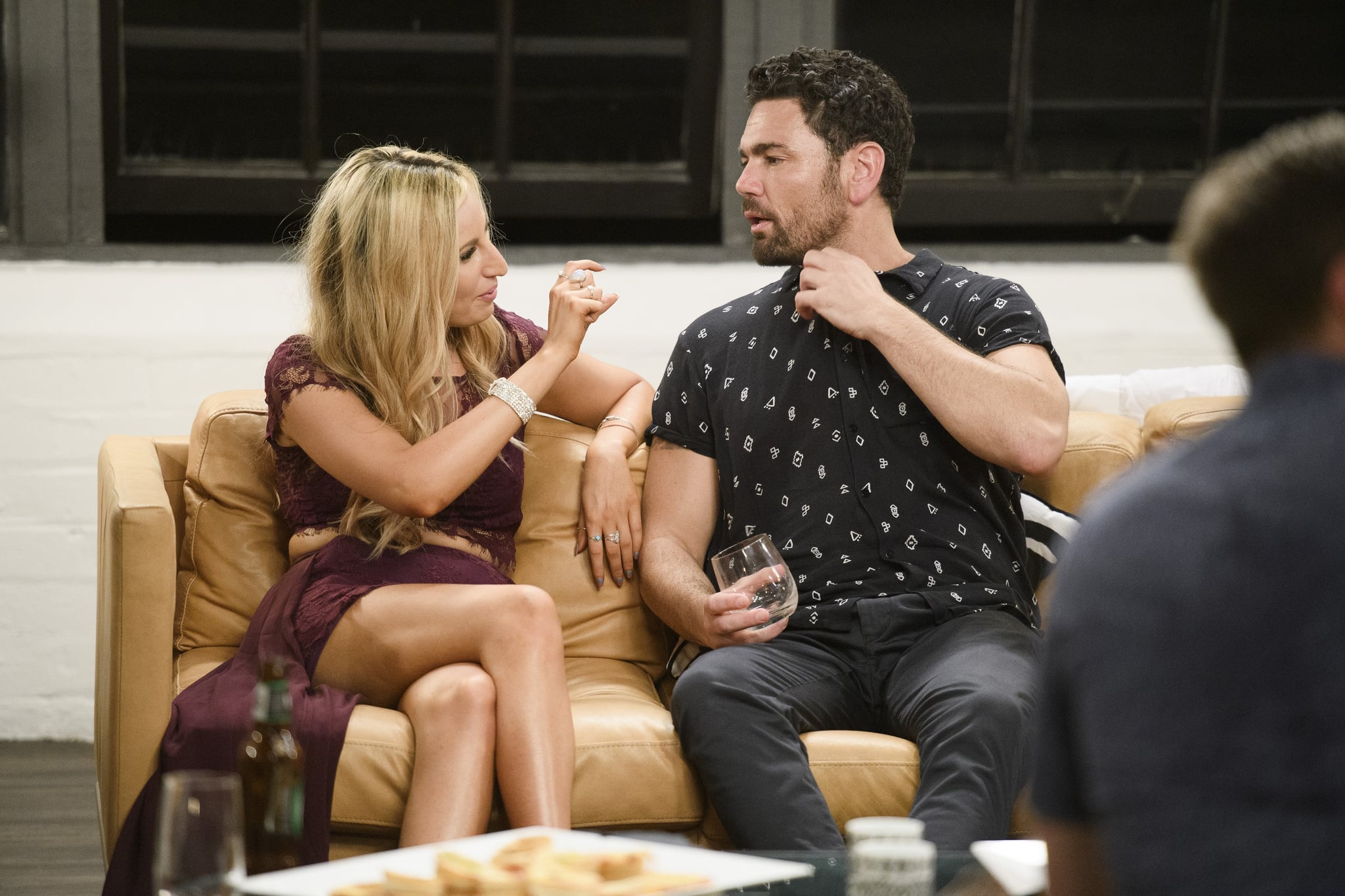 8. Andy and Vanessa hug and look adorable in their matching red outfits. We're sad they're not together anymore.
9. Lauren enters the room . . . Drama! Except there isn't really any. She and Jonesy greet each other like sane, civil people; it's all good. He makes a joke about her needing her runners or something, and she laughs through it.
10. Cheryl's presence is amazing — she gives Jonathan a very casual, "hello" and all but ignores Jonesy. At least you can't accuse her of being fake!
11. OH MY GOODNESS. Nadia has arrived without Anthony because . . . he's left her! Her words: "He dropped me like a hotcake." She continues, "As soon as the cameras stopped rolling, he was gone." She explains that he told her his feelings hadn't grown and he couldn't continue on with the experiment. Good thing Nadia didn't bloody move to Sydney, then. HOLY.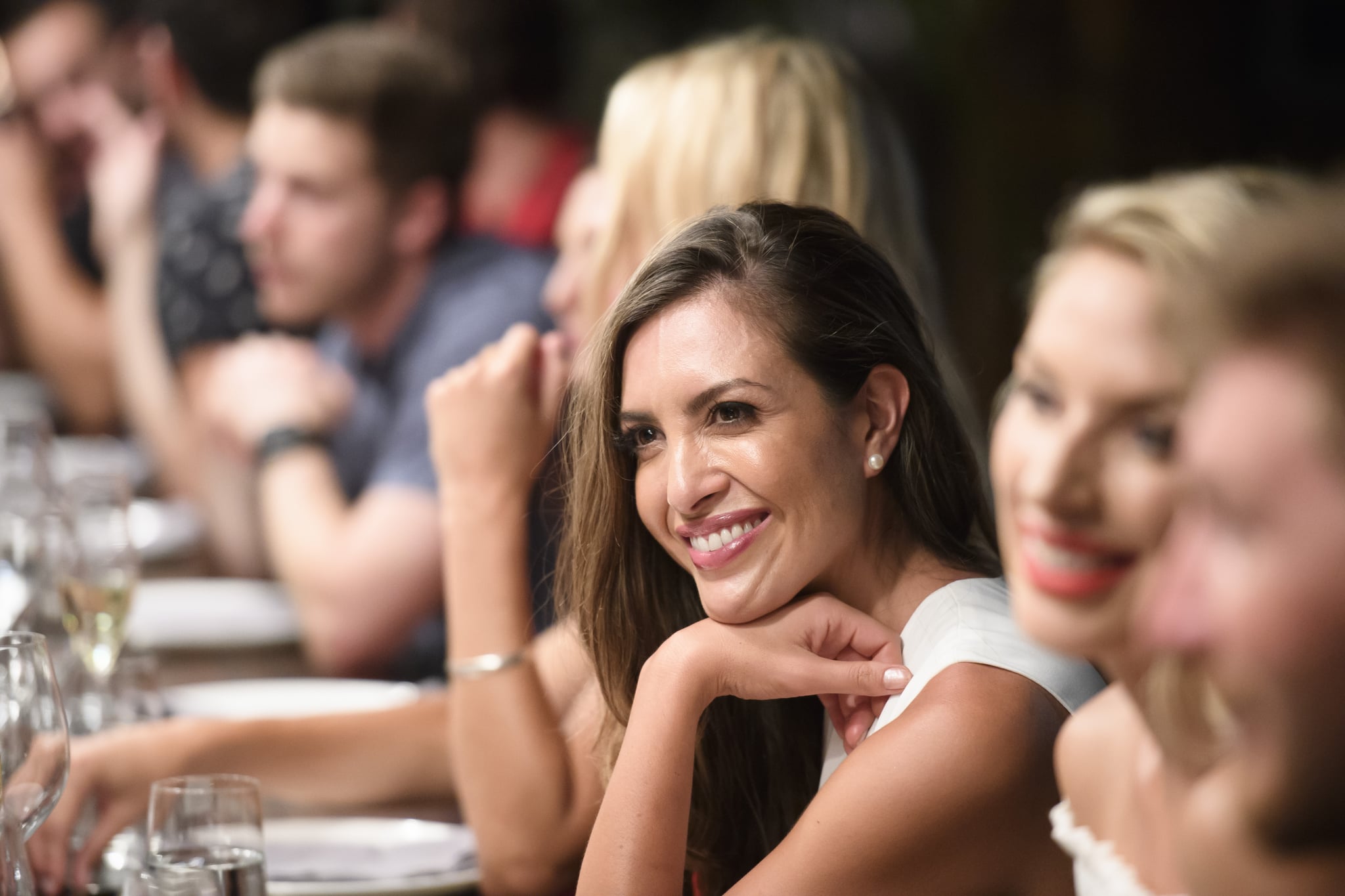 12. Anthony finally rocks up. Ohhh yeah, this be gettin' good. He gives Nadia a perfunctory kiss on the cheek, they both seem awkward as hell. Loltown.
13. OK double loltown — Michael just left the dinner party (the psychologists say it was a way for him to control things) and then Anthony decides to scoot in next to Nadia. She looks MURDEROUS. He apologises for what's happened between then and she barely musters up a response. He leaves the convo feeling really good about himself, like they've smoothed it all over, meanwhile the opposite is true.
14. Nadia heads to the bathroom to take a breather and Cheryl comforts her — she's upset and angry and keeps saying that his words and actions are all for the camera's sake. As she rightly points out, he tried to change who she is as a person and that was never going to work.
15. Ooh. Cheryl pulls Scarlett aside for a chat about their troubles in earlier episodes and holy smokos it goes pear-shaped in record time. Scarlett cracks it and walks out and Cheryl can only laugh. Scarlett walks straight over to Jonathan to tell him that Cheryl just had a go at her and then she leaves. Scarlett out!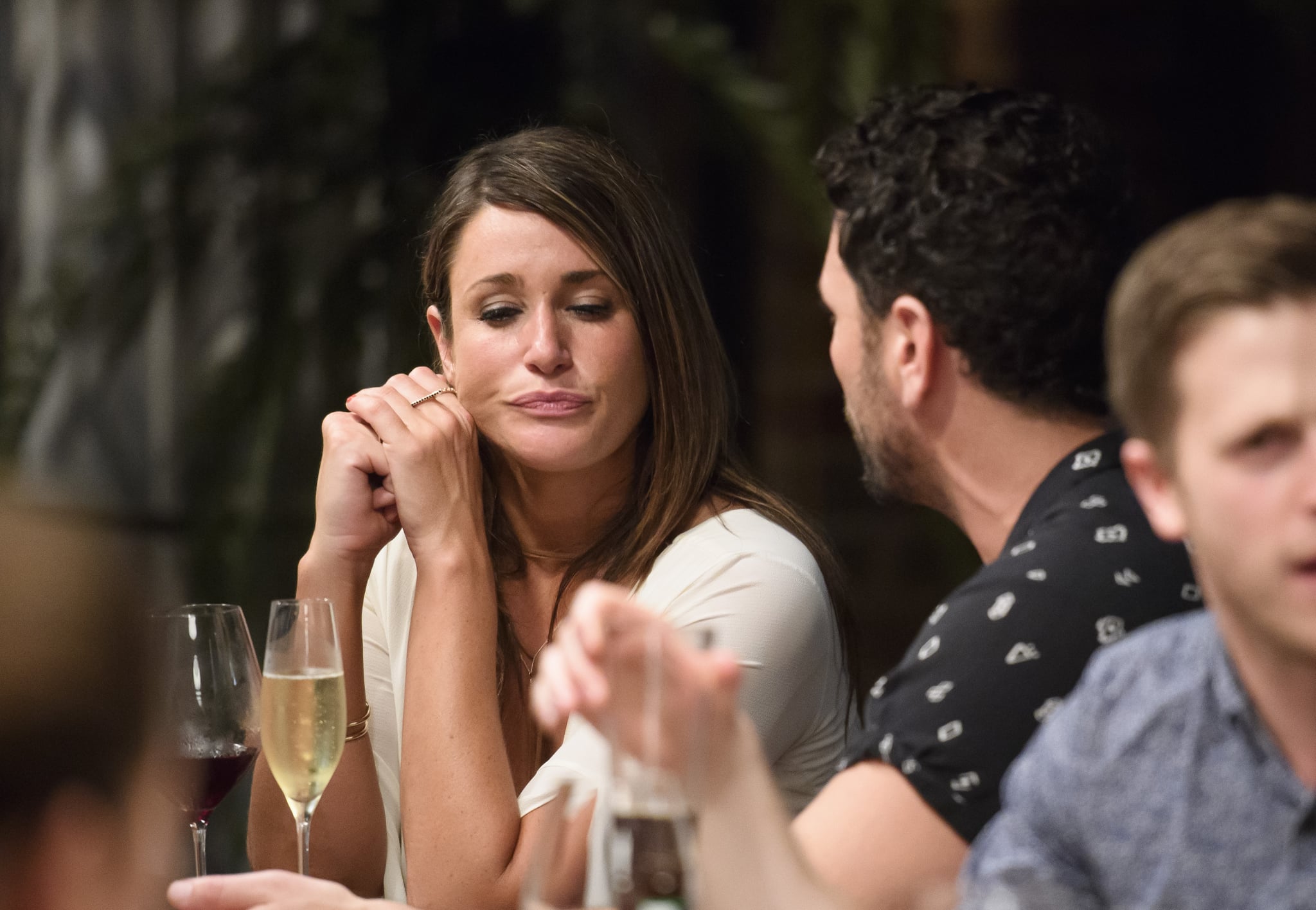 16. Lauren fiiinally heads over to Jonesy and she calls him out on his cocky behaviour. He deflects, she fights back . . . but it ends pretty quickly and they don't really resolve anything.
17. That's it for the dinner party! In summary: Nick and Sharon are all good, Simon and Alene are all good, Sean and Susan clearly still love each other (we're onto you guys), Andy and Vanessa aren't together but they're still lovely to each other, Michelle and Jesse are getting along like the best of mates, John and Deborah are totally indifferent to each other, Nadia hates Anthony with the fire of a thousand suns, Scarlett and Michael both left the dinner party early (maybe they're more similar than they like to think . . .), Cheryl and Jonathan don't even exist in the same universe and Lauren gave it to a typically arrogant/defensive Jonesy. Wow, that's a lot of people.
18. Tonight: Jonesy is confronted with video footage of the boys night and Nadia blasts Anthony. OMG BRING IT.