Marvel's Agents of SHIELD TV Show Preview and Review
TV Preview: Marvel's Agents of S.H.I.E.L.D.
TV is getting a little bit of that Avengers magic when Marvel's Agents of S.H.I.E.L.D. premieres tonight. The iconic studio is bringing the new series to Channel Seven with a look inside the agency where Phil Coulson (Clark Gregg) works and manages superheroes like Thor, Iron Man and Captain America. We heard a little bit about the show from director Joss Whedon and Gregg at TCA, but I also have the scoop for you on how the pilot is. Read on to find out about the new series and if it's as compelling to watch as its big screen predecessors.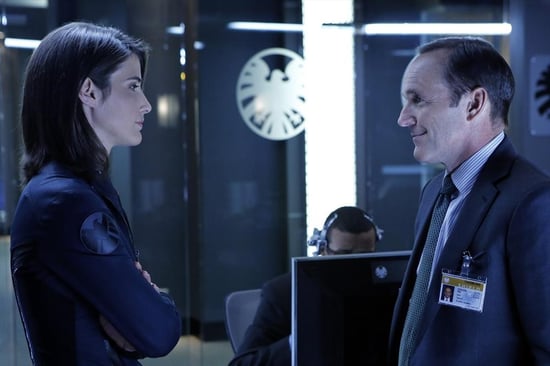 What it's about: Agent Coulson is alive and well, now that he's back after having faked his death during the events in The Avengers. With him, we get an inside look at S.H.I.E.L.D. and the non-superheroes that make it run, including agents like Grant Ward (Brett Dalton), Melinda May (Ming-Na Wen), and a pair of scientists named Fitz (Iain De Caestecker) and Simmons (Elizabeth Henstridge). But it's not all about those agency superstars; in the pilot, Coulson recruits a rough-around-the-ages newbie for S.H.I.E.L.D., computer hacker Skye (Chloe Bennet).
Where it works: Gregg is great here in the spotlight — he's charming as Coulson and he gets more one-liners than he usually gets in any Avengers movie. He's not the only funny part either; the tone is lighter than I was expecting, and the show doesn't take itself too seriously. Also, Cobie Smulders' Maria Hill pops up in the pilot and alludes to the fact that there's more to Coulson's fake death than even he knows. That's a mystery I can't wait to solve.
Where it doesn't:The brand-new characters, like Skye and Agent Ward, aren't really that compelling yet. I'm not sure the scenes with just them will be as interesting as those with Coulson.
You might like this show if: You're a fan of the Avengers movies and always had a soft spot for Coulson.
When it's on: Wednesdays at 7:30 p.m. on Channel Seven.
Watch a preview for Marvel's Agents of S.H.I.E.L.D. after the jump.