MasterChef 2012 Elimination Interview With Alice Zaslavsky on Highlights, Big Personality, Glasses and More
MasterChef's Alice on Her Bubbly Personality, Quirky Glasses, Inspiring Others, and How She's Winning at Life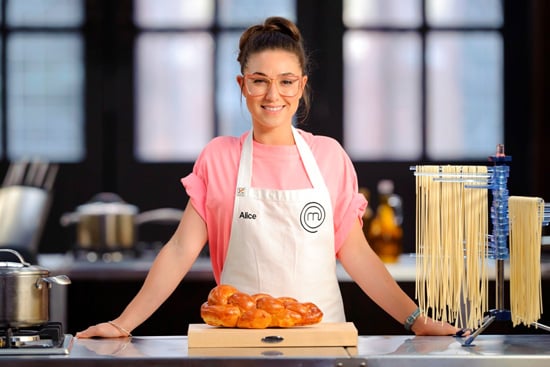 Alice Zaslavsky was eliminated from MasterChef last night, narrowly missing out on a spot in finals week. But the secondary school teacher left on a high note after cooking a meal for her boyfriend, Nick, during a challenge that saw the remaining contestants' loved ones pay a visit to the kitchen — it was only small mistakes in her spiced lamb roast that meant Mindy, Andy and Julia moved forward in the competition. I actually met Alice when I visited the MasterChef set a few months ago, and even before the show had aired I got to know her friendly personality when she offered me food during a lunch break and we talked about The Hunger Games (she had the book with her). We spoke again today about her time on the show, from what her driving force was, to how she hopes she can inspire through many different things, including her glasses!
Did you end up reading all the Hunger Games books?
I did, and it's so funny because you know when I didn't use my immunity pin, I was totally channelling [The Hunger Games]. I was channelling in a tongue-in-cheek way, like I gave Beau the little Hunger Games salute and he just pissed himself. [Laughs] I'm such a dork — it was like an in-between hip hop respect reference and Hunger Games reference. Between the two of them I'm just a big nerd, but I think you've figured that one out.
With the elimination last night, who did you think you were going to cook for after the judges hyped it so much?
I don't know! I think we thought it could've been Stephanie Alexander. Who was left? We had cooked against so many incredible chefs. I was kind of hoping it would be René Redzepi — wishful thinking [laughs]. We knew there would be a family and friends episode coming up because they'd stopped phone calls for about a week, and so we thought the next challenge, not an elimination, top six, would be family and friends. So I thought I wanted to make it to the top six so I could show Nick around! And then he walks in! It was really cool because it meant I got to get through that milestone and I got to go home with him!
More from Alice when you keep reading.
It was probably the best elimination to go home on so close to finals week!
That's the thing. I think I've definitely had the best elimination. On top of everything else, there was no sadness. And the worst part of eliminations that I never experienced was that lonely night in a hotel room after you're eliminated. I never had that. Everything was hunky dory. But I try for things to be hunky dory in my life always, anyway.
How did you feel your dish compared to the others?
Ultimately the judges made the right decision. When I was waiting for a name to be called out, I was actually waiting for it to be Julia, and I know that sounds really strange, but I didn't want her to go home off the back of me going through. We're total BFFs, and we will be forever [laughs]. I really want her to win now. Going into that elimination I knew I was cooking against Julia, Mindy and Andy, who I thought were top five, maybe even top three material — I was the lowest common denominator. I knew I was already the underdog and that I had to pull out all the stops, and I did. Maybe if it wasn't for some teensy things I did wrong I'd still be in there, but who cares? I don't worry about the stuff that I'm missing out on. I just think about the stuff I got, and I got a lot of stuff. I got to go to Italy and I got to meet some of the most amazing chefs in the world.
Your bubbly nature made some people think you were always OTT with your reactions — do you have anything to say about that?
I guess 'me on a plate' sums me up really well, even though it was a total fail. Offal, like me, actually takes a little while to appreciate, like my nuances, I guess, and it's hard to see different facets of people in a television program. You only really see one aspect of someone, so if they want me to be the quirky one, then of course they're not going to show moments when I'm serious and being less quirky. [Laughs] And also, it's probably the fact that there were a few people who were so deadpan and dry, that sort of heightened the contrast. Ultimately, all I've gotta say is that there are a lot of people out there who are worried that people will judge them if they are themselves, and I think I stopped worrying about that a long time ago. If I read too many tweets it gets me down, but thankfully I stayed in long enough that people actually realised, 'Hang on, she's not putting this on, I think she's actually just a massive dork.' [Laughs] Also, hopefully the fact that people saw Nick, and saw he was a normal human, probably helped to plead my case.
With the immunity pin, you decided not to use it twice, which may have suggested you didn't want to win as much. So what was your driving force in the competition?
My driving force was to be there for as long as possible. My milestone each week or each fortnight was like, get to the MasterClass, get to the next challenge, and go from there. My end goal was never to win, because for me, I'm winning at life, all the time, as long as I'm having fun. If I'd set out to win I'd be pretty damn disappointed, but I didn't. I set out to have fun, make some great friends, and learn more about food. And I got to do all those things.
You met so many of your food idols. Which celebrity chef encounter was your favourite?
It's gotta be Massimo Bottura, which is probably one most other people would be like, "Who?" And that was the thing. I heard him speak in Melbourne earlier this year and I was just overwhelmed, because the way he speaks about food is incredible. To have the chance to cook for him, everyone else was clapping, like, "Yay, we have no idea who this is," and I'm bawling my eyes out. I couldn't talk. I couldn't even articulate how excited I was. The fact that I actually put up a dish that he was blown away by was, like, I could've gone home that day. [Laughs]
After cooking against Jamie Oliver, it must've been a huge deal for you.
He really is. The thing is, each person has a different perspective on who the best chef or greatest cook is. Ultimately, I think the best part is that everyone's looking for a different thing from each chef, and for me it's all about the concept of a dish, and Massimo Bottura is very much conceptual. It's kind of like fashion — you put an outfit together because it's a concept. You might be feeling a bit '70s, so you put together a '70s outfit, and sometimes it works well, and other times not so much. That's kind of the same as the dishes we put up. Massimo literally said, "Every dish is a concept, and some dishes are more successful than others." After that it gave me the freedom to freestyle even more.
How many pairs of glasses do you own and how do you decide which ones to wear?
I've got upwards of 20, but this is acquired over the space of 15-20 years. I've had glasses since I was in Grade 5, so that's a long time with glasses. When I was young I had little frames and I wanted to blend in, and as I got older I was just like I'm just going to embrace the fact that I'm a four-eyes and just get these cool frames that I've found. The big ones are all from the optometrist I've had since I was a little girl. He found a box of samples from the '70s, so each one's like a new individual pair, and so for the last five years I've been acquiring them slowly through private health insurance. Coming on the show, I never, ever thought my glasses would be a thing because they're just so much a part of me, so it perplexes me that people make such a big deal about it. It's like, "OK, you don't like my glasses, that's cool, life goes on." And there's a Twitter account about it! It's so funny. I can't believe someone's done that. Hopefully what it does is teach some kid out there that it's OK to be different.
I've seen you in magazines all done up, and even when you wore the small, circular frames in the Jamie Oliver episode, you look really different.
Thanks! Well I like to think of myself as a chameleon, and day-to-day I like to really change things up, wear contact lenses, do my hair differently, wear something completely different. I love it when people are like, "Whoa! I didn't recognise you." But unfortunately on the show, the way you start the season is the way you have to continue, so I had to choose between wearing contact lenses and trying to pretty myself up, or just relax into it and wear my oversize T-shirts, wear my glasses and just chill out and cook. I came on the show to cook good, not look good, that's what I told myself. [Laughs]
I also noticed that you switched from a high bun to a regular ponytail in the last few episodes — was there a reason for that?
[Laughs] It's funny. I came back from the last production break with my hair straightener, and I hadn't had my straightener the whole time so I was chucking my hair in a high bun early every morning. So with having my straightener, I started to wear my hair more in a ponytail every now and then. So that whole week I was rocking the pony. And then Nick comes in [the elimination challenge], and it's funny because I was watching the episode and I thought, 'Whoa, I'm actually glowing.' I think it reinforces what an effect a person can have on your life, and also how important it is to have your loved ones around you, because they really can lift your spirits, and that's what he did for me.
Photo courtesy of Network Ten