MasterChef 2012 Elimination Interview With Beau Cook on Kylie Kwong Challenge and Food Lessons
MasterChef's Beau on His Food Direction, Being a Fussy Eater and Contestant Bonding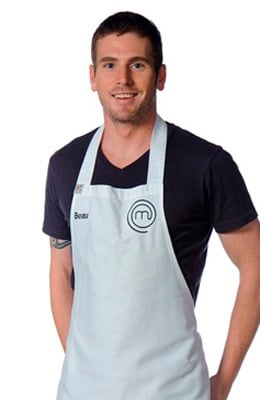 Beau Cook's time on MasterChef was up last night after an elimination that saw Ben, Andy, Julia, Audra and himself competing in two rounds of Kylie Kwong-inspired challenges. (Alice, Mindy and Kylie traded in their immunity pins for guaranteed safety.) While Ben and Andy made it through the first round, Beau, Julia and Audra were left to create Asian dishes with the respective core ingredients of prawns, mushrooms and tofu. A few missing elements saw Beau's dish end his time in the competition. We caught up with the former construction worker to discuss his food future and which whole TV series the boys watched in the house.
What's scarier: a pressure test with a recipe to follow, or an elimination where you create your own dish?
I think the creating one because we had limited ingredients, so we had to choose really wisely. I found it hard because there were a couple of things I wanted to get and I forgot to get them, so that made it really tough.
What did you think of Kylie Kwong's comment that your dish lacked a distinct direction?
I agree with her. I had the right concept. It was just missing that extra bit of punch, and that was the dressing I wanted for the salad. I couldn't get it out of what [ingredients] I had there.
Do you think if you'd managed to get your sauce on that first crab dish you could've been safe?
Definitely. I loved the flavour of mine and I was just spewing that I didn't get it [the sauce] on there. It was a matter of just looking up in the last 10 seconds.
More from Beau when you keep reading.
How do you think you would've gone in the Grant King challenge if Alice had used her immunity pin?
Pretty good, actually! I like that sort of food and I work really well under pressure. That's where the best comes out of me, so I think I would've been fine.
So in what direction do you want to take your food?
My biggest idol is Jamie Oliver so I wanna do the same sorts of things he does, especially with kids. There's a couple of projects in my hometown that I'm gonna help out with, and one of them is like a youth cafe-slash-community garden for the kids. That's where the kids grow all the vegetables and they learn how to cook with them. They also set up a little cafe environment as well. I'm really looking forward to it.
You learnt to cook because you were a fussy eater. Are you still fussy? What do you like and not like?
[Laughs] I grew out of the fussy stage in my teens, probably like most kids. And that's something I'd love to change as well, kids embracing food a bit more. I don't really have any dislikes at the moment but I'm not really into offal. I guess I've never grown up eating it so it's a bit of a tough one for me. I also didn't start eating mushrooms until I was about 14-15. You just miss out, I think.
Do you cook much with your sister? [She's a chef.]
I do now. I didn't actually see much of my sister growing up because she's quite a bit older and she lived in Queensland. But she moved down to Castlemaine, where I live, about three years ago, and we've been hanging out ever since, and cooking. She does Vietnamese flavours.
What's the best food technique or lesson you learnt?
The biggest thing I learnt was instead of trying to do heaps with food to make it taste good, it's just about getting the best produce you can straight away, and you don't have to do much with it at all.
What did you learn about yourself?
[Laughs] I don't know, really! I guess just that anything is possible and if you have a crack you never know what's gonna happen.
What kind of stuff did you guys get up to when you weren't cooking?
We cooked a lot in the kitchen. I used to watch the girls do desserts and I think that helped me out in my pressure test, just by observation. So a lot of cooking. Us boys would hang out, maybe go up to the gym or watch some footy. We watched the whole series of Entourage — that was pretty cool. Like the whole seven series. [Laughs]
Do you know if there was any romance in the house? There are some viewers who think there's something between Andy and Kylie.
Well I don't think they have to worry about that — it's Andy and Ben they need to worry about. [Laughs] Bendy! But there are no romances. You're too much like family.
What surprised you most about doing the show?
I guess just how much effort goes into making an hour-long episode. It's amazing — they've got cameras everywhere, they pour so much money into it and it's really good to see.
Would you like to do more TV work in the future?
I'd love to. In the start I was a bit intimidated by the whole process but I think I've fallen in love with it, and it's definitely something I'd love to do in the future.
You have a lot of female fans so we have to ask: do you have a girlfriend at the moment?
[Laughs] No I don't.
What would you cook a girl on a date?
It depends what she likes.
So you're quite adaptable.
[Laughs] Yeah, exactly! But I think for the first date, maybe something just fresh, vibrant and simple.
Who do you want to win?
I'd love either Ben or Andy to win because we were such close mates. We were like brothers. And if I had to pick a girl I'd probably go with Kylie.
Photo courtesy of Network Ten