MasterChef 2012 Elimination Interview With Ben Milbourne on Friendship With Andy Allen and Cooking Time Limits
MasterChef's Ben on Cooking Time Limits and His Food Future With Best Mate Andy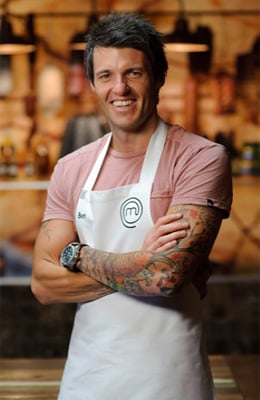 Ben Milbourne's chance at winning MasterChef came to an end on Monday night when he was eliminated just two challenges out of the grand finale, leaving his best friend Andy Allen as the last man standing. It was a pan roasted rib-eye with no "clarity" or "direction" that sent the Tasmanian school teacher home, and Ben says it was a result of having too much time for once, instead of having too little. Of course, it's Ben and Andy's close friendship that has been one of the focuses of the show, so when we chatted to Ben yesterday we talked about the "bromance" and what their future food plans are, whether Andy wins tonight or not!
How's life in the real world been so far?
It's been pretty busy. I've had a little bit of time where I've been able to go home and relax a little bit. I've been back up in Sydney for a few different things, whether it be publicity or photo shoots. I caught up with a mate in Brisbane and then spent some time in Melbourne with Andy doing some restaurant research. It's been all over the place.
Have you been recognised?
Once I was first out, when we finished filming a while ago and I got to go home for a bit, it wasn't as big, but as we got closer to finals week it's becoming a lot bigger. Me and Andy have spent quite a bit of time together, so when we're together it's much, much worse.
You foreshadowed your own elimination. At what point did you think you were going home?
Probably about half an hour into the cooking. I'd sort of decided on a dish and had an idea of the dish in my mind, and Gary and [MasterChef UK judge] John [Torode] came up to chat with me at my bench for the first time. They didn't really have faith in the dish I had faith in, and that rocks you a little bit with the judges, and you've got to make a mad scramble to try and change your mind and come up with something on the spot. From then on, I went downhill.
More from Ben when you keep reading.
I remember you in your pressure test saying how you didn't like cooking under pressure, how you like cooking to be more of a relaxing thing. How did you feel about all the tight time constraints with all the challenges?
That's always the biggest enemy in the competition, especially for me, and as you said I'm a person who cooks for the enjoyment of cooking. Things are ready for me when they're ready, not when time says they're ready. I'll taste something and keep tasting it, or keep checking it. It's ready when it's ready, not because I need to serve it in five minutes. So for me the biggest cooking battle was time constraints. I think I got a lot better at them, and better at judging them. The pressure test I was in, the one where I had to do the crispy-scaled snapper, I went into that planning to work slowly, because I wanted to be meticulous and organised. Once I started to move too quickly and started to go away from my game plan, that's when the pressure would get to me, so I wanted to make sure I didn't allow that to happen by working quite methodically and quite slowly — that's always worked for me in the past.
And I think in the challenge last night, time was my enemy because I had too much time. The judges gave us two hours to make something. With the cut of beef I had, the best way to cook it was just a pan roast, which takes like 12 minutes. So I had all this extra time on my sleeve to think about what I was going to pair with the meat. When I started off the judges thought my idea was too simple, so I just went to the other extreme and created too many things to go with the beef, and didn't really have a direction with what was on the plate.
I can imagine how overwhelmed you'd be when you're told all sorts of different things by different people.
By the end of it, you look at the time as an indicator of how much technique and how much you should do. It's like, 'What can I do in exactly two hours?' not, 'What can I do in an hour and 45 minutes and give myself time to relax?' I need to show that I've used every minute of this two hours to create something technically-advanced. If I'd only just done my initial dish it probably would've taken me an hour, and I probably would've been happier with that dish. But as Gary said to me, "You've got two hours, you need to use it all, so once you get the beef, onion and red wine sauce done, what are you gonna do then?" So all these other ideas came into my head and once I'd set them up in front of me, I didn't know what to pair with what so I just put everything on the plate.
I want to talk about your friendship with Andy, or what has been labelled a "bromance," but I heard you guys hate that term.
[Laughs] We do. We're just two best mates. Bromance, I don't know — for some reason it makes it sound weird. If people want to call it a "bromance," we're happy for people to do that, but we're just two really good mates.
Well it's definitely been one of the focuses of this series, particularly towards the end. Were you surprised at how it was portrayed?
I'm not gonna lie, he's become my best mate. There was definitely that connection between us and I wouldn't have gotten as far in the competition if he wasn't there, and he wouldn't have gotten as far in the competition if I wasn't there. I'm sure he'd support me in saying that. I think what comes across on the screen is pretty much how it was. The girls in the house were the first people that coined the name "Bandy," because we were just always with each other, always supporting each other, always cooking with each other. Everything we did, we did in tandem, so I think what happened on TV is a pretty good representation of what we were really like. It's like having a brother in the house. I never went into the competition thinking I'd meet a best mate, and once the rest of it goes, once the spotlight, the whole MasterChef bubble disappears, one thing I'm pretty sure I can rely on is that we'll still be really good mates.
I actually thought your nickname was "Bendy," because it seems fairer to have more of your name as well as his.
The girls in the house called us "Bendy" but from all the interviews I've done today it's been referred to as "Bandy." With "Bendy," it's pretty much exactly the same [the amount of letters] — it's even. I vote for "Bendy."
What is it that you and Andy bonded over? I heard you met on the first day of auditions.
We did. We were grouped together in our first ever audition, then we were grouped together in our second audition, then we were next to each other in the live audition. We started chatting while we were cooking and it felt like I was chatting to a mate in my kitchen at home. It took your mind off what was actually happening — there was this camera around you and there were people watching you cook. It just felt natural. That was about October last year. We exchanged phone numbers then and we actually caught up between then and the next lot of auditions, which were in Melbourne. We started to make a friendship before we even got to the house. Once we got to the house we'd already become really good mates.
Andy is now the hot favourite to win. If he takes it out, how will it affect your future plans?
I don't know that it will. I think he's going to have a huge amount of spotlight over the next bit of time. We had a chat quite recently about what's his plan, and what's my plan, and we're both really keen and committed that whatever we do over the next 12 months, we'll do it together. Whether that's doing some work experience in some places, or travelling to Mexico and do a little trip there, having a look at some of the produce, having a surf and just enjoying ourselves. If he wins he's got to write a cookbook, and he's asked me to help him do that. We're going to be locked in to doing something together over the next 12 months. If he wins it's going to be bigger, but if he doesn't, we'll just go and do it anyway.
Will you get a new tattoo to commemorate your time on MasterChef?
I probably will, and it won't be the MasterChef logo or anything stupid like it. It'll be something very cryptic, something that means something to me. I'm about to start working on my right arm, and it'll probably take pride of place on there somewhere, because all the tattoos I have on me are representations of things that have happened in my life, so this has obviously been a very big and important part of my life, so it'll probably be a big tattoo somewhere on my right arm.
How did you come to love Mexican food?
My mum used to cook packet Mexican food when I was young, just the Old El Paso stuff. She always used to cook it during Summer when we were at the beach house, so I always had this automatic connection to Summer and fun and Mexican food. I started to realise that Mexican food wasn't Old El Paso, that there was more to Mexican food than that. When I was a little bit older I did some research into it and started to eat at some of the best Mexican restaurants in Australia, like The Table, Mamasita and Barrio Chino, and from there I fell in love with the flavour. I love the freshness of it, the healthiness, and the fact that it combines my two favourite things, which are slow-braised, slow-cooked meat, and really fresh lime-driven salsas.
Aside from family and friends, what did you miss most from the real world?
Freedom. Just being able to do whatever you want. Everywhere you go you're chaperoned. I miss sport as well. Being able to exercise and being able to go to the gym was probably the most difficult thing for me, apart from being away from family. I'm a bit of a gym junkie — I go the gym every day when I'm at home, it's part of my ritual. We had a gym in the house but you'd work such long days, and it wasn't the best gym in the world. I miss playing sport, playing footy and cricket, and being active. Initially I went in and thought, 'I'll be in for a month, then I'll be out and it'll be fine,' but I ended up staying six months, so I've got a fair bit to catch up on as far as my fitness goes. [Laughs]
What was your proudest moment on the show?
There are probably two big ones. One was going to Tassie — being able to go back home was pretty cool, landing in a place you know and having things around you that you know. [On the show] you're in an environment where not knowing is part of the environment. They don't want you to know what's happening so one, everything is a surprise, and two, you don't get an upper hand. So to be surrounded by scenery and sights that I knew was awesome. And also my pressure test, when I did Grant King's snapper, I was really proud of the dish I put up. To create a dish like that was the whole reason I entered the show. I remember watching people in past seasons plate up dishes that looked like that, thinking, 'Man, that's why you want to be there, because you learn how to do things like that.' So for me that was a real high point.
Did you get everything you wanted out of MasterChef?
To this point, absolutely. The confidence it's given me in my own cooking, and the confidence it's given me to chase my dream in food. It was a lot of hard work, but I look back on it now and don't regret anything that happened along the way. I'm a very happy person at the moment.
MasterChef Grand Finale airs tonight at 7 p.m. on Network Ten.
Photo courtesy of Network Ten