MasterChef 2012 Elimination Interview With Kylie Millar on Guillaume Challenge and Ben and Andy's Bromance
MasterChef's Kylie Talks Cooking Under Pressure and Ben and Andy's Bromance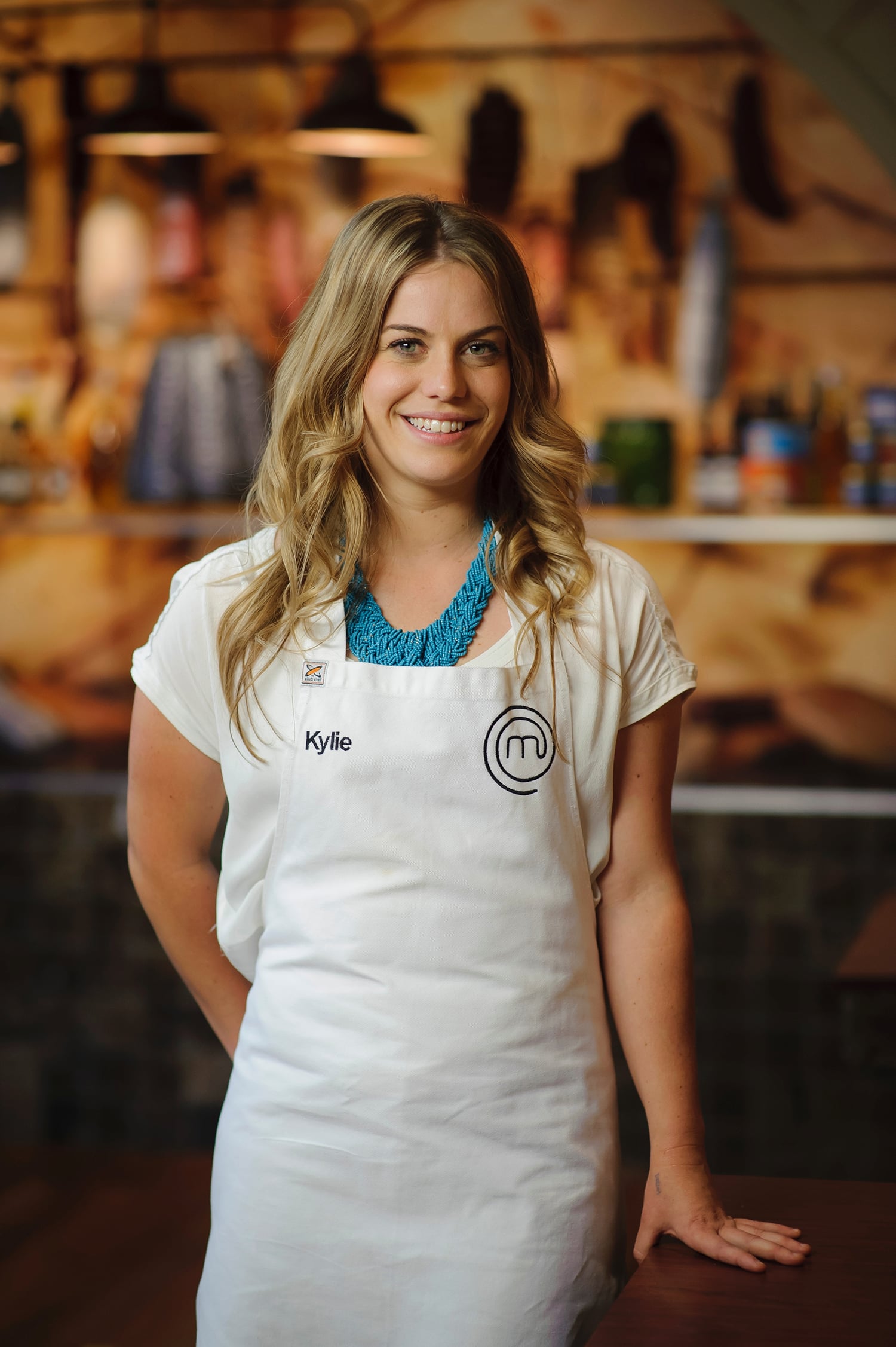 It seemed like the challenge she had in the bag, but Kylie Millar's MasterChef dream came to an end last night when she was eliminated from the show after a gruelling lunch service for 60 people at Guillaume at Bennelong. Kylie was tasked with recreating the elements of Guillaume Brahimi's Nougat Glace dessert, but a small slip-up with her parfait mixture turned out to be a big mistake (it had split) that was only realised too late, and as a result her time was up. We spoke to Kylie this morning to talk about the stressful challenge, any romance rumours in the house, and being one of the boys.
How has life on the outside been so far?
Really cool, actually! Since being out and about I tried to jump into a kitchen straight away, so I went and did some work experience with Guillaume at Bennelong, and then I went down to Melbourne with Darren Purchese in his little place, which has been great. I've absolutely loved it.
It's so good that you got that offer to work with Guillaume right away.
It was! I was very lucky. And the calibre of restaurant that it is, and to be able to work in the pastry section, I was very lucky.
Unfortunately many people already knew you didn't make the top five because of a magazine blunder last week. Did that spoil it for your friends and family who didn't know?
[Laughs] A lot of them actually didn't know anyway. They didn't read the magazine until a couple of people told them, but it was all good. They knew MasterChef was coming to an end anyway, so it didn't matter whether I'd made it to the final two or final.
More from Kylie when you keep reading.
Last night's challenge was super stressful. Was there ever a point where you thought it was too much?
No, I don't think so. I love that sort of pressure, working under the pump, trying to get plates out to the customers within the time frame. It's the adrenaline rush of being in the kitchen during service, which is awesome. I think we're all a bunch of adrenaline junkies, actually! My stomach dropped when Guillaume walked over to me and said, "Kylie, taste your nougatine." With the texture in my mouth, I knew then I was going home, but I was like, "Ugh, I could walk away now because I know I'm already going," but I was like, "No, you've gotta finish off the service, Kylie. Just power through and finish it."
I could tell you were devastated when you were off cleaning by yourself — we can all relate to wanting to be alone to focus on something.
Yeah, I was happy being off by myself for the moment. I needed a little moment to get my head around the fact that I was pretty much going home.
Do you think dessert had an advantage because you had extra time, or do those dishes involve more prep?
I think with dessert there's a lot more prep involved anyway, with making things set. There are a lot of technical elements that go into making dessert. The service is a lot easier in comparison to the savoury side, entrees and mains, but the actual prep side of desserts is a lot more involved than the other bits and pieces.
You've been portrayed as very enthusiastic, very emotional and a huge food nerd. How do you feel about the way you came across?
I think it was fine! It was me to a tee, even with my flicky ponytail and the jittery legs. [Laughs] It was me for sure.
I remember reading in your bio that you like to sing and whistle when you cook. Did you have to hold back during MasterChef?
[Laughs] Well I don't sing just off the cuff, it's usually with music in the background. Without that music happening I wasn't going to start chirping away. They all would've thought I was a nutcase if I did that. I can't sing very well either, so usually the music is up full blast so I can't hear myself.
How did you unwind after big challenges?
The majority of the time I'd go home [to the MasterChef house] and have a run on the treadmill, or in the warmer months, we have a pool at the house — I'm an old swimmer, that's where all my jitteriness comes from! I'd jump in the pool and do some laps. Even though we were tired, just getting in and doing some exercise helped wind you down a little bit.
What do you enjoy most about cooking?
I think it's just the concept of putting a plate down in front of somebody and seeing their enjoyment on their face when they smile and taste it. That just says it all. That's why I love cooking so much — seeing the pleasure you can bring to someone. And with the desserts I like to do, I like to try and make them fun, so you get a bit of an excited reaction from someone when you put the plate down in front of them.
There is quite a bit of fan interest in a possible romance between you and Andy. Was there ever any chemistry or would you go out with him?
[Laughs] I think everybody's been trying to set me up with all of the boys! It's hilarious. No, there's no definitely no romance. The boys [Ben and Andy] actually initiated me into their boys' group and called me 'Kyle' in the house. [Laughs] I was downstairs watching football with the boys a lot of the time. But there were definitely no romances in the house.
What are your thoughts on the whole Ben and Andy bromance?
I think it's hilarious. It's true though — the two of them are inseparable in the house. But they get along so well, and I think when they do end up opening their Mexican restaurant that they're hoping to do, they'll smash it, because the two of them together, they're great. They throw ideas off each other and they work really well together.
Did you and Mindy ever bond over physiotherapy?
Mindy did fix my neck a couple of times, which was awesome! [Laughs] But we barely talked about physio. I think when we both talked about physiotherapy we were both saying, "We're so thankful we're not actually doing physio right now."
What did you learn about yourself?
Probably learnt to have a bit more confidence in myself, and to actually back myself with the decisions I would make along the way.
If you had to pick three highlights, what would they be?
Probably meeting Jamie Oliver — that was massive. Our team pop-up challenge was incredible — I loved that one. And then the other team challenge with all the pastry chefs coming on, being able to meet all those chefs was just incredible. They would definitely be my three biggest highlights.
I know your end goal is your dessert bar and cafe, but have you considered a cook book as well?
Yeah, I'd love to have a cook book! Back when I was at school, I was always wanted to go into food, and I always said to people, "I'm either going to be the physio for the Wallabies or a TV chef and have a cook book." That's in my yearbook from Year 12. I'd love to be able to have a book where people cook my recipes. That'd be pretty cool.
Who do you want to win?
Either one of the boys. I'd love to see one of those guys win. They'd do a good job. And they're really down-to-earth as well, so I think if one of them wins, they'll just take it and run with it. Either of them would be great as the winner of 2012.
And I saw you've got your social media up and running, with over 1,200 followers on Twitter. How are you liking this interaction with your fans?
It's classic! I've got my Twitter up, and Instagram, and I'm still trying to work out the new Facebook — they seemed to have updated it while we've been in the house! I've got a blog as well, which I can't work out how to make visible to everybody yet, because I used to have it before the show. But it's good, it's nice to have a chat to people and it's really lovely that they've been sending lots of support in as well.
Photo courtesy of Network Ten