MasterChef 2012 Elimination Interview With Wade Drummond on Strategy, Group Challenges and Eyebrows
MasterChef's Wade Reveals He Had a Game Plan and Talks Eyebrow Maintenance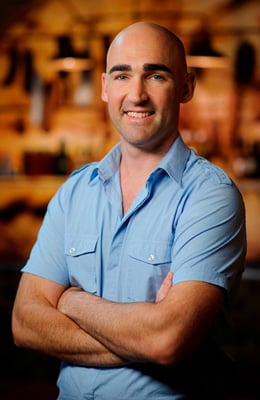 It was an intricate and technical Grant King dish featuring calamari crackling and crispy-scaled snapper that saw Wade Drummond eliminated from MasterChef last night. The commercial labourer from WA was rushed for time at the end of the pressure test, and as a result some of the elements on his dish weren't up to scratch, keeping Ben and Alice — who chose to cook despite having an immunity pin — safe. We caught up with Wade to discuss what went wrong, his favourite challenges and, of course, those eyebrows!
What do you think of Alice's decision to cook with an immunity pin for the second time in a row? What does it say about her?
I think it was a fairly brave move. I don't want to blow my own horn but I'm not the worst of cooks, and Ben's certainly capable. It was a bit of a risk, but she took it. Considering what the outcome might be of putting Beau into that bottom three position in her place, I think it was pretty admirable.
Mindy thinks you got complacent during the pressure test. Do you agree with her assessment?
Yeah, maybe I did get complacent. Maybe I underestimated how long certain elements were going to take. Or maybe the whole challenge just got to me and wore me down a little bit.
Did you deliberately plate up in a different way or was it a time matter?
A bit of a time thing. But also I think I started plating up with about a minute to go. We have to [plate up] all from memory and panic set in. I couldn't remember how it looked. I'm also not the prettiest of platers, I've always admitted that.
More from Wade when you keep reading.
I also want to go back to Sunday night's challenge, where you included bones in your magazine cover dish after being advised not to. Do you think you would have gone further in the competition if you had followed the advice?
Before the challenge everyone was talking about what they were gonna do, and they were saying they were gonna do desserts. I think almost everyone did desserts and I thought, 'I could do dessert, and I'm pretty sure that would keep me safe,' but then I thought, 'I really want to have a go at winning this challenge.' I knew it was going to be a huge gamble trying to cook with bones, but I was going to give it a shot. I guess if anything it shows how comfortable I was with my own cooking style, or how comfortable I am now with my own cooking style. I just thought, 'You know, I think I might actually be able to do this.'
You flew under the radar for the first half of the competition. What was the turning point for you?
The turning point for me was probably my second pressure test. Initially I had a bit of a plan of, I guess, flying under the radar, not trying to make too big a fuss. My thinking was that if I cooked too well then people were going to expect big things from me and sort of make me a bit of a marked man, whereas if I didn't aim for the top I'd just keep out of the bottom three. I think it was after that second pressure test that I thought, 'What the hell am I doing? We only get one shot at this. Why don't I just give it everything I've got, and hopefully the best happens.'
Do you think there's anyone else who has or had that game plan?
No, I think most people have their head screwed on. I think I'm pretty unique in that area. [Laughs]
In which challenge did you feel out of your comfort zone the most?
Probably the pop-up restaurant. I think having to deal with people who are emotionally having a couple of problems, I think you have to deal with those issues after the work is done. There's no point stopping everything just so you can have a little moment. That was pretty hard for me to deal with. And probably the elimination challenge — that was probably one of the biggest ones.
What was your favourite challenge?
It would have to be the team challenge in the house. That was just so much fun. It was great to see my teammates Andrew, Kylie and Beau take my vision and really run with it and be confident with it. That was really inspiring.
Do you do anything to maintain your eyebrows? Any grooming tips?
[Laughs] Look, I definitely do have to maintain them, it's just part and parcel of owning these eyebrows. I guess I just try to get rid of the unibrow and try to make them look as neat as possible! I think almost every interview I've had has referenced them.
Who do you want to win?
I'd love if one of the boys won it — Ben, Andy and Beau are still there so I'd love one of them to pull it off. Or maybe even Kylie. If Kylie can get up there I think that'd be really impressive.
Photo courtesy of Network Ten