MasterChef 2012 Grand Finale Recap: Andy Allen Wins, Dishes, Challenges and Scores
MasterChef 2012 Grand Finale: Here's What Happened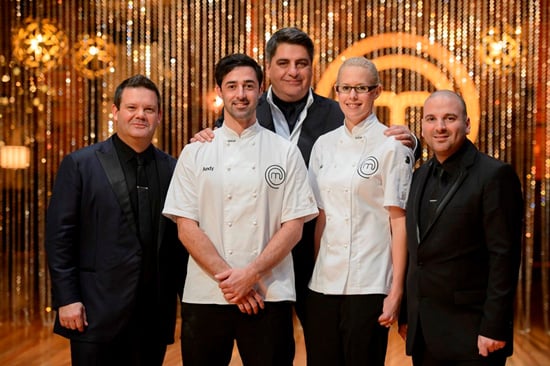 Andy Allen has been crowned the winner of MasterChef 2012, but how did he get there? Let's recap what happened in last night's grand finale . . .
Round 1
The top three contestants, Andy, Julia Taylor and Audra Morrice, were set the task of cooking over 100 "hot entrees" for MasterChef fans who would be filling the restaurant. They had three hours to prep their dishes and would be given an extra 30 minutes for service. Each finalist was also allowed to choose two contestants each to help them plate up. Julia picked Mindy and Kylie; Audra chose Amina and TK; and Andy called on Ben (naturally!) and Beau.
DISHES AND SCORES
Audra: Egg net with ma hor and sambal prawns — 22/30
Julia: Seared beef with horseradish cream and turnips — 25/30
Andy: Seared tuna with cauliflower and squid ink puree — 23/30
For scoring the lowest score in the first round, Audra was eliminated. Her dish had lots of tasty elements that the judges praised, but Matt Preston noted how it had too many salad components and didn't really meet the criteria of being a "hot entree."
More of the grand finale when you keep reading.
Round 2
Round 2 was an invention test, and top two contestants Andy and Julia were challenged to create an "Australian national dish" as a main course. There was no core ingredient, and they had 90 minutes and an open pantry to present to the judges a dish that they believed was quintessentially Australian.
DISHES AND SCORES
Julia: Crusted rack of lamb with vegetables — 21/30
Andy: Modern fisherman's basket — 28/30
The main concern with Julia's dish was that her lamb was undercooked. The judges loved the techniques she used with her vegetables, but Matt also commented on whether it was inventive enough. As for Andy's dish, the judges were enamoured with what he had put up. His modern fisherman's basket included pan roasted flathead tails, marron, egg and breadcrumb abalone, fresh oyster and oyster emulsion. Despite Andy's reservations about how he'd plated up, the judges loved his "perfectly cooked seafood."
Round 3
After two challenges that played to Andy's strengths, the third and final challenge, a pressure test, had Julia's name written all over it: a dessert called a 'Gaytime Goes Nuts' (or a "Gaytime on roids," as Andy described it) created by Universal's Christine Mansfield. The "deceptively simple dish" had many different components including caramel ice cream, chocolate bits, honeycomb, a wafer tuile and chocolate mousse. Andy mentioned that he had never made ice cream, honeycomb or caramel before.
Both contestants struggled with different elements of the dish. Andy forgot to put gelatine in his mousse the first time around and had to make it again; Julia's gelatine didn't dissolve properly and left her mousse lumpy. Julia also had lots of trouble with making cylinders out of the fine, thin wafers.
SCORES
Julia: 22/30
Andy: 25/30
TOTAL SCORES
Julia: 68/90
Andy: 76/90
The sweetest moment came just before the announcement of Andy's final scores, when their families returned to the kitchen and Julia shared a story of how her younger sister, Katie, had been excited for the grand finale for two weeks and was looking forward to meeting Matt, Gary Mehigan, George Calombaris and "Matt Merigne" (Matt Moran). Asked to describe how he felt just a moment before his score was revealed, Andy displayed his sense of humour when he said said, "As a laid-back Aussie bloke, I'm sh*tting myself."
Andy has won $100,000, a cookbook deal, and the chance to gain culinary experience in some of Australia's best kitchens. As to how his win will affect his future plans with best friend Ben Milbourne, Ben told us, "If he wins he's got to write a cookbook, and he's asked me to help him do that. We're going to be locked in to doing something together over the next 12 months. If he wins it's going to be bigger, but if he doesn't, we'll just go and do it anyway."