MasterChef 2014 Elimination Interview: Ben Macdonald
Ben Says the MasterChef Contestants Are Game of Thrones Fans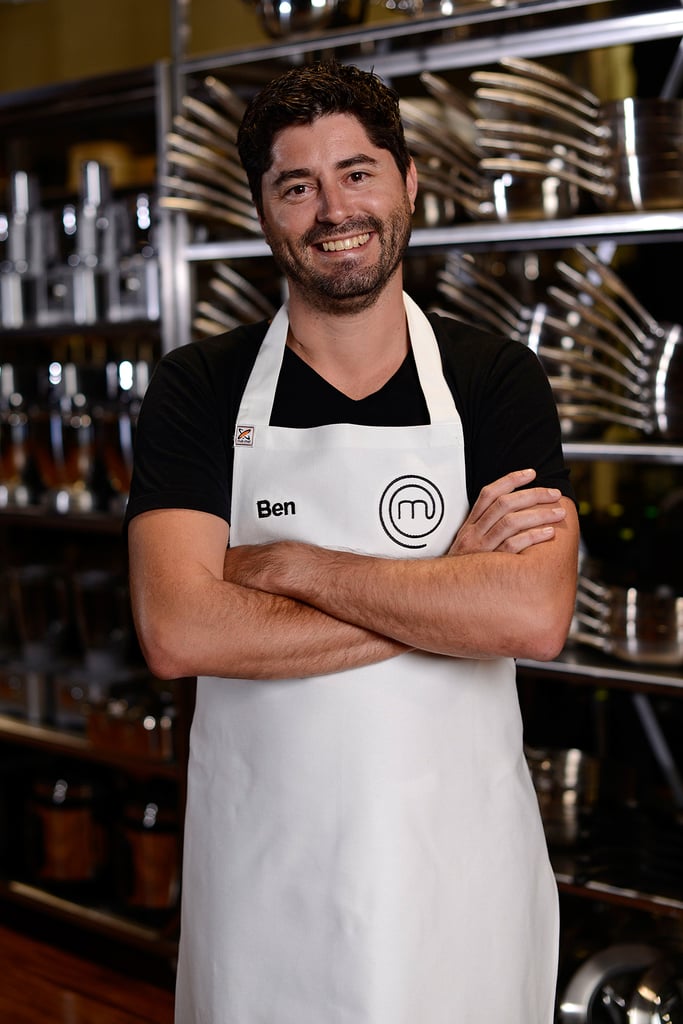 Sunday night episodes of MasterChef usually involve a no-consequence mystery box followed by an invention test, but now we're in Finals Week things are different. That's what the top six contestants discovered when they arrived at the kitchen to different mystery boxes that had been prepared by their loved ones. They had to cook dishes with the specially selected ingredients, but unlike previous mystery box challenges, this one saw the bottom three go straight into an elimination. That bottom three was Ben Macdonald, Laura Cassai and Jamie Fleming.
For the elimination, the judges called on three top pastry chefs to create one ultimate dessert for a pressure test. Darren Purchese, Christy Tania and Nick Palumbo brought separate elements that made up an epic banana split, which involved a banana and coffee parfait (Darren), smoked coconut and cinnamon foam, amaretto cherry spheres and almond pistachio nougatine (Christy), and spiced and roasted banana gelato and 'peanutella' sauce (Nick). Jamie's dish was deemed the best of the three, while Ben's separated sauce and unsuccessful tuile were enough to save Laura and send him home.
We chatted to Ben this morning to talk about his proudest moments on the show, why he's so good at adapting to different challenges, and the show all the MasterChef contestants were big fans of: Game of Thrones.
POPSUGAR Australia: Congratulations on making it to Finals Week, even though just missing out on top five would be a little disappointing.
Ben Macdonald: Yeah, I mean I went in with the intention of winning, obviously, and to make it this far is disappointing to not go right until the end, but at the same time I'm really proud of what I did achieve, and how far I did go.
PS: Was it hard to get into the elimination mind frame since you weren't prepared for it?
Ben: For me it was the other way around, actually, because we didn't know what was going to happen. Based on past series I just assumed every day of Finals Week there was going to be an elimination. I was surprised there was a mystery box, and even when my dish didn't go that well, I thought, 'Oh well, I was coming for an elimination anyway, so bring it on.'
PS: That's true, and you would have seen heaps of previous series to know that.
Ben: Of course. You can only base your strategy on what you think will happen to a point. I thought that someone was going home every day of Finals Week like every other year, so I kind of expected elimination.
PS: That said, this series has had more twists and turns than others I can remember. Is that something you felt being on it?
Ben: Yeah, it certainly was different. I mean no one saw that power apron coming, and that certainly mixed things up a lot. The thing was every single day, you don't know what's happening; you don't know if you're going to the studio to film in the kitchen, or if you're going somewhere else. You'd never know what was happening. Every day you were kind of a little bit on edge waiting to see what they're going to throw at you! [Laughs]
PS: I thought last night's edit made it seem like Laura was leaving because it focused so much on her. What was it like for you to watch back?
Ben: For me, I was in the middle of the kitchen, so I could hear what was going on in front and behind of me quite well. From my perspective, I was going really well, and I could hear both the others having quite a few issues. But obviously not everything went perfectly for me, one or two things didn't go well, and the judges preferred my dish the least, I guess.
PS: Is it hard to stay focused on what you have to do?
Ben: I found it quite easy to stay focused. It's more just like you can hear what's going on, but I'm always focused on what I'm doing. The one sense you do use a lot more than you'd expect is your hearing, especially in things like that cook along with Heston [Blumenthal] — if you're doing it by watching you can't cook, so listening is a great skill to use in the kitchen.
PS: Other contestants have mentioned your versatility as a very good skill to have. Have you always been good at adapting? What was your game plan?
Ben: I think I've got an advantage over a lot of the contestants in that I'm a little bit older than a lot of them, and I've also travelled a great deal, so I've eaten a lot of cuisines in the countries they've come from. Being able to plan on the move is also something that's in my nature, and in my professional background as well, so I think it definitely gave me an advantage, but it didn't help me much last night, unfortunately.
PS: Is it easy for you to replicate dishes you've made up on the spot, like when you have to provide a recipe for the website?
Ben: It literally is how it appears. We get shown the ingredients or told the challenge, and then we have to start doing it. Then one of the first things you do, and you always do it the same day, is you'll write down the recipe; you do it while it's fresh in your head, and in fact it's one of the habits you get into doing. Then that gets tested before it gets put online by other people, as far as I'm aware.
PS: What are your proudest moments on MasterChef?
Ben: I loved cooking for Marco [Pierre White] in the service challenge. I love the fact that he loved my ravioli dish. More than that, the first dish and the last dish I cooked in Heston Week were both real highlights for me, especially that campfire one, which they said was one the best dishes they've ever had on the show. At the time, it turned out way better than I ever expected, so I was really happy with that.
PS: That was amazing. Was it something you'd envisioned for a while or it just came to you on the day?
Ben: It completely just came to me. The only part I'd ever messed around with was steak covered in leek, but I'd never had the concept of a bonfire until that moment of having to come up with it. I think having Heston there was a great inspiration, and that's one of the things about the competition: you can achieve things you didn't think were possible, and that's definitely what happened to me that day.
PS: How has MasterChef changed you as a person?
Ben: I think it's along the same lines, in that it just reminds you . . . It's easy to become complacent, and if you're pushing yourself and you're trying things, even though you're not sure if they're possible, sometimes you can get amazing results. It's good to remind yourself of that, and this competition certainly reminded me of that.
PS: What do you think it takes to win MasterChef?
Ben: Obviously you need to have a great range of cooking ability and a desire to succeed. But I think on top of that, you need to be able to learn quickly, adapt, and on top of that you need a bit of luck, let's face it.
PS: Would you have done anything differently if you had your time again?
Ben: I don't think so. I always let my cooking do the talking. It's pretty straightforward for me. I would always walk in there, look at the ingredients and come up with something. I was never cooking from recipes in my head, or pre-plan too much. I'm proud of how I did, and that's just how it goes. I wanted to win, but you can't win them all! It's just a first step in what's going to be a longer adventure for me.
PS: What was your favourite new cooking skill or technique that you learned?
Ben: I really liked using the smoking guns — I only really used it for the campfire dish, but I really liked the effect and really liked the flavour it gives the food. My girlfriend actually bought me one that she gave to me after the episode, which was nice! [Laughs]
PS: I remember when I spoke to people in previous years they were all obsessed with the sous vide machines.
Ben: Oh, yeah. I guess it's how the show moves on, isn't it? A few years ago they wouldn't have even had them on the show, probably, and now people have probably got them in their homes. You can actually do a lot of that with just a pot and a plastic bag, you don't have to have the fancy equipment. But it's a great technique.
PS: When I interviewed Colin a few weeks ago he said you were toilet buddies.
Ben: [Laughs] Of course he did.
PS: Do you have any other fun facts from the house that we maybe wouldn't see on TV?
Ben: There's a lot of funny things. We were big fans of Game of Thrones, so that was one thing we always liked to go back home and watch. Colin and the toilet, that's true, I will confess to that — it was a bit difficult once he left for me, talking to myself [laughs]. I was a bit disappointed in Colin for leaving me there for so long. He's a top guy.
PS: I've only become obsessed with Game of Thrones in the past few months and I totally get it.
Ben: We didn't get that much time to watch anything, so when you're watching something it might as well be decent. Let's face it, there's only so many food shows you can watch.
PS: I hear there's a lot to do with food in the house, so it makes sense that you pick up things so quickly because you're just surrounded by it.
Ben: Yeah, you're reading cookbooks, you're talking food, you're eating food, you're still cooking for each other back at the house. You don't get a lot of time not in the studio anyway, so just an hour here and there to watch some television was a good relief.
PS: What's next for you?
Ben: I've got my website, which is benmacdonald.com, and that's gonna have recipes and articles on food, just to keep things going along. I'm also going to have hardtofindsupperclub.com, which is be an intimate sort of dining experience with innovative food, like the sort of stuff you saw on Heston Week. It'll be a small 15 to 30 people kind of thing; I'm going to start that up soon and take it to where people want to experience it.
PS: Who has what it takes to win?
Ben: Anyone can win it from this point. Yesterday showed that. You need a bit of luck, you need to want it. I would have said Emelia, but I just couldn't pick it at this stage.
PS: Who would you like to see win?
Ben: The top six, we were all really close and we're all good friends, and I will be really happy with whoever wins. That's one good thing for me, is that I'll be really happy, genuinely.
Want more? Follow us on Facebook, Twitter, Instagram and Pinterest!
MasterChef airs Sundays to Thursdays at 7:30 p.m. on Network Ten.
Source: Network Ten