MasterChef 2014 Elimination Interview: Byron Finnerty
MasterChef's Byron on Giving More Sauce and Eating Sardines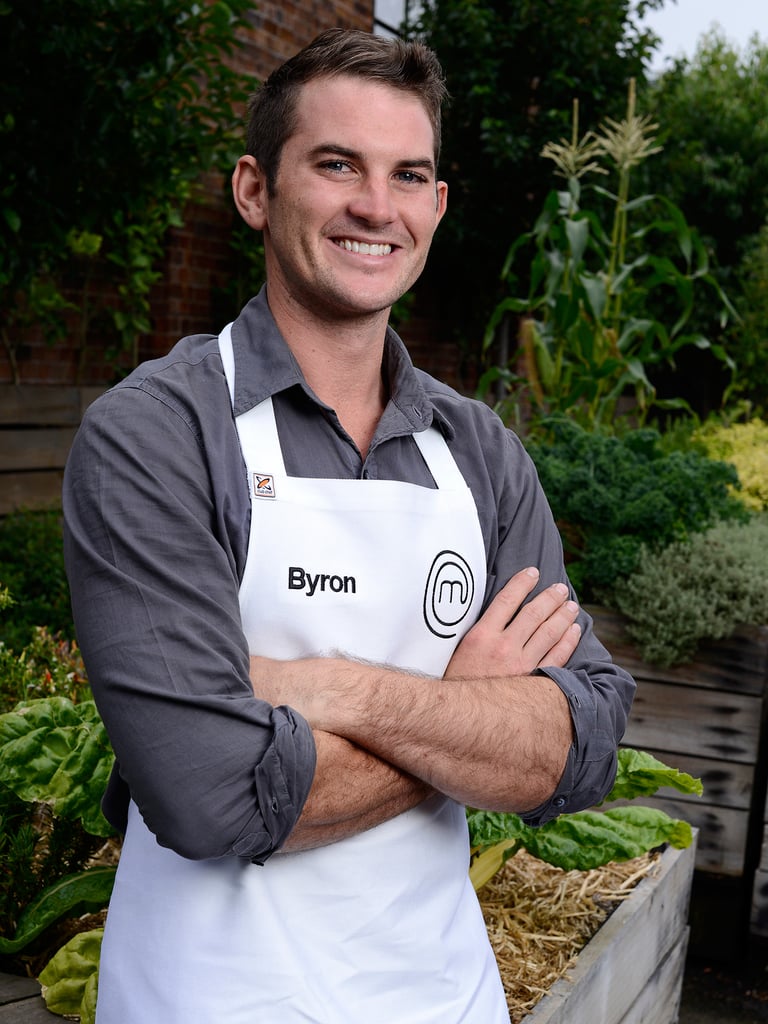 Source: Network Ten
It was the end of the MasterChef road for Byron Finnerty on Monday night's episode. The 27-year-old deckhand from Victoria competed in a pressure test with Amy Shields and Tash Shan in which they had to recreate a Marco Pierre White dish — with the man himself watching over and tasting. The contestants had 90 minutes to cook Marco's roast pigeon with a ravioli of mushrooms, and they all struggled with the different elements. In the end it came down to Tash and Byron, but Byron's lack of sauce, the one element that tied the whole dish together, was deemed more of a mistake than Tash's undercooked lentils, and as a result he was sent home from the competition.
Byron had some memorable moments on the show — not just for being one of the heartthrobs of the series! — and provided some of the lighter relief, like when he accidentally broke George Calombaris' dessert before making the top 24, and when he ate one of his mystery box dishes because he thought the judges weren't going to taste it. We spoke to Byron this morning to talk about where his head was at in his last week of cooking, and why he'll never make the same sauce mistake again!
POPSUGAR Australia: That was an extremely stressful episode to watch, especially when you hadn't started cooking 20 minutes into the challenge. How did you watch it and what was it like re-living that experience?
Byron: Yeah, it was pretty funny. I invited probably 20 of my close friends and family around, and we all sat down together, and then I thought, 'Ohh, no, what have I done!' [Laughs] I immediately felt this embarrassment. But then I went through and I watched, and it took me back to the cook, and how intense and hard it was. I'm proud of myself, and it was great to have my family and friends there to support me.
PS: How has this challenge changed the amount of sauce you put on a dish?
Byron: [Laughs] It's gotta be about a 50-50 ratio of food to sauce now, I think.
PS: It must be hard that it comes down to those little things, but if the sauce was important as the judges said it was . . .
Byron: Oh, yeah. It's crazy. Because I've been overseas, I haven't really watched the show. I watched the first season and that was about it. One thing my mum said to me before I went in — she's an avid watcher, she loves it — she's like, "Make sure you give them sauce. With every dish." [Laughs] And it happened to be the last one that sent me out!
PS: Marco Pierre White said some really nice things to you, so in a way it didn't seem like the worst week to leave in. What was that whole experience like for you?
Byron: For me, it doesn't get any better than that. If I was gonna go, then what a week to go, with Marco Pierre White there, and his advice and his guidance. And not just with cooking, but for life as well — he's such a knowledgeable guy, and his experience and his wisdom in the industry is unsurpassed. It was amazing to have that to guide me, and put me on my way.
PS: I feel like someone should have made a book filled with his quotes, because they're applicable to life as well.
Byron: [Laughs] Oh, definitely. There'd be a few repetitive words in there, though: "Where's my pigeon? Where's my pigeon? Where's my pigeon?"
PS: Cooking on these competition shows looks too stressful — was there ever a point where you weren't enjoying cooking? Especially in that last cook?
Byron: To be honest, that cook I really loved. I think cooking in front of someone; you always have those motivations, like cooking in front of the judges and your idol. You're cooking and testing things in the house, and you're always under pressure, and you do tend to lose the love of it when you're doing that, and it's not until — well, for me — that really tough time, in that hard cook . . . I was struggling that whole week about losing a bit of passion with it, and then it reconnected me with it straight away. As soon as I was out, I was back cooking again for my family and friends, and doing what I love. It is hard to stay focused and remember why you signed up for the show, and we all love food and that's why. So it's good to get back to that.
PS: How do you feel about being the heartthrob of this series?
Byron: [Laughs] I don't know what I'm meant to feel! I couldn't believe it when I saw it. It was all quite humbling, I guess.
PS: Moving away from the more serious moments, my friend and I loved the episode when you ate your sardines because you thought the judges weren't going to taste it. Off the back of that, are you allowed to eat the food you cook on the show?
Byron: [Laughs] Um, we . . . Yeah, I'm not sure, actually. I think we're allowed to try our own food — I certainly did, anyway. It was really funny, actually. Being there at the time, it was hilarious. It was one of those things where I had no idea it was coming, and they said they'd taste the five dishes and they tasted the five. I'd never tried the sardines that way, and I wanted to taste my dish and see if it was nice; I'd just put the time into it. And yeah, I got so caught out in the end. I'd rearranged the whole dish and everything! I was practising my plating; there was a good 20 minutes there. It was horrible.
PS: What is your food dream? Do you want to be a chef?
Byron: Yeah! For me, I want to get qualified as soon as possible. I want to travel with it, do some work in Spain, or maybe Canada. Maybe jump back on a boat for a little while. Eventually, I want to have something a bit more relaxed. For me, it's just about learning as much as I can, and learning how to cook food. Whether I become a qualified chef or not, it won't matter in the big picture. I'd love to have some sort of place that serves some beautiful food, maybe have something that's got either a surf school, or some place for health, where it's got nutrition and personal training — all that sort of stuff as well. The end picture's not 100 percent clear at the moment, but it definitely involves food. I'm just excited about the next couple of years, to be honest. I've been working in the kitchen for a few years and I love being surrounded by food.
PS: What was your highlight?
Byron: I loved the market challenge — that was so cool. Just all the people and the atmosphere. And then just working under Marco at the end, I finished on the highest note. It was awesome. Those are probably my best two memories.
PS: Would you recommend MasterChef to other people?
Byron: Definitely. It's very hard work, and you won't be sleeping much when you're in there. But it's all worth it in the end — if you love food, go for it.
PS: Because you hadn't seen the show for a while, did you have any expectations of what it would be like? Or were you going in blind?
Byron: I had no idea at all. It was all fresh and all just surprises for me, which is great.
PS: Who do you think has what it takes to win? Who do you want to win?
Byron: A few people are coming into form at the moment. I think Benny's cooking pretty well, and he seems really good under pressure. Having said that, I think Sarah was the same, so it's whoever can get through on the day, you know what I mean? Whoever deals with the challenge the best will win. Who do I want to win? That's a good question. They're all such nice people. I'd be happy with anyone.
MasterChef airs Sundays to Thursdays at 7:30 p.m. on Network Ten.