MasterChef 2014 Interview: Sarah Todd Returns to Show
Sarah Is Back on MasterChef! Here's What She Said About Returning to the Show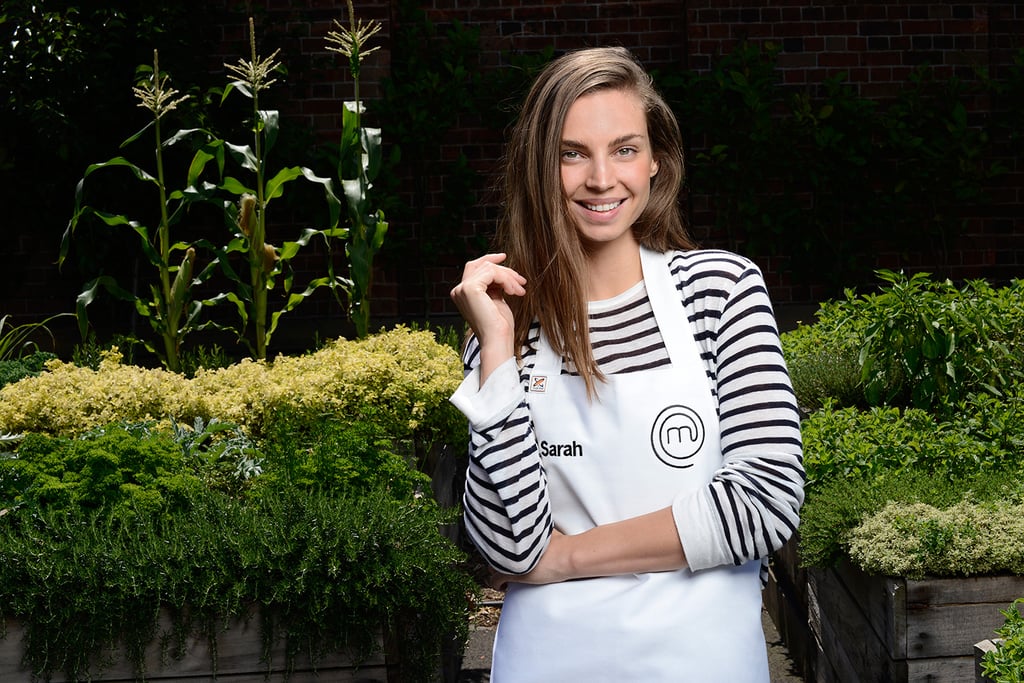 It was the shock elimination result that's been reversed. A week-and-a-half ago, Sarah Todd was sent home from the MasterChef kitchen after serving up a roulade with raw chicken to the judges during a challenge, but on Tuesday night's episode she was back in the kitchen, along with the other 13 eliminated contestants, cooking for a spot back in the competition. The eliminated cooks were given two mystery box options: one mystery box contained the ingredients for the dish that eliminated them, along with 60 minutes of cooking time; the second mystery box had ingredients for their best-ever dish, but cooking time was only 30 minutes.
Sarah decided to revisit the roulade that decided her MasterChef fate, and this time Gary Mehigan, George Calombaris and Matt Preston were served perfectly-cooked chicken. In the end, it came down to Sarah and recently-eliminated Georgia Hughes, who also created a roulade, but the judges decided to take Sarah back; George reaffirmed to Georgia that her version of chicken roulade was the best she had cooked in the competition.
We spoke to Sarah this morning to discuss how her mindset was different this time around, and what she has to say to people who think she was only brought back for her looks.
POPSUGAR Australia: What was it like getting the call about the second chance cook-off?
Sarah: It was really exciting actually, because the day after getting eliminated I flew straight back to London, saw [my fiancé] Devinder and [my son] Phoenix and realised they still love me and everything's fine. I was in a better place; I was like, 'You know what? I got a second chance now, I will definitely go for it.' I was much clearer in my mind; nothing's holding me back. I know the support is there and [me being on the show] is not doing any harm, so when I got the call I said I was going to do it and give it everything.
PS: What was it like leaving your fiancé and son again? Was it easier second time 'round?
Sarah: Yeah, it was definitely easier. I actually packed up our house when we were in London, and Devinder had a job in Melbourne, so I knew they were on their way as well. I was a lot happier this time and felt really ready. It's definitely not easy, but I know this one is on the home stretch now. I felt like I left too early in the competition and wanted to stay a lot longer. Now's my opportunity to do that.
PS: How easy or hard was it to get back into the rhythm of cooking quickly and under pressure in the MasterChef kitchen?
Sarah: Definitely hard. It's definitely something you can used to along the way, so the first cook back into it I knew I had to really push myself through every step to really get back into it, and up to that speed.
PS: How did it compare to an elimination challenge, mentally?
Sarah: It's even worse than an elimination challenge because you're not there fighting to keep your spot, you're fighting to get a spot. I related that to being back at the top 50, and my heart was pounding and I was so nervous — I was even nervous to talk to the judges! There was definitely more at stake this time than any other time.
PS: You seemed quite calm and collected during the challenge, and weren't as flustered as some of the other contestants.
Sarah: Yeah, I think I got into the zone and was really determined. I was tossing up between what I should do for my dish, and when I decided to do the same dish again, I felt really at ease, because I was happy with that dish; it just came down to making sure I got it cooked enough in the time.
PS: Were you received well when you returned to the house? Was there anyone who seemed annoyed that you were back? Not you specifically, but because of the situation.
Sarah: I think there was definitely a little bit of difference in the house when I got back. I think they thought, 'Yeah, she's good, and now she's gone for good,' when I left. I was lucky that Kira and I had built such a strong relationship in the house. We only needed each other in the house, so it didn't matter.
PS: On social media there were people tweeting that you only got back in because of your looks. What do you have to say to that?
Sarah: I have seen some of those comments, but after every one of those comments I've noticed people saying, "You're wrong." I came into the competition to prove that I can cook well, and I think I've proven that already. I think I did a good dish, so I still feel proud of what I did. People are going to say what they want to say.
PS: Have you struggled in the past with people judging you for your looks before getting to know your personality and talent?
Sarah: Um, I don't know. Everyone I've met in my life . . . I actually find it really easy to make friends. I've never really had a problem at all. I've been really lucky, actually.
PS: Did you have a different game plan once you made it back in?
Sarah: I think getting back into the house, my game plan was just to stay focused, because it was those times when I started to get homesick, or was feeling down in myself, was when I cooked my worst. This time, it's just to stay focused, and realise I've got support. Nothing's gonna bring me down.
PS: What did you do in the time you were out of the house? I know you went back to London, but did you get to do any work experience? It may not have been long enough.
Sarah: I didn't get to do work experience. I started up my website. I got to eat at some really beautiful restaurants, including an Indian one that's one of my favourites — it's a three Michelin star Indian restaurant I got to eat at. I got inspiration to hopefully cook more Indian in the competition.
PS: Is it the restaurant linked to Vikas Khanna, the chef from Monday night's pressure test?
Sarah: No! Different! I was so annoyed I missed that when I saw that episode. I was like, 'Dammit, I wish I was there!'
PS: I know Renae said it was her dream dish but I imagine it's something you'd aspire to be cooking.
Sarah: Oh, absolutely. It's beautiful, and I think with my Indian dishes in the competition I was trying to take it that little bit further, and he definitely did that in a beautiful way. I would have loved to have been there for that one.
Want more? Follow us on Facebook, Twitter and Instagram!
MasterChef airs Sundays to Thursdays at 7:30 p.m. on Network Ten.
Source: Network Ten