MasterChef 2017 Grand Final: Winner and Live Results
Every Moment From the MasterChef 2017 Grand Final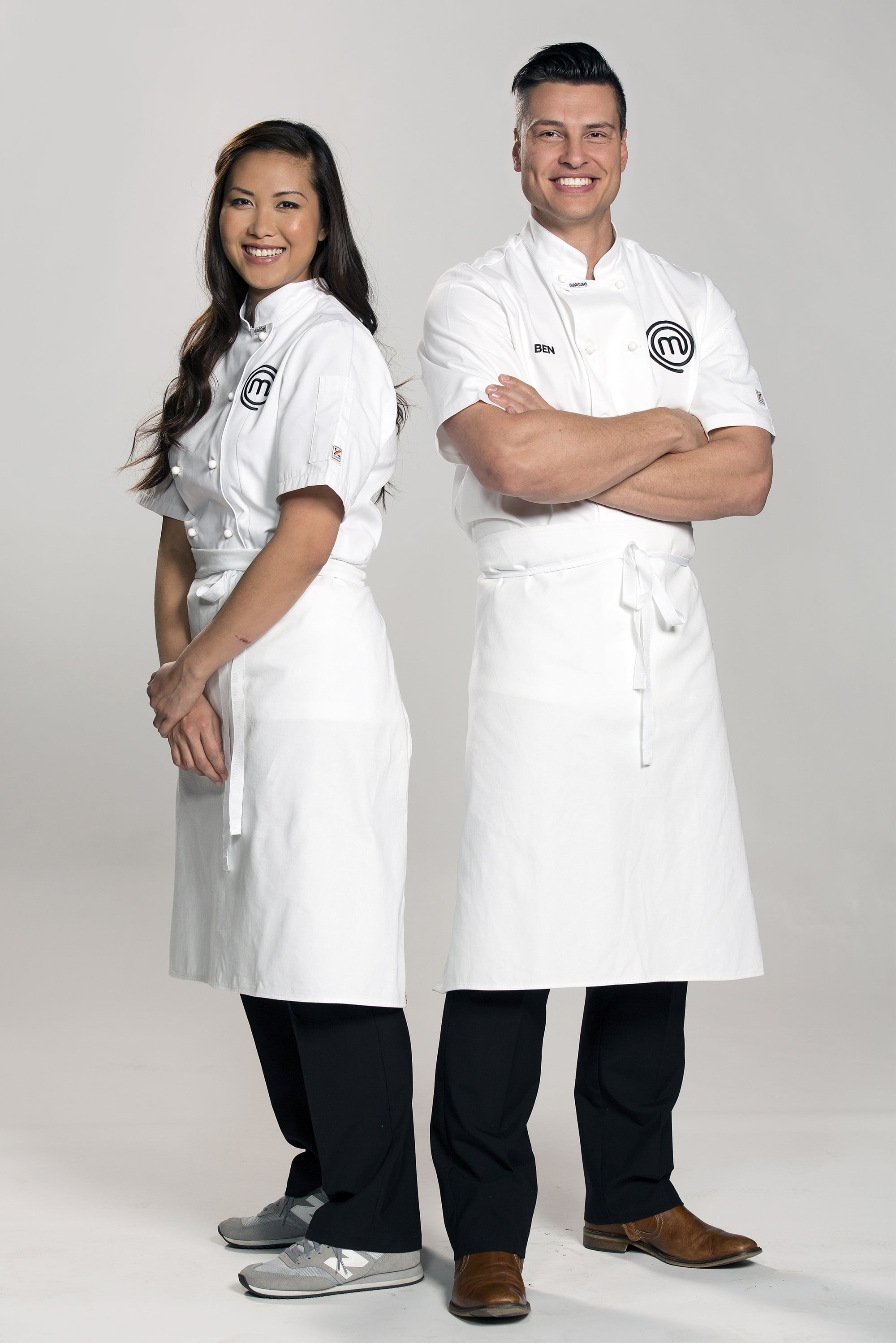 Another year, another MasterChef grand final! This season, we haven't just been treated to delicious food we wish we could taste for ourselves, but also, an all-round stellar bunch of contestants (admit it, you're emotionally attached to some of them).
It's down to Ben or Diana to battle it out in the last cook for the title. While Diana's been in fine form for the majority of the show, Ben has steadily built up steam and proven that consistent improvements can take you far. Who will win? Watch it with us as we cover it live.
7:32 p.m. It. Is. Time. My (virtual) tastebuds are ready.
7:35 p.m. I love how dressed up all the past contestants get for the grand final. Everyone looks sharp!
7:37 p.m. Round one: a mystery box challenge that features every single mystery box they've ever been set (damn). Ben and Diana can choose any one to cook from.
7:40 p.m. Ben picks the very first mystery box, set by last year's winner Elena. Diana picks Peter Gilmore's box.
7:44 p.m. Ben is making a lemon myrtle ice cream with macadamia shortbread. Diana's taking on abalone with some chinese brocolli, mushroom and green juice.
7:47 p.m. They only have one hour?! Can you imagine how good your time management skills will be after coming out of the show?
7:48 p.m. Gary comes over to Ben's bench and seems a little concerned about how many elements he has on his dish. WILL HE GET IT DONE? (He probably will, judging from past challenges.)
7:49 p.m. And . . . He's cut his hand. Deep. With less than 30 minutes to go. Cue freak out.
7:53 p.m. BEN. *Buries face in hands*
7:55 p.m. Meanwhile, Diana is powering through. She decides to add some spatchcock to the dish because, well, she can. Boss.
7:57 p.m. Poor Ben's finger starts to bleed again and he has to stop cooking, again. He's at it with one hand now. The problem element seems to be his shortbread — it ain't browning.
8:00 p.m. That's it for round one! Kudos to both. Everyone got all their elements on the plate. First up to the tasting table: Diana.
8:03 p.m. The judges love Diana's dish! So elegant, so simple, so perfectly cooked. Matt looks like he's about to cry.
8:10 p.m. Matt says Ben's dish needs more of the goat's cheese mousse. Gary loves the combination of ingredients. George can't get enough of the texture of the cucumber.
8:13 p.m. Here are the scores at the end of round one. Ben: 9, 9, 8 = 26. Diana: 10, 10, 10 = 30. (!!!!)
8:24 p.m. Round two: Diana's making oatmeal prawns with a salad. Ben's going to do a cardamom ice cream and in-your-face butternut squash a few ways.
8:25 p.m. Gary comes over and together, they taste Diana's first batch of prawns. Turns out, they aren't crunchy enough. Eeek! She runs to the pantry to grab from panko.
8:28 p.m. Ben seems to be a lot more on top of this one. Diana is fiddling around with her prawn plating. Ben is blow-torching his squash like a real pro.
8:35 p.m. (How great of a position are the judges in now to be able to eat all that food?)
8:39 p.m. Another win for Diana. They think it could end up being a signature of her's in the future. Ben gets praise for the depth of the spices. Open up an ice-cream shop why don't ya, Ben?
8:41 p.m. Scores for round two. Diana: 9, 9, 9 = 27 (57 total). Ben: 9, 9, 10 = 28 (54 total). It's gonna be a close one!
8:42 p.m. WAIT THEY'RE GOING TO BRING IN THEIR FAMILIES!!!!!!!!
8:44 p.m. Everyone is crying. Even the gantry (we feel you, Pete). Man, they do this every year and it gets me every time. Diana's mum is here all the way from Malaysia. Ben is reunited with his kids!
8:46 p.m. For the final round, it is of course, a pressure test. Kirsten Tibbals — world champion chocolatier — is here to set it. Dun dun dun.
8:55 p.m. They unveil the "dessert", an amazing fruit stand, rose jar and glass of brandy. What looks like real pieces of fruit — pear, apple, mandarin — obviously aren't actually fruits. I can't even describe it, so here is a picture:
Wow. What a beautiful #MasterChefAU Grand FInale pressure test! 😍 @SavourSchool #MasterChefAU pic.twitter.com/rhgXSXTLdn

— #MasterChefAU (@masterchefau) July 24, 2017
8:59 p.m. Liqueur, mousse, chocolate . . . all encased in something like a starch mould to resemble a fruit. I cannot. They have six hours to recreate these trio of fruits.
9:00 p.m. I am feeling Diana's mum's no bullsh*t right now: "Just concentrate."
9:05 p.m. Ben's calvados sugar syrup has started to catch fire. He starts again! Diana gets hers in the chiller. Ben accidentally adds in extra sugar to his mixture the second time round and needs to start again, again.
9:14 p.m. Ben has a bit of a breakdown and is wallowing in a lot of self-doubt. He's scared he can't beat Diana.
9:17 p.m. Oooh. Diana has squeezed her mandarin juice by hand. Ben has used the juicer. Who is right?
9:20 p.m. Diana cuts open her sugar-crusted liqueur and it has completely crystallised (it's meant to have a liquid centre). She starts again. Same fate for Ben, but he hasn't got anymore ingredients to make another batch.
9:22 p.m. Ben has all his elements prepped and starts to assemble the fruits. It's like super fancy play time.
9:25 p.m. Eh, what is it about these sugar liqueurs that is stumping everyone? Diana's second batch doesn't work, either.
9:29 p.m. You can tell Diana's a huge perfectionist because she's finding it hard to move past that set back. Same, girl. But you got this.
9:33 p.m. Ben is making a lot of ground with his decorating. He's coated an apple and pear so far and they're looking pretty good!
9:36 p.m. Oh my goodness, five minutes to go and Diana hasn't painted her fruits. Ben's fruits look like actual fruits. Diana's pear stem breaks last minute as she is plating.
9:48 p.m. The judges first critique Diana's trio of fruits. Kirsten says her flavours are spot on, despite the chocolate being a tad thick on the mandarin and the calvados. She's set the bar!
9:52 p.m. Ben gets points for the realism of his fruits. They can't get enough of his mandarin (guess putting it through the juicer was the right way to go). The downside? He'd double dipped the pear.
9:58 p.m. Crunch time! There are 40 points up for grabs each in this round. Ben: 9, 9, 8, 9 = 35. Total score: 89. Diana: 8, 8, 8, 9 = 33. Total score: 90.
10:01 p.m. And the winner is Diana! Both have plenty to be proud of, what an effort!