MasterChef 2018 Grand Final: Winner and Live Results
Every Moment From the MasterChef Grand Finale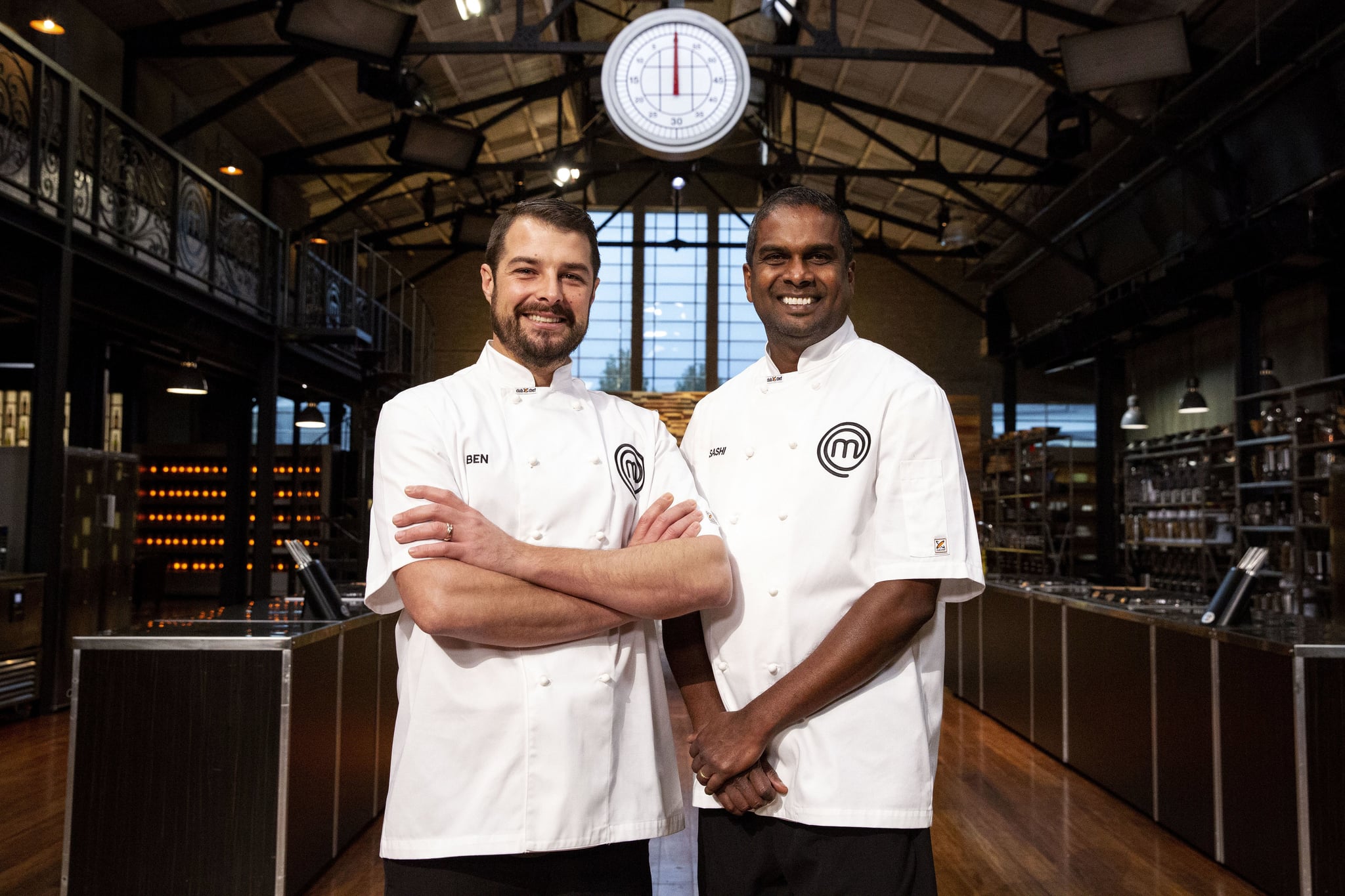 Tonight, Sashi and Ben will go head to head in the 2018 finale of MasterChef Australia. Standing between them, the title, $250,000 and a Delicious monthly column is a three-course challenge that will take place over two rounds. Who will win? Watch it with us as we cover the finale live from 7:30 p.m.
7:33 p.m. It's grand finale time! MasterChef has been going on for so long and I still live for these nights. You just never know what's going to happen.
7:36 p.m. Sashi? Ben? Sashi? Ben? I've got a favourite but can see they're both strong cooks. Sashi really nails flavour but lacks a bit of finesse, whereas Ben has just grown astronomically over the past few weeks, he could easily walk away with all this.
7:40 p.m. Sashi's got his wife and two boys, as well as sister and aunty from Singapore, bless! Ben's got his parents, brother and wife here and everyone is just so emotional and omg.
7:43 p.m. This year's finale is different in that there will be two rounds, instead of three. Sashi and Ben have to cook a starter and main in round one that heroes a list of ingredients given. George promises that an *epic* round two awaits.
7:46 p.m. Ben has chosen blue swimmer crab for his starter, served with finger limes and an avocado cream. A cold starter, smart. His main is battered deep friend whiting with peas and a garlic emulsion. No surprise there with the fish choice, he's a wiz with them. Sashi is playing to his strengths and cooking sambal prawns and fish curry, mmmm.
7:50 p.m. We're halfway through the cook and Ben is struggling to de-shell his crabs. And he hasn't even gotten started on his mains! He worries he's chosen the wrong ingredient to hero.
7:57 p.m. Sashi is working well on both his elements, with the curry paste simmering away ready for his main. Ben finally has gotten his crab de-shell and starts finishing off the dish. He goes to add in some freshness and acidity because you know, this is MasterChef.
7:59 p.m. Ben finishes plating up his starter and hands it to the judges. Sashi is still going with the prawns. Much stress.
8:05 p.m. The judges taste Ben's starter. On first glance, there's lots of creaminess, but not a lot of crunch. Matt loves the salmon pearls and finger limes, but Matt says it's lacking texture. George wants more acidity and crunch.
8:09 p.m. Sashi wraps up his starter and serves it to the judges. He's still feeling the pressure and only has 25 minutes left to finish his main. Gary says it's "finger lickin' good" and George is sweating so much, it's clear Sashi's nailed his hero ingredient: chilli.
8:13 p.m. 10 minutes left in the first round and both of them are still knee-deep in preparation. Sashi's curry paste is still simmering and he's still filleting fish, while Ben's got his whiting to cook. He throws the fish straight onto the basket of the fryer, and all the contestants on the gantry worry that it'll stick. It sticks. One of them, at least.
8:28 p.m. The judges taste Sashi's main first and can't seem to fault it. Matt says they've really been shown the "Sashi manifesto" in both dishes he's served them this round. Now for Ben's main. George says the batter isn't right and overall, the judges expected a bit more. Uh oh.
8:37 p.m. Time for the judges to score. Ben's starter gets a 6 + 7 + 7 = 20. Sashi gets three 10's! For the main, Ben scores 7 + 7 + 7 = 21. Sashi scores 9 + 9 + 9 = 27.
Here's where we're sitting at the end of round one: Ben = 41. Sashi = 57.
8:40 p.m. George for some reason, rubs it in to Ben and says there has never been a gap this big in a MasterChef finale. OK . . . He gives Ben a pep talk and urges him to keep fighting. Ben's like, bring on round two!
8:44 p.m. Obviously, OBVIOUSLY, they bring in Heston Blumenthal for the final Pressure Test. I mean, we hadn't seen him all season, we knew they had something planned. Heston himself says that this dish is one of the most complex he's ever developed, the concept of which only took him 15 years to plan. OK, cool.
8:53 p.m. The judges unveil the dish and there are two meringues sitting on top of a floating pillow. Everyone freaks out, but no, they're not recreating the pillow. The dish is called Counting Sheep, made out of yoghurt snow, steamed vanilla sponge, coconut ice cream and the lightest, airiest meringues known to man.
8:57 p.m. The guys have five and a half hours (!) to recreate the dish. There are a total of 19 elements and both of them get started on their malt meringues straight away. I'm already exhausted.
9:06 p.m. Ben gets to work on his ice cream and the texture if way off. Instead of being liquid, the consistency is thick and gluggy. He's added in xantham gum in the mixture by mistake, and decides to make another batch. Sashi has the best time with the liquid nitrogen and nails the coconut ice cream.
9:14 p.m. Both are neck and neck right now, and all eyes are on Ben on whether he can make up ground. He puts the beautiful layers of liquid gel into his earl grey and lavender mousse, and puts it into the blast chiller. Sashi pipes the mousse into the moulds and realises he's forgotten to put the inserts in before allowing the mousse to set, eek!
9:19 p.m. Sashi doesn't have enough ingredients to make another batch of mousse, so he decides to let the mousse thaw enough to put the gel in. Ben speeds ahead with his yoghurt snow. Sashi manages to get the inserts in but is still worried his mousse won't be up to scratch.
9:23 p.m. Ben is KILLING it. His mousse domes look flawless and all his elements are done. He starts to plate up.
9:29 p.m. Sashi attempts to de-mould his domes and they aren't set. There's 10 minutes to go and he puts them back into the blast chiller. Ben truly is the king of Pressure Tests, he's flying ahead with the plating!
9:31 p.m. Side note: how much does this dish cost at The Fat Duck? Anyone?
9:33 p.m. Sashi attempts round two with the mousse and . . . success! They're set! And that's the end of round two.
9:42 p.m. Crunch time. The judges taste Sashi's dish first and say that he's nailed the texture and lightness of all the elements. They can't fault Ben's meringue pillows and think he's nailed a lot of the elements.
9:50 p.m. Time for the final scores!
Ben: 9 + 9 + 9 + 9 = 36
Sashi: 9+ 9 + 9 + = 36
Which means the final scores are 93/100 for Sashi and 77/100 for Ben. Congratulations Sashi!
9:53 p.m. Gary reveals that 93 is also the highest score ever received in MasterChef grand finale history, so that's another one to add to this books! YAY SASHI!!!