MasterChef Australia Grand Final 2014 Live Results
MasterChef Grand Final 2014: Live Results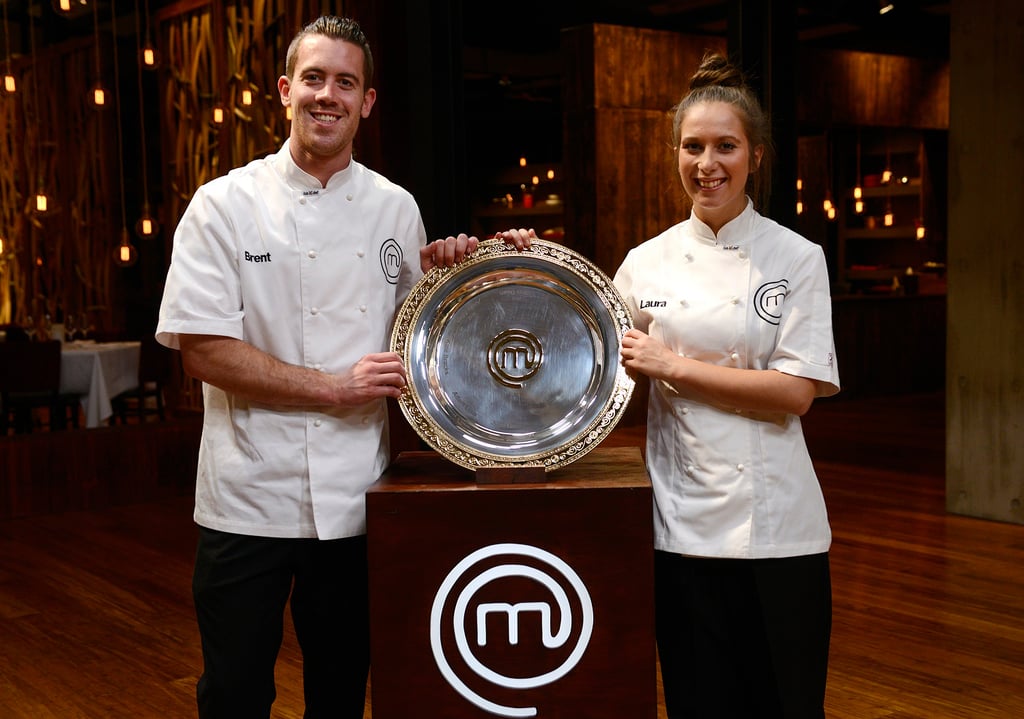 The MasterChef 2014 grand final is here! By the end of the night, either Laura Cassai or Brent Owens will walk away with the title of MasterChef winner, as well as $250,000 cash, a cookbook publishing deal with Hardie Grant, work experience in some of the best kitchens in Australia, and an Alfa Romeo Giulietta — not bad considering they're only 19 and 24 respectively! We're marking the end of a successful series of MasterChef by covering the grand finale live.
If you're in a state where it's yet to air, stop reading unless you want the result spoiled.
7:31 p.m. So MasterChef still hasn't started but Blake Garvey from The Bachelor is being interviewed on The Project so it's all good. We also interviewed him today and his voice is that deep. Oh, he's dancing to Michael Jackson. What a muffin.
7:33 p.m. Ooh the grand final has started! And Laura and Brent obviously taped a dramatic, walking-through-the-streets segment and they're talking through their respective experiences on the show. We're watching them put on their chef whites and those delightful black kitchen shoes. And there's Brenty putting his hair up in a bun! Oh gosh they're cute. Cue dramatic music and a pan to the façade of the MasterChef kitchen.
7:36 p.m. Was just getting ready to listen to Katy Perry's "Hot 'n' Cold" for one last time but they've denied us! Instead it's dramatic music — and night-time — as Laura and Brent pull up to the kitchen. Must have been a laaaaate one.
7:37 p.m. Can't see Tash up in the gantry with the rest of the top 24. There's been a lot of talk about how she wasn't thrilled with her experience on the show. Gary Mehigan is reiterating how the standard of food on this sixth series is the best the show has seen. Brent says he's "super excited and super proud of what I've achieved." Laura: "I haven't really wiped the smile off my face since last night. I woke up with a smile." The judges are all wearing touches of red.
7:40 p.m. George Calombaris is going through the challenges. There will be three rounds and they have the potential to score 100 points. Gary, George and Matt Preston will be judging.
7:41 p.m. It's time for round one, and there are 30 points up for grabs. Matt says, "One of your old friends is back again." That old friend is a mystery box. Emelia would be loving this, mystery box queen that she is. They lift their lids and underneath there's . . . nothing. Yep, zilch. Matt says they get to choose the ingredients for the mystery box. Whaaa? There's a selection of ingredients they can choose from. Laura and Brent will take it in turns to choose the ingredients they'll have in the mystery box, and they'll have an hour to cook with the eight ingredients. They both have to use at least one of the chosen ingredients.
7:44 p.m. Laura picks first. She chooses prawns (scampi) — three for her, three for Brent. "You can have the ugly one," she says. For his first ingredient, Brent picks garlic, which he needs for the dish he has in mind. Laura's happy with his choice. Laura picks again; she takes anchovies. Next, Brent chooses the red cabbage. Laura gets pearl barley. Brent picks fennel. They're having a lot of fun with this. For her last pick, Laura picks chervil. And then Brent picks sherry. Now it's time to cook!
7:48 p.m. Here are their dishes: Brent is making textures of pearl barley with poached scampi, pickled red cabbage and fresh chervil. Laura is making grilled scampi with an anchovy butter, a roasted garlic cream, some pickled cabbage, a scampi head oil and puffed barley.
7:49 p.m. Injury alert. Laura touches the handle of her saucepan, forgot it was scalding hot, and dropped the whole thing on the floor. There goes her garlic.
7:55 p.m. Laura has to work through her pain and burnt hand. Jut a regular day in the MasterChef kitchen! There are 30 minutes to go and 30 points up for grabs. I sense a theme! Brent steps away from his garlic for like 10 seconds and manages to burn it. Laura and Brenty are both having garlic disasters. Whoa Brent's pickled cabbage has some interesting purple colour going on. "No time to dawdle, it's all about scampering to the finish line," says George. Ha ha, the top 24 acknowledge his little joke.
7:58 p.m. Brent is ready to bring his awesome plating skills to the first challenge of this grand final. I'm guessing there will be some purple on his plate. Laura feels the pressure with her presentation. "I can feel the walls bending under the concentration," a gem from Gary. Everyone says, "Brent, that looks amazing." Their dishes look quite similar. Oh look at how cute Byron is in his shirt and jacket! Time's up, and Brent and Laura give each other a hug. They're both happy with their dishes, but Brent is concerned there's not enough acidity on his dish.
8:00 p.m. Laura is the first to present her dish for tasting. Gary can smell it as she brings it up to the tasting table. The judges go straight for the scampi and are pulling it apart. Matt gets a big chunk of the scampi meat. George says he loves that Laura has stayed true to herself throughout the competition and says, "If this is a dish that will be on the menu of your Italian restaurant, I'll be there." Gary loves the flavours and proves it by cleaning the plate with his finger. Matt says the dish has transported him to a dock in Italy. His main criticism is that he wants "a little bit more zing" as it's such a creamy dish. The pressure's on for Brent.
8:03 p.m. Brent's plate is up for tasting. It's so pretty and delicate — still can't believe this is coming from a bobcat driver. Gary says he loves the sweetness and the red cabbage sauce, and says the flavour is "a little different" and not something you come across every day. George loves the scampi: "Delicious." Matt commends how Brent has pulled all the flavours together so well in a new, fresh and exciting way. Ooh, he used the word "perfect"! And the words "excited, inspired." Looks like Brenty is onto a winner, and Laura thinks he'll score higher than her based on that feedback.
8:08 p.m. Checking in on our poll and Laura is in the lead.
8:10 p.m. And we're back. Laura's dish is getting scored first. George gives her 9; Gary gives Laura 8; Matt scored Laura 8. Laura's total for the first round is 25 out of 30. Now it's Brenty's turn. Matt gives Brent 9; George scores 9; Gary also gives 9. That means Brent is sitting on 27 out of 30 for the first round. "You've won the first round," Gary says, but it's far from over.
8:13 p.m. Time for round two. George points out that Laura and Brent's kitchen benches have a chef's table in front of them, and that they'll be cooking for the judges as well as extra VIP guests: their loved ones! Laura lets out a squeal as she runs to her dad. Brent is greeted by his parents and girlfriend, who smothers him in kisses. The contestants upstairs are crying as Laura and Brent hugs their families. Can we talk about how hot Brent's girlfriend is? Brent's mum is also stunning. Laura's nonna recounts how Laura used to sit up on the bench when she was a little girl to help cook. And now we're getting to know Brent's dad Les, who inspired Brent's most emotional dish, Light at the End of the Tunnel.
8:17 p.m. The challenge for round two: Laura and Brent have 90 minutes to cook a delicious savoury dish for the judges and their loved ones. They have to cook six dishes each. There are 30 points up for grabs. Brent says he doesn't have a dish in mind but he has to cook lamb for his mum after seeing it in the pantry. Laura says her parents and nonna are tough critics of her food and that she's going for something more Sicilian-inspired. Laura is making lightly-seared scallops, a herb butter poached lobster, fresh radish mushroom panzanella and chestnut chips. Brent is cooking a modern take on a Lancashire hotpot, which is a lamb stew topped with a potato galette. He's really considered everything his mum, dad and girlfriend love for this dish. Gary chats to Laura as she works out her dish and makes her wonder how she's going to pull the whole thing together, with the different flavours and themes.
8:25 p.m Way to go with stressing Laura out, Gary! Laura and Brent are cooking directly in front of their loved ones, who have the best seats in the house. Aw, Brent says, "Yes, Mother," to his mum. Gary chats to Brent and says his dish sounds like it hinges on the sauce. Back to Laura, who says she wants to impress her dad the most because he's her toughest critic. She's totally a daddy's girl.
8:29 p.m. Laura's getting distracted by her parents. Brent talks about how his mum is fussy with her lamb and likes it cooked medium, and that he's going to cook to her taste for this dish. Brent has trouble with his galettes and they keep burning. Laura and Brent's loved ones are encouraging, but they sure know how to put the pressure on! Laura's lobster looks mega tasty in that herb butter concoction — yum. Brent's second batch of galettes are burning again. Everything on Brent's bench is burning. It's just too hot! George keeps telling him to pull it together to prevent the whole dish from being burnt. Brent's worried his lamb might be over. Emelia reminds him it's the finals and that he needs to get it together. So much walk of burning! He's turning his galettes into potato chips. Two minutes to go. Laura cuts through her lobster but it's undercooked with a minute-and-a-half to go. Her dad looks mega stressed. Now Brent's potato chips are burning too. He decides he's leaving the potatoes out completely. He cuts through his lamb and at least that's cooked well.
8:39 p.m. Laura's family and the judges are tucking into her dish first, which looks beautiful on the plate. Her dad says, "Oh my God, that is beautiful. Laura, it's faultless," which is probably the highest praise Laura could get tonight given how much she wanted to impress him. George says she cooked with the heart and soul, and that it was "intelligent cooking." Looks like Laura managed to pull everything together. Aww.
8:40 p.m. Now it's Brent's turn. He acknowledges that the potato galette is missing and that the dish does need the potato element. His dad, Les, describes it as "sensational." Matt says it's "refined cooking" and praises the sauce, the perfectly-cooked lamb and the parsnip purée.
8:42 p.m. Scoring time. For Laura, Gary scores 8; George gives 8; Matt also scores 8. So that's 24 out of 30 for Laura for round two, and now her total score is 49 out of 60. Now to Brenty. Matt scores 7; George gives 7; Gary also gives 7. That's 21 out of 30 and means Brent is on 48 out of 60 after round two. Laura's in the lead! By one point. Now it's time for whatever epic dessert Peter Gilmore is setting them. Laura's worried.
8:46 p.m. This year's grand final is obviously a much more intimate event than previous years, which have seen the three grand finalists cook service challenges for a large number of people. This is a delayed observation.
8:50 p.m.Matt introduces the last pressure test Laura and Brenty will have to cook on this show. Quick recap of the amazing desserts that have been set as the final pressure tests. Matt asks the contestants, "Do you remember the snow egg? Do you fear the snow egg?" Um, rhetorical question, much? But he didn't specify whether he was asking whether they feared making or eating the snow egg. Anyway . . . Peter Gilmore comes through the doors and he's so jolly it's cute. Peter says the dessert is a combination of two of the latest desserts on the Quay menu, and that it's at least twice as hard as the snow egg. Yikes! And the dish is . . . (could this be any more dramatic?) "Chocolate Ethereal." I totally thought there would be an ad break. Peter is giggling with glee.
8:55 p.m. Peter goes through the dish. It's compiled by heaps of different sweet "sheets" and involves a whole lot of tempering chocolate. Oh my gosh there's so much going on it's hard to keep up. (I'll have to rewind.)
8:58 p.m. I like how Gary emphasises how much they want to win the trophy. Forget the trophy, what about the $250,000! Also, Brenty and Laura have to create four of the desserts, one for each of the judges, plus Peter. They have three hours to create the dish. "This is the most important challenge in my entire life," says Brent. The recipe has five pages. Oh gosh that's a lot of reading. Now we wait to see how legendary this dessert becomes at Quay, and whether it will actually be available as a dessert since Peter said it's a combination of two. When is the next ad break coming? I need an ad break.
9:00 p.m. Laura's making milk skin. Isn't milk skin usually the thing you try to avoid? It's like . . . curdled milk? But not on this dessert! Brent gets started on his nougat, one of the most important elements in this dessert. There's so much to making nougat. Uh-oh, Laura has read through her recipe too quickly and has made a big mistake with her nougat. She's combined her sugar and honey and they're meant to be separate. Time for Peter and Gary to ask questions that will make Laura realise she's done something wrong. But they're not getting through. Yes, ad break!
9:04 p.m. OK, here's the dessert, straight from what Peter Gilmore said: "To start off with, all the ethereal sheets, milk skin is the white sheet. So that is literally the dried skin of the milk. There's two types of pulled caramel in here, so it's stretched caramel. One is butter vanilla toffee, and the other one is a chocolate toffee. Then you have tempered chocolate, and that is razor-thin, and the last sheet, the really pretty one here, this here is the sugar starch sheet. That is potato starch dipped into a heavy sugar syrup and caramelised in the oven to make caramelised sugar sheets. [Then there's] the salted oloroso caramel. Oloroso is a type of sherry, and the flavours are very sort of caramelly. It's got different sorts of nutty notes. And then on top here, you have the whipped caramel cream, so it's the oloroso caramel and some double cream whipped up together." OK that's not even the end, but you get the drift.
9:07 p.m. Gary makes Laura read through the recipe with him and she realises she's made an error. She has a minor freakout but seems to be OK. Brent wants Laura to fight right to the end. Brent's powering through his nougat and making his sheets, and there's talk of sugar syrup and lots of other elements. Laura's doing her nougat for the second time, this time the right way. There are 39 steps in this recipe (thanks Tracy). Upstairs, it looks like Emelia is getting along just fine with Brenty's family. Brent's muscles are getting a workout with this nougat; "She's half the size of me, and she will struggle," he says. "I should've gone to the gym!" Laura says. Her family shouts down that she's caught up. Now they're onto the oloroso whip. And then it's onto tempering chocolate.
9:13 p.m. Tempering chocolate seems like the most stressful thing ever. Laura adds the extra 100 grams of chocolate to her melted chocolate that finally reached 50 degrees, and it all clumps up together and freezes. Stress out time! She has a huge rock of chocolate. Laura is getting frantic and everyone is yelling at her to calm down and relax. "I feel like giving up," she says in her piece-to-camera. "I know I can do it, I just, I physically can't." Laura is really upset and it's up to George to bring her energy levels back up. And then you see Laura's parents standing upstairs with their arms around each other. Ah, the emotions! Ah, the drama of tempering chocolate! Remember to always appreciate your tempered chocolate.
9:18 p.m. Here's the rest of the dessert according to Peter Gilmore: "The actual chocolate component at the bottom, there's four or five components in there. You've got to make your own nougat. That is one of the hardest things to do. You're then going to also be making some roasted salted almonds that are going to be caramelised into a praline and ultimately you make a really beautiful chocolate ganache to combine all of those ingredients together. It's got to be the correct texture and the correct flavours." I think I just typed that whole thing out because I love chocolate so much. OK, back to the show.
9:21 p.m. Laura is tempering her chocolate again and she's happy with it this time. Brent comments that Laura usually struggles at the start of pressure tests but always makes it back. Brent is going crazy at his bench and says he's burnt himself three or four times, but can't stop. #cantstopwontstop. Brent mentions an ingredient called "trimoline." Random words and number are being said, and I can't keep up with who's talking. OMG only five minutes to go.
9:24 p.m. That clip of Brent running with his trays was pretty hilarious. He realises he doesn't have time to make a certain element. The challenge ends with Laura and Brent stretching toffee. The last thing they did in this kitchen was stretch toffee. It's kind of funny if you think about it. As Brent and Laura are hugging, he says, "Regardless of the result, me and Laura are winners already." They now have 20 minutes to plate up.
9:26 p.m. Plating up this dessert is full on, as Brent discovers first. The room erupts with cheers when he completes his dish, which he's pretty proud of. When he brings it into the room, Gary describes it as "absolutely stunning." Peter says the dessert looks great as well but that they need to get in there and taste it. The almonds are good, according to Peter. Matt likes the nougat, and Peter says the texture is right. After eating a bit more, because YOLO, Peter says it's an impressive dish.
9:30 p.m. Laura's turn to put her dessert together. Uh-oh, Laura has placed a brick of chocolate-covered nougat onto her plate and all the contestants upstairs know something's wrong. She was supposed to break it up. And on that note — break!
9:35 p.m. The other contestants can't shout down that something's amiss. But her dessert still looks awesome and Laura describes it as the hardest thing she's ever done. The judges look pretty thrilled with what she's put down in front of them. George is particularly impressed with the shine factor in Laura's chocolate. Gary quickly notices the big block of nougat, noting it's "very, very different" to Peter's dessert. And this being a pressure test . . . The judges are struggling with the big block of nougat. Peter's talking through all the thing Laura has done differently. They're questioning why Laura didn't cut up the nougat. Based on these comments, Brent has done a better job.
9:44 p.m. "Welcome to the grand finale of MasterChef 2014," Gary says, right at the end . . . To mix things up, the winner announcement is happening outside this year! Would love to know what time it is. Laura and Brent are covered in chocolate. All the past winners are there, so are all the guest chefs and judges. Score reveal time! The judges are going to reveal Laura's scores first. We know what that means, right? Gary gives Laura 8; George scores her 8; Matt also gives 8; and Peter, creator of the dish, gives her 7. He loves the fact that she never gave up, but he tells her where she went wrong with the nougat slab. That means Laura got 31 out of 40, and her grand total is 80 out of 100.
9:49 p.m. Brent's scores! He needs 33 points or more to win. Gary scores Brent 8; George gives 9 (cue the shouts and cheers! It was the almonds!); Matt scores 9; and from Peter, 9!!! BRENT IS THE WINNER OF MASTERCHEF 2014!!! His final score is 83 out of 100! TEAM BRENTY!!! "I can't believe it, I cannot believe it," he says. Brent thanks the judges, the other contestants, and Laura.
9:54 p.m. Laura gets $20,000 from Bendigo Bank! And there's another surprise: Emelia gets $10,000 for making the top three! Everyone gets money! Aw, Brent's big smile is adorable. Now he gets to hoist the trophy over his head, and he also got to kiss it. FIREWORKS!!! This really is the most epic series of MasterChef ever. Why have confetti when you can have fireworks? And on that note, MasterChef is over for another year!
Want more? Follow us on Facebook, Twitter, Instagram and Pinterest!
Source: Network Ten