Matt Preston Interview on Changes to MasterChef 2012, Jamie Oliver and His Day on a Plate
MasterChef 2012 Scoop From Matt Preston: Changes, Social Media and Jamie Oliver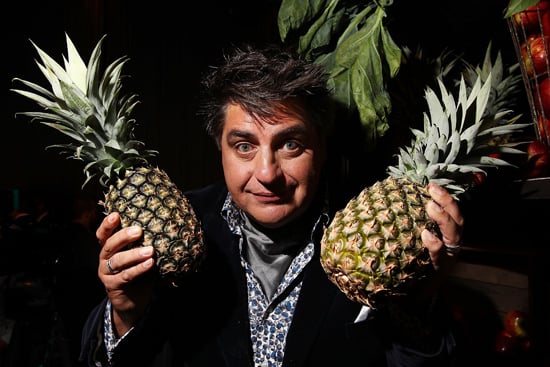 MasterChef returns for 2012 on Network Ten this Sunday night. After complaints about last year's series — impossible challenges and unrelated guests stars (the Dalai Lama), to name a couple — the popular food show is going 'back to basics,' back to the show people fell in love with in its inaugural season. So what does it mean for 2012? The contestants are hardcore foodies, the Mystery Box and Invention Tests are back on Sundays, and Jamie Oliver is making an appearance. We spoke to judge Matt Preston about how the show has changed and also got him to dish on what a typical day on his plate is like!
This series has been promoted as going 'back to basics.' How did you feel about last year's series?
I loved last year's series. Restaurant magazine in London just announced the top 50 restaurants — last year we had the number one chef in the world, number three, number six, we've had number five. We had the best chefs in the world, chefs who don't do other reality shows. They've done ours because this show has a great reputation for respecting food and people who cook it, and wanting to put the best chefs on it. It's very hard when you've done those kinds of guys — René Redzepi, Thomas Keller, David Chang, Heston Blumenthal — it's very hard to go from that — and the Dalai Lama — you can't go any bigger. So you've kind of gotta go the other way, take it back to basics. It's really about taking it home. We want to make the focus on achievable food. I love to see what our contestants are going to do with beef mince, or if you give them a banana bread challenge, what will they do? Also, Sunday nights, which used to have the mystery box and invention test, we've brought that back. One of the things that was missing from the show [last year] was the discussion around the TV going, 'What would you cook if you got that mystery box?' That involvement is really important and it's one of the pleasures of the show.
More from Matt when you keep reading.
We've seen over the past year that social media during TV has taken off, so if you're talking about discussion points . . .
I tweeted live through an awful lot of MasterChef last year, and I've been doing it now for two years. I love it. It's created stars like Ben Pobjie and Cal Wilson, who tweet during MasterChef. We've been there quite early on. It's also really nice to provide an immediate bounce-back if someone's got an issue, like, "How come that didn't happen?" Then you can say, "It did happen, it was fair, but it hasn't been put in the edit." We film for 12 hours a day and get to use 50 minutes of it. It was great to tell people why the floor was wet in the top 50 last year. And I'm sure there will be those kind of questions this year that we'll be able to help fill people in on.
With the whole going back to basics thing, I've heard all the contestants this year are real foodies who all want to be chefs.
They don't all wanna be chefs but they all want to work in food. Some of them want to be cooks. Some of them want to be cooks driving around schools teaching primary school kids how to cook. Some of them dream about putting together a program with social services to teach those with very low income and those with food security issues how to make something nutritious for a buck or two. We very much tried to strip out the ones who just want to become the next face of TV. There's no way Julie Goodwin thought she'd be on television when she won series one, and she's still one of the most engaging people we see on TV. She's lovely, so normal. 'Real people, real food, real challenges' is sort of the motto for this year.
I'm not sure how much you would've watched My Kitchen Rules, but you may have heard that a lot of their success this year came from creating characters and villains.
That's what The Block did so brilliantly last year. The Block started to be about personalities and it worked brilliantly. It was great to see Manu [Feildel] and Pete [Evans] do well — they're both mates of ours. There's always that pressure that TV to go, 'Let's adopt some of this.' Our real thing has always been about — in year one, two, three and now four — remembering what the show's about. It's about food, and it's about people staying or going based on how well they cook. It's about decisions made by the three of us. We have to stand by our decisions and why people go home. It's about not manipulating stuff. You know, Marion [Grasby] going in season two, she was such a popular contestant. Hayden [Quinn] last year, every time he did a challenge or did well, our ratings used to leap by about 10 to 15 percent. He's a gorgeous guy, not just in looks, but such a lovely bloke as well. They both went home around seventh or eighth and that's ratings death, but the very simple rule is if we get dishes and one's better than the other, the better one always stays regardless of who it is. That integrity is very much the heart of the show.
Can you talk about how the immunity challenges have changed?
If there's been one element we've struggled to get right, it's been immunity on Tuesday nights. This year, the contestant who's fighting for immunity gets to pick two contestants to help them and join them on the floor. They'll be doing three-course challenges. There's something lovely about watching contestants trying to support their mate and help them win a pin. Even though it's a competition, they're very supportive to each other. They learn probably as much about food in the house when they're cooking together as they do in the MasterChef kitchen. This is a great way of showing that. It also makes for great television because you see three of your favourite contestants cooking together rather than one.
And Jamie Oliver is going to be one of the chefs in an immunity challenge?
The contestants are cooking against Jamie. That was such an amazing thing for Jamie to do. Normally chefs of that calibre don't want to cook — they don't want the risk that they're going to lose. He was willing to come and put his skills on the line against the contestants. It's a cracking episode because people underestimate how good some of our amateur cooks are. They also underestimate the pressure of cooking in a strange kitchen with all those cameras, even for someone like Jamie who's so familiar with cameras. There's a moment when he realises quite how much he has to do, and you can see his eyes glaze over and he goes into full battle mode. From that moment on it's really compelling television. And he's such a hero for so many of the contestants. When he walks in the MasterChef kitchen, it's one of the great moments of MasterChef history.
Can you confirm or deny rumours that the show is going to Italy this year?
We are going overseas. We're going to Tasmania, I can confirm that! But beyond that I can say no more. All will be revealed very shortly.
What's your typical day on a plate?
[Laughs] OK. I get up, have a cup of tea with strong skim milk. It depends what sort of morning it is. If I'm in a good, virtuous mood, I'll have some porridge and fresh fruit. If I'm in a really bad mood it would probably be a couple of poached eggs and a bit of bacon. Then during the day, ginger tea is on set during the day. If the boys are doing a challenge where they're required then I might nip off and make some snacks for them. I might make some salad — we've got the pantry to our disposal, which is great. I might make some Lap Cheong Chinese sausage with fresh cucumber and salty peanuts. There's normally lunch and we might have some of that, depending on what it is. There's Mexican Day, Japanese Day or Hamburger Day [laughs]. That's probably three days out of a 20-day work cycle. We'll taste a mouthful of everyone's dish after they've finished cooking while it's still hot. Then we'll do the tasting and that's another couple of spoonfuls. In the evening, if I go home it might be something really nerdy like cabbage and peas with a bit of grated parmesan or fetta on top. If I'm going the other way it will be out to dinner at somewhere like Ms. G's, Gardel's Bar or Honeycomb.
How has your life changed since MasterChef, and do you think about how much longer you'd do the show for?
[Laughs] That's a really good question. It's bamboozling to us because we came up as the chubby trio from Melbourne thinking the show would last six months, and that we'd come back and everyone would forget about it. We didn't really think it might actually be successful, and now it's been a crazy ride. The thinking about it is this: the show's done a lot and we try to be supportive on the contestants. On that basis, we've become like Australia's postmen — everyone knows us, we're familiar, but it's not like, 'Oh my God it's him!' We're not that kind of celebrity. It's lovely because we have lots of conversations [with fans]. And it gives me the opportunity to do things that I wouldn't have a chance to do otherwise. On the other side it takes me away from my family for eight months a year, and it stops me from doing what I really love, which is getting out there and finding great places to eat, great things to eat, and telling people about them. How long will I do the show for? Who knows. At the moment I've really enjoyed this series and there's been more of a focus on the three of us working together. Part of the joy of doing the show is working with two mates. It would be terrible if any one of us left. It would injure the show and injure the enjoyment we all have in doing the show.
MasterChef premieres on Sunday May 6 at 7:30 p.m. on Network Ten.