Matt Preston Interview For MasterChef 2014
Matt Preston Is Having More Fun on MasterChef This Year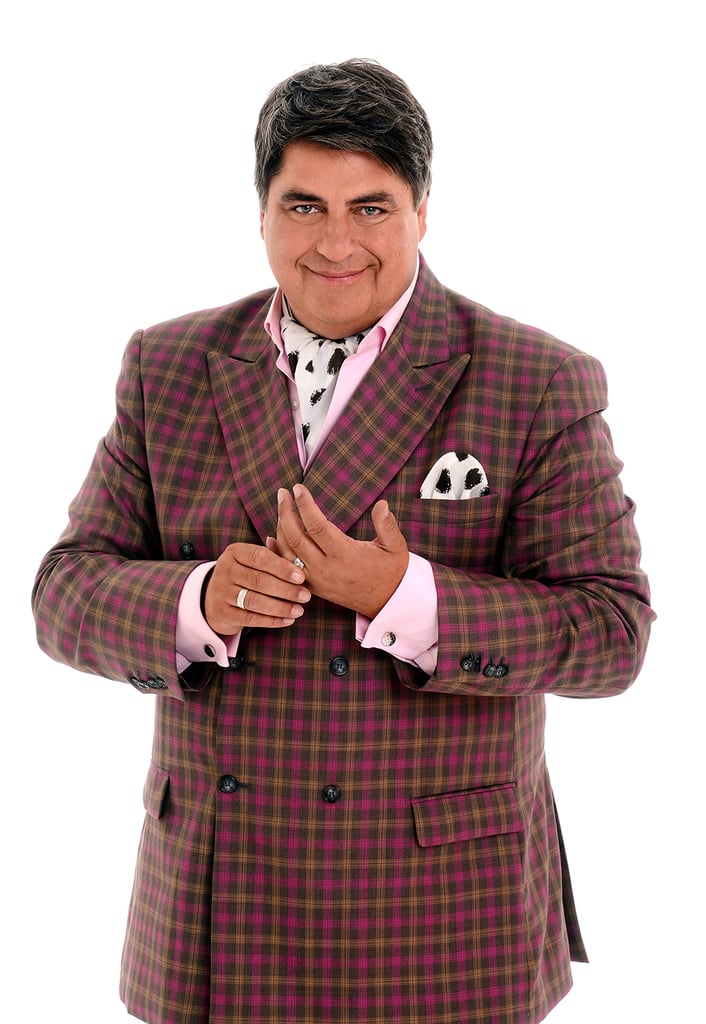 Source: Network Ten
It's been a tricky few years for MasterChef. In 2010 and 2011 it was the highest-rating show on TV, but over the past two years it's had to face the growing popularity of My Kitchen Rules (which airs earlier in the year) and competition from The Voice Australia. The numbers don't seem to worry the judges too much — or at least they won't let it show — and they've seen the show's effects that go beyond weekly ratings reports, from its international appeal and popularity to the amount of former contestants who are now working in the food industry.
What's in store for the sixth series? According to Matt Preston, "The food we're seeing this year is extraordinary," and that's really what it's all about, isn't it? He also told POPSUGAR Australia that he's having more fun on this series than he has in a long time, which can only be a good thing. Keep reading to find out why Matt still loves working on the show and why Australia is seen as a major foodie destination.
POPSUGAR Australia: MasterChef is going into its sixth season. Why are you still interested in the show?
Matt Preston: I just love it! I love watching the development of the contestants. I love that wonderful moment when they do something they don't think they can do — I find that really exciting. I love working with the boys. I love working with the crew we work with — we were filming in the country the other day and we went out for drinks afterwards, and it was like, we had a lot of people there who have been there since season one or season two. It's almost unheard of; TV is renowned for people being quite promiscuous in terms of going from job to job. So that's really good. And what would I not love about getting up in the morning, going somewhere to eat food, and talk about it? It's like, it's not really work for me. It's kind of like a pleasurable holiday.
PS: Paid to do what you love.
MP: Yeah! And I've been lucky that I've always done that. I've always had a job that I've actually loved to do, and to be able to do it on MasterChef continues that good fortune.
PS: Do you actually think the food has gotten better over the years?
MP: Oh yeah. Well this year, certainly. The food we're seeing this year is extraordinary. Just delicious. And I think what's happened is there was that period where everyone was trying to be very clever with what they were doing, and all that technique, and what we're seeing now is delicious food that doesn't require a thousand dollars' worth of equipment to make. You can make it with little more than a saucepan, a knife and a spoon.
PS: What can you reveal about what's new or different this year?
MP: I think one of the things that's new this year, from last year, is that you'll actually see us pick the cooks. You can see us making our decisions based on their cooking ability — exactly like in the first season. So that's important. The other thing is we've gone back to some of the stuff that. . . A lot of the attraction of MasterChef is definitely the play-along factor, so you're sitting at home watching the Mystery Box and Invention Tests — we're back to doing those classic challenges, which I think is a major thing. The eliminations after the team challenges are now normally two rounds; the immunity pin is back but that's now a two-round process. All those little things, they're more tweaks than dramatic changes, and we're always trying to make the show better. Sometimes we'll do five changes and one won't work, so sometimes you've got to be grown up enough to change that back as well. It's the quality of the cooking that's going to impress people this year. And it's a really nice group of contestants; you actually want to spend time with the top 24, and that's a huge task.
PS: Shows like these are filmed in advance because there's so much post-production. With live shows, you can change things if they're not working, so do you ever feel there's a risk by filming so far in advance?
MP: Sometimes the hardest thing to do in television is stick to your guns. If you're making a show, you make the show. If you have the chance to change it, or argue you about it — I mean TV people will invariably discuss whether the couch in back of that shot should be purple of yellow, and the integral message they're sending by the colour of the couch [laughs]. So my belief is you make the show you want to make. But I think it's pretty good in terms of. . . We don't really lose anything.
PS: How often do we see Kylie Kwong on the show, and is her role similar to Matt Moran's a couple of years ago?
MP: Kylie's role is as a mentor, so she'll be helping them — that was pretty much what Matt was doing on the second year he was on the show, he moved from a judging capacity to a mentor capacity. Fundamentally she's there to help the contestants when a top chef comes in, and helps set the challenges for those days. She's there for immunity. It's great having her in the gang, because it means we can call on her. We have developed this long-running history of certain guests making regular appearances — like Shannon Bennett, or Maggie Beer, or Rick Stein. I mean Heston's [Blumenthal] in there, and Kylie's there as well, so it's always good to bring them back.
PS: Celebrity chefs are a big thing now, and MasterChef has had a big hand in that. Did you ever think there would be a time when so many chefs are seen as rock stars, in a way?
MP: I live in a world where I've been writing about chefs for, and working with top chefs for 20 years or so. I think the major difference MasterChef made. . . The rock star chef is something that Marco Pierre White kind of started back in the '80s, that's where I think it first occurred. And I think what we've seen is a lot of testosterone-driven, performance-driven chefs, and I think MasterChef wants to bring in chefs who are just great in terms of the quality of their food. I'd rather go with someone who wasn't a great speaker, but was a great chef, rather than someone who was a great performer, but maybe not a great cook. That's been one of the big things for me, and the credibility of the show revolves around that. When you're talking to a top chef from around the world, and you're saying, "Do you want to come on the show?" the first thing they say is, "I don't do reality shows," because they don't think it's about the food. And then the second thing will be, "Who have you had on it?" Then when we list who's been on it, you can see their face change from, 'I'm not sure I want to do this show,' to, 'Oh my god, I have to do this show!'
Jamie Oliver's never done MasterChef UK, he's only ever done MasterChef Australia — and he's done it twice! I think that, and René Redzepi, Massimo Bottura, all these guys, they've been wonderful on the show. I love the fact that we're promoting the best chefs in Australia and the best chefs in the world. I also love the fact that when I went to The Fat Duck in December, with my mum and my eldest son, I walked in and there were three tables that were Australian, and there are 14 in the restaurant! We're travelling, we're going, we're enjoying, and Australia's getting this reputation of being an amazing foodie destination. I found it first with the Food and Wine Festival, and now with MasterChef. People want to come here because they've heard one, how lovely we are, and two, how good the produce is. The people and the produce is such a great combination. People generally have a great time when they come here.
PS: Is that why Heston Blumenthal is going to be here for six months next year?
MP: That's definitely part of it. He feels comfortable here. And it's great he's bringing The Fat Duck here, and that's an amazing coup for Australia. But we have to remember that when Paul Bocuse, who is like France's greatest chef, wanted to do a restaurant outside of France — this was before the whole Vegas thing was happening, and chefs were opening in Japan and Hong Kong — he chose Melbourne as his destination. When people come to Australia, it's a very structured place. We know and love our food, we've got great produce, the seasons are totally the other way around, so it's exciting — it means they can spend three months here in the Northern Hemisphere Winter. It's a big attraction.
PS: How do you balance having a young family with the demands of television?
MP: The wonderful thing about TV is that if you work long and hard, you get lovely, long periods of doing nothing. I see my family more now, because we're filming in Melbourne, than when I was working as a freelancer. You know what it's like as a freelancer: you're constantly working, trying to bring enough coin in to pay for everything. I no longer work until two or three in the morning, writing stories. I'm much more organised. I don't work on the weekends, which is a big change in the last few years. And then from mid-this year I'll have no MasterChef, so I'll go back to doing the journalism stuff, doing the three columns I write, which is heaven.
PS: Two years ago I asked you how long you could see yourself doing the show for, and you said it would be until you stopped having fun.
MP: I'm having so much fun. I'm having more fun — and I think if you ask the boys, we're having more fun this season than we have for quite some time. And that's a combination of two things: one, the show's got a rhythm, and I talked about family before, but it's also because the food's so good. There's nothing better than when you come in [to work] in the morning, and you know somebody's going to cook you great food. If you come in and the cooks aren't very good, and there's a brains challenge, it does rather dampen your day. The prospect of raw, undercooked brains is not something you want to think about. At the moment we're loving it, and we'll just have to see. That's out of our hands. We are just corks bobbing in the great sea of TV.
Want more MasterChef? Read our interview with executive producer Margie Bashfield.
MasterChef premieres tonight at 7:30 p.m. on Network Ten.