Will Meghan Markle Become Part of the Royal Family?
The 1 Major Way Meghan Markle's Life Will Change If She Becomes a Princess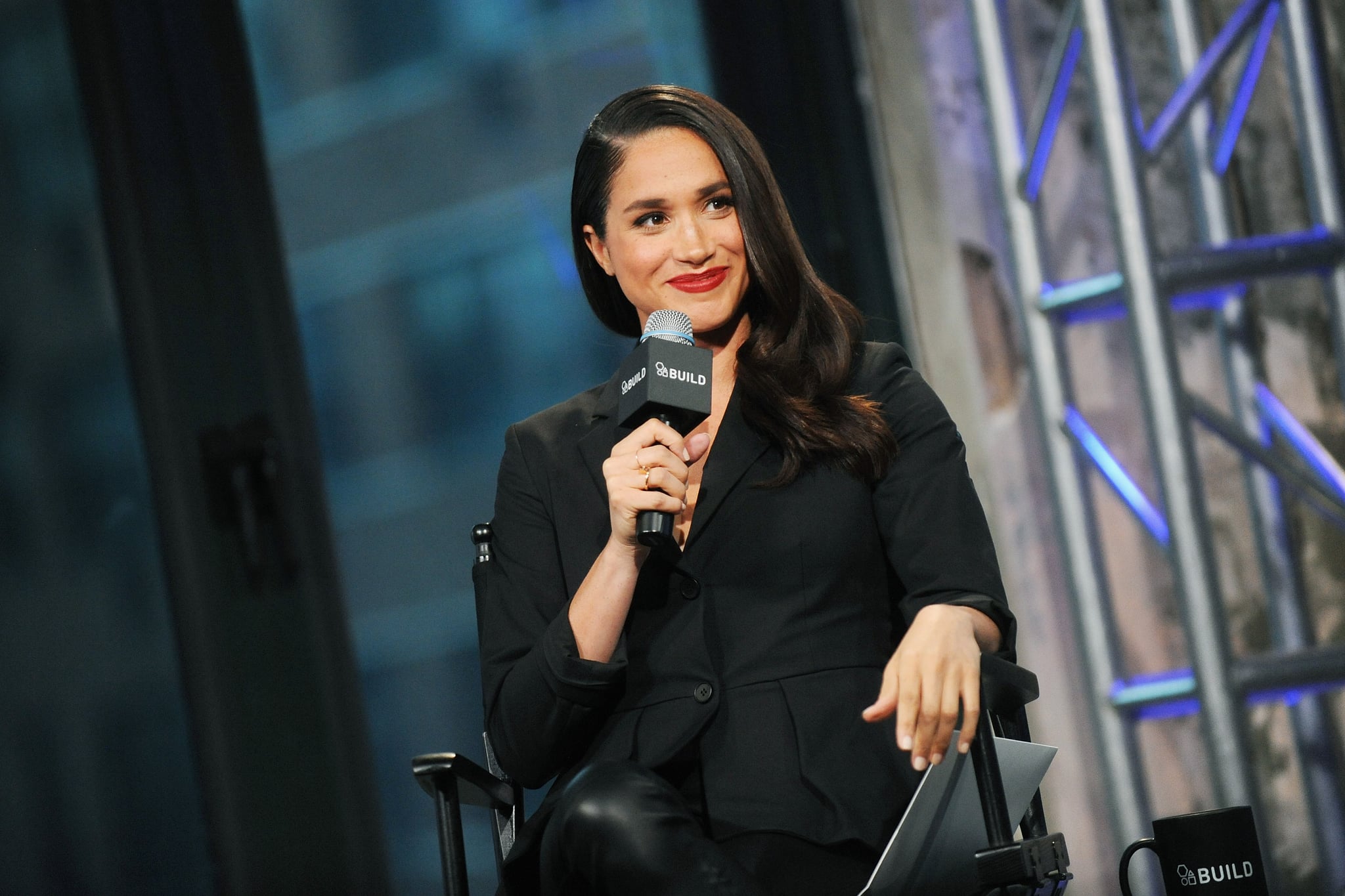 Image Source: Getty / Mireya Acierto
In Meghan Markle's recent Vanity Fair interview, she confirmed what we already knew about her and Prince Harry: "We're a couple, we're in love." While it was only a small insight into their romance, we should probably enjoy that interview now, because it seems increasingly likely that it will be among the last she gives as an actress.
Meghan and Prince Harry have quickly become inseparable, spending every spare moment with each other — and in a sign their relationship has a future, she has been Spring-cleaning her public image to be more princess-worthy by wrapping up her Instagram account and lifestyle blog The Tig, as well as finishing up her contract with Canadian clothing retailer Reitmans. She is mixing with Harry's family and friends, and there are rumours swirling that the pair will attend the forthcoming Invictus Games in their first official appearance as a couple. It looks like an engagement announcement could happen sooner rather than later, but what would that mean for her acting career and the life that she leads right now?
One thing is for sure: Meghan would not be able to continue her acting career if she became a member of the royal family. Being a senior family member is a full-time job — admittedly one with great perks, but a job nonetheless. Her role of princess would be broken down into four key areas: charity patronages, representing the UK overseas, caring for society, and maintaining the traditions of the royal family. To maintain this workload, there would be daily meetings, briefings, visits, correspondence, royal calendar obligations, planning, and prep. To juggle this with the demands of a filming schedule would be impossible. There would also be a conflict of interests, as the royal family cannot promote commercial endeavours, so Meghan wouldn't be allowed to publicise any acting projects. Additionally, the ambassadorial nature of her role would require a degree of propriety, and so any juicy or controversial onscreen storylines would be out of the question.
It seems that Meghan and Harry have gotten pretty serious, pretty fast, so Meghan would have known all this from an early stage and it would have been factored into her personal decision-making about the development of the relationship. She will already appreciate that the role of a princess comes with lots of benefits, but that there are plenty of downsides too. William and Harry have both spoken in the past about the difficulties that come with marrying into the royal family. In his engagement interview, William said the reason he and Kate took so long to get engaged was because he "wanted to give her a chance to see in and to back out if she needed to before it all got too much."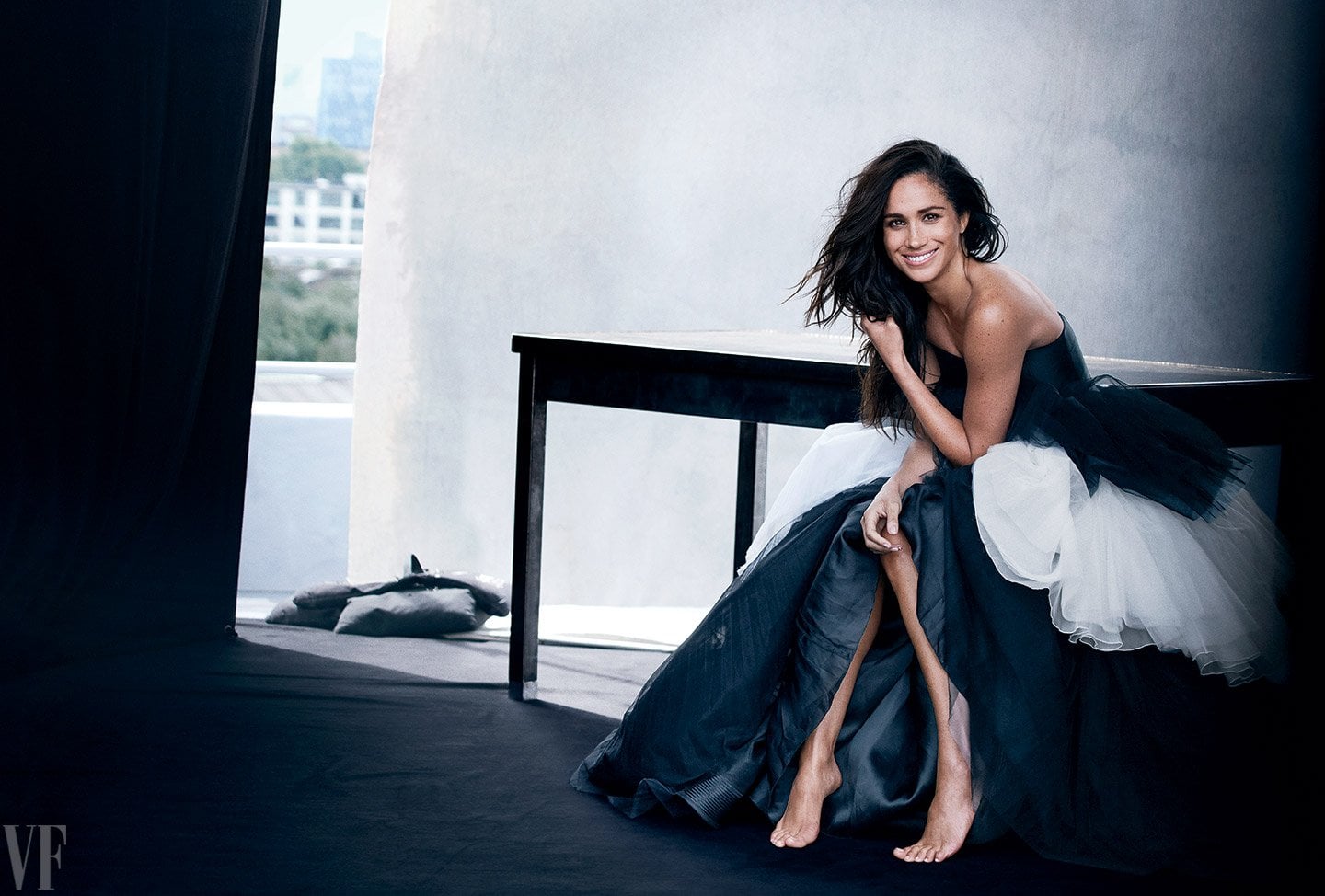 Image Source: Vanity Fair / Peter Lindbergh
Harry said in an interview just before he met Meghan, "If or when I do find a girlfriend, I will do my utmost to ensure that me and her can get to the point where we're actually comfortable with each other before the massive invasion that is inevitably going to happen into her privacy." For those "marrying in," as well as relinquishing their role of private citizen, there are all sorts of other sacrifices to be made as well — and giving up a career is top of the list. Sophie, Countess of Wessex, gave up her job when she married Prince Edward, and before that Prince Philip gave up a promising military career when he married the queen.
Interest in Meghan would go through the roof if she and Harry were to get engaged, but it's hard to tell yet whether she would inspire the same kind of mania that surrounded Harry's mother, Princess Diana. Harry has already fired off a warning shot with the statement he released shortly after the news of their relationship became public, and the family will not hesitate to step up again if they feel a line has been crossed. It's difficult to imagine anything ever getting as bad as the Diana years again.
For those "marrying in," as well as relinquishing their role of private citizen, there are all sorts of other sacrifices to be made as well — and giving up a career is top of the list.
In the recent documentary Diana, Our Mother: Her Life and Legacy, William said, "I don't believe that being chased by 30 guys on motorbikes, who block your path, who spit at you, who shout at you and who react really badly to get a reaction from you and make a woman cry in public to get the photographs — I don't believe that is appropriate. I certainly remember most of the time she ever cried was to do with press intrusion." There are now agreements in place from many key publications that they will not use paparazzi pictures that have clearly been obtained in questionable circumstances. In exchange they are provided with regular photographic access or released pictures to mark occasions such as birthdays and first days of school or nursery.
The Vanity Fair interview won't be the last time we see Meghan on the cover of a glossy magazine, but there would likely be some differences if she and Harry do marry. Members of the royal family have appeared in assorted titles over recent years — the queen in Vanity Fair, Kate in Vogue, and William in GQ — but they either give no interview and only picture access, or an interview about a topic close to their hearts that they want to cast a light on. William's GQ interview focused on mental health, and his interview with Attitude last year was about LGBTQ+ issues. It's likely Meghan won't be as candid in the future; things will be kept on topic.
It is entirely likely that Meghan is currently tying up loose ends and honouring existing commitments before any big announcement is made. She is currently shooting season seven of Suits until the middle of November, and after that we could well get the announcement that many have been waiting to hear.