Mindy Wins First Immunity Challenge Pin on MasterChef Australia 2012
Mindy Wins the First Immunity Pin of MasterChef 2012. Discuss.
When we spoke to Matt Preston before the premiere of MasterChef this year, he explained to us how the Tuesday night immunity challenges, which were heavily criticised by viewers last year, had changed. Instead of one contestant duking it out against a celebrity chef, the eligible contestant from Sunday night's episode gets to pick two friends to help him or her cook a three-course meal against a chef and their two apprentices. In last night's case it was physiotherapist Mindy who was up for her second shot at immunity, and this time she chose Amina and Audra to cook alongside her. Their opponent for the challenge was Shaun Presland of Saké.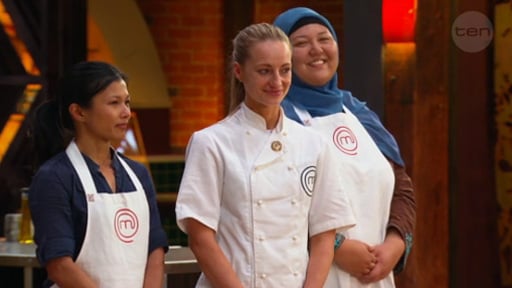 With kiwi fruit as their core ingredient (picked by Shaun), the teams had to create an entree, main and dessert that let the kiwi shine. The way it has worked out is that one contestant is responsible for one dish. Mindy assigned the entree to Amina and main to Audra while she focused on dessert, and during the judges' blind tasting session, Gary Mehigan said of Mindy's kiwi and mango carpaccio, "No! No! It's terrible." Despite this, Mindy won the immunity pin because Amina and Audra's dishes were better than the ones presented from Shaun's team, and Matt added, "That's what's beautiful about this competition — your mates helping you win something." Indeed, Amina and Audra were thrilled for Mindy, and ecstatic that they'd cooked winning dishes, but do you think this fixes the problems from previous immunity challenges?