Monique Morley Bachelor Australia Elimination Interview
Monique Morley on THAT Falling Out With Abbie: "I Don't Want to Have People Like Her in My Life"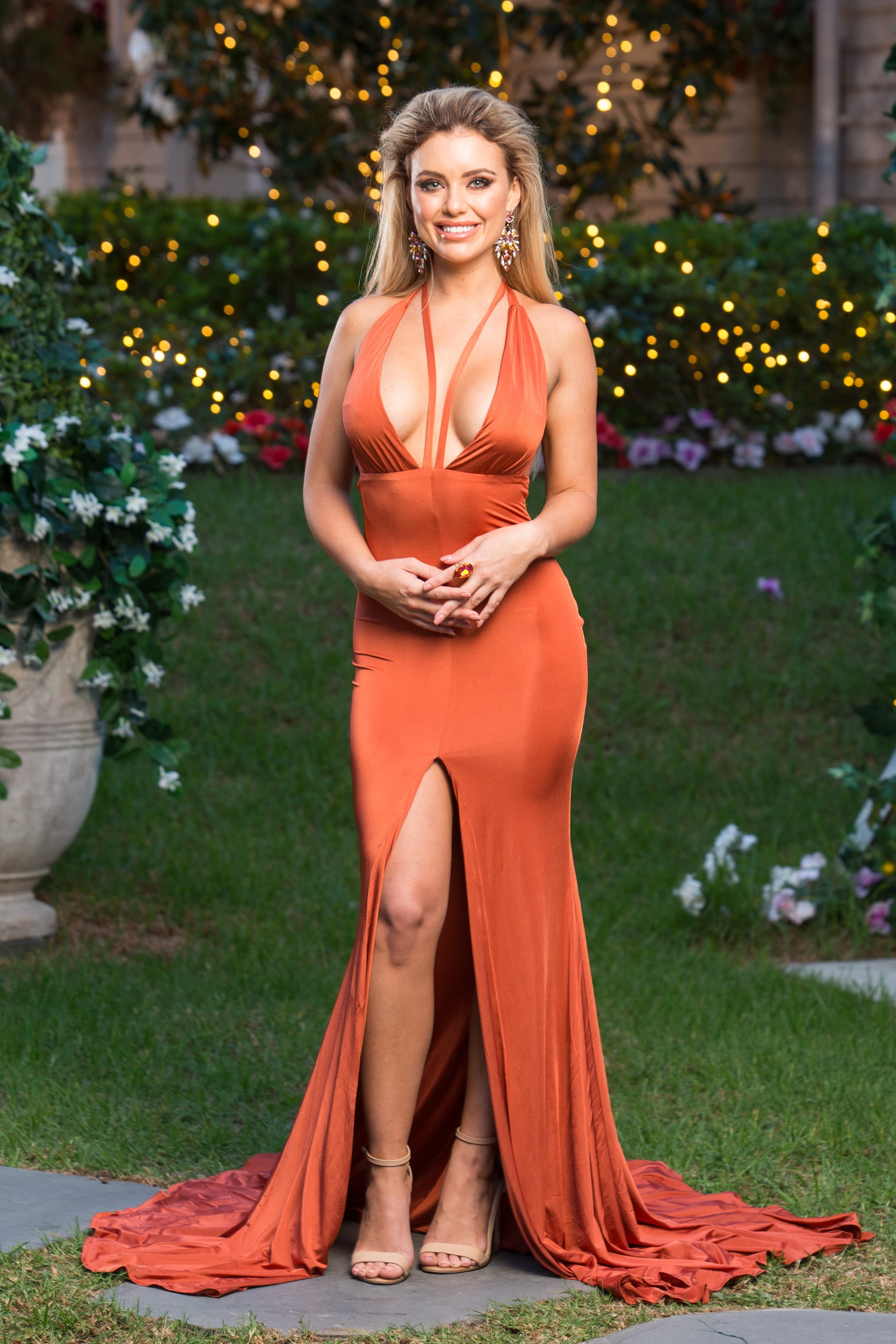 Monique Morley's time on The Bachelor started off so strong. After a high-flying single date with Bachie Matt, it seemed like she'd well and truly cemented herself as a frontrunner. But, it all came crashing down when, in potentially one of the most dramatic Bachelor moments ever, fellow contestant Abbie told Matt that she had called him a "dog c*nt" and "disrespectful pig". As much as Monique denied having ever said those words, at least in the way Abbie described, Matt's mind was made up, and he sent her packing. Below, Monique chats everything that we didn't see on TV and how she feels towards Abbie now.

POPSUGAR Australia: Hey Monique! How are you feeling this morning, after seeing the episode and the public's reaction?
Monique: To be honest with you, I'm actually okay! I know who I am as a person, and my family and friends do too. It was a bit crazy, but it was kind of good, because I realised who is actually telling the truth, and who's not. There was also two friends I made out of the whole situation that I didn't have prior to it, Sogand and Rachael. They weren't really my friends before the whole Abbie situation, but now we've become friends as they stuck up for me because that's what was right.
PS: Good to hear! Do you still stick by that you can't remember whether you called him those words Abbie said you did?
Monique: Look it's not the fact that I can't remember swearing, it's more the fact that 90 per cent of my time talking about Matt to the girls was always positive, and I think the context needs to be explained more. You guys [the viewers] had seen Elly kiss Matt at a cocktail party before, but most of us didn't know about that. I actually did know, because I caught her crying after everyone was giving Abbie shit, but it wasn't my place to tell everyone that she had also kissed him at a cocktail party. The reason I was so mad is that a lot of girls started feeling less worthy, some girls hadn't had a conversation with him since their red carpet arrival. With the same girls getting pulled aside each time, they were starting to feel less worthy, which I thought was really disrespectful. Everyone had given up their time to be there, and I know that it's his journey, but at least give everyone a five minute convo at some point.
So that's what I was pissed off about originally, and also the fact that Abbie lied and said she wouldn't kiss him, but she did. I was basically the one person who stuck up to her and said "look, take the emotion out of it, you were so adamant that you weren't going to do something, and then you did it." It was like, yes, it was probably disrespectful of Matt to do that, yes I can see it from both angles, but we'll have have to agree to disagree. Then Rachael and I went off and we were just making lighthearted jokes, quoting Trent from Punchy (the viral video character) and making people laugh. Abbie saw that as an opportunity to make some comments that made me look terrible, and she ran with it. That kind of says more about her than it does me. Like yes I was swearing and stuff as a joke, but I had spent so much time talking to the girls about how I think he's wonderful, I was just annoyed about the situation itself. So it was really unfair.
PS: Yeah, it really does sound like it was taken out of context if you were quoting a video!
Monique: Yeah, and Matt and I swore on our date lightheartedly, I felt I didn't need to explain myself. I had shown him who I was when we had our date, so I was just like, where is this all coming from? That's why I was like, no, I haven't been talking shit about you, because everything I'd said seriously was positive.
PS: Obviously your single date with Matt went really well, what were your feelings towards him after the date and leading up to the Abbie situation?
Monique: I had a really good time with him, we had an amazing date. I didn't think it was going to go as well as it did, so I was stoked! I mean it was still just one date, in the real world if you go on one date with a guy you're not like, "I'm going to marry him and have kids with him," you know? But I was confident in what we had, and I wasn't going to get petty with Abbie, it was just like, "you know what, if you like her that's fair, but if so then you're not going to like me, because we're nothing alike!"
PS: Speaking of Abbie, you had a few tense words to say about her throughout the show, do you still feel the same way?
Monique: I actually think less of her now having watched everything unfold on TV. Look, obviously there's really long conversations that don't get shown as you can only fit so much in an episode, but yeah, I don't like her, I don't want to have people like her in my life . . . all the best to her, really.
PS: Fair enough! Do you have any regrets from the experience?
Monique: I'm not someone who ever regrets anything, because if it's a bad outcome, then it's a lesson and you shouldn't regret it. But I should have been more mindful. I think the best of everybody, and I probably should have been more aware of how I spoke around people. Not everyone has the same humour as me, but I thought I was just having a conversation with Rachael who doesn't have an issue with things like that. But yeah no regrets, there was so much that I could have said to Matt about Abbie, but I was just not going to stoop to her level. It wasn't my place. Like I said, my family and friends know exactly who I am and they adore me, which is all that really matters at the end of the day.
PS: What is your current relationship status, I think I have seen a few photos of you with a guy . . . ?
Monique: Oh yeah, there's obviously hilarious articles out there about me and Rhyce Power (Jessika from Married at First Sight's brother) and me and my personal trainer. Yeah, my PT's a gorgeous, gorgeous boy from Manly and he's been there for me a lot because he deals with a lot of ex-celebrities and things like that. He's someone who I can really reach to for support, so yeah, that explains the photos of him!
PS: What's next for you now?
Monique: I'm hoping something crazy and exciting will come, but I'm totally not sure! I'm working on a mental health awareness program at the moment actually, so hopefully I can get that going and see what happens!