Movie Review of Despicable Me With Steve Carell
Despicable Me: Wicked Fun
With the upcoming films Maleficent and Megamind and this week's Despicable Me, it seems the hot new thing in Hollywood is the animated anti-hero. In Despicable Me, he's Gru (Steve Carell), a broad-shouldered villain with a freeze gun in tow. His mischievous acts may seem small—cutting the line at Starbucks, bursting a kid's balloon—but Gru also has bigger fish to fry: he wants to steal the moon. To do so, Gru must swipe a shrink ray, but a new golden boy evildoer (Jason Segel) in town named Vector comes on the scene to thwart his schemes.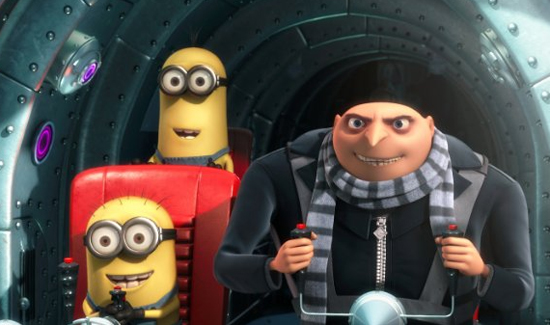 Gru wants nothing more than to reclaim his spot as the most infamous villain, so he can make his mum (Julie Andrews) proud. Does that make him a bad guy? Absolutely not. In fact, Gru is easy to like, as is the film. I dare say, if Toy Story 3 hadn't already made its mark, Despicable could have been the family film of the year. To hear why, read on.
Keep reading...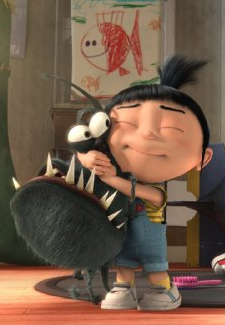 In order to nab the shrink ray from Vector, Gru has to concoct a way to infiltrate Vector's compound with hungry moat sharks. He's run out of ideas, until he spies young orphans Margo (Miranda Cosgrove), Edith and Agnes going door-to-door to sell biscuits. Turns out Vector has a sweet tooth, so the girls get behind his security fence with ease—and Gru suddenly has, as he calls it, a "lightbulb." Gru adopts the three tykes, becoming their father. It's an awkward transition for a guy whose apartment isn't the most childproof (the kids sleep in bombs), but he gets sucked into their cuteness right along with the rest of us. Indeed, Agnes, supplies many of the film's aww moments, but even she's no match for the movie's real scene-stealers: the minions. The little yellow henchmen work in Gru's factory where they bumble about, speaking their own language. It's here that the animators have the most fun creatively—the minions hang out around the water cooler, they take exercise classes, they shoot machine guns with wild enthusiasm. For characters who have virtually no lines, they summon up enough personality to make them deserving of their own spin-off.
The film is in 3D, which, though over-used these days, actually takes an entertaining, gimmicky spin. A scene at an amusement park becomes an interactive roller-coaster ride complete with loopty-loops and the end credits even take advantage with the minions lunging out into the audience. It's a spectacle that kids are sure to get giddy over, but there are plenty of laughs geared toward adults, too. But the real message is family and belonging, and to that end, Despicable Me—despite its title—is actually very sweet.
Photos courtesy Universal Pictures