Movie Review of Elizabeth Olsen in Martha Marcy May Marlene
Martha Marcy May Marlene: A Masterful, Mystifying Thriller
Martha Marcy May Marlene is a film that's extremely confusing, but in a brilliant, deliberate way. It would be the greatest asset if not for the actress at the centre, rising star Elizabeth Olsen, the film's real revelation. She plays Martha, a girl who gets sucked into an abusive cult that's masquerading as a farm community in the Catskills, northwest of New York. The charismatic leader Patrick (John Hawkes) preaches his doctrines to Martha, and she's pulled in by his ideals and the sense of family on the farm. Patrick's sinister intentions are revealed as he slowly introduces Martha into a cycle of exploitation and violence, and his methods include stripping Martha of her identity, like calling her "Marcy May." Amid a seductive process of indoctrination, Martha starts to lose her grip on who she is.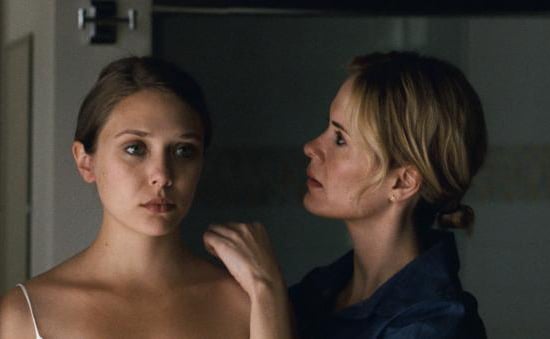 Eventually, Martha's survival skills kick in as she becomes aware that she's in a dangerous environment and she escapes one morning. Though she's unstable and delusional, she's able to contact her estranged sister Lucy (Sarah Paulson) who's staying at a Summer home nearby with her husband Ted (Hugh Dancy). Martha is so damaged that she's unable to articulate her ordeal, though we slowly get glimpses at what happened to her on the farm. From there, the movie concurrently shows the two paths of Martha's story: flashbacks of her life on the farm mixed with her recovery at her sister's house. The nonlinear structure confuses the viewer in the same way Martha is confused, and it makes for a unique, immersing movie experience. To find out why else I appreciated the film, just keep reading.
The fresh-faced Olsen gives a convincing portrayal of a woman who's been fractured by her experience, and it's terrifying to watch her loss of self. She's street smart, but Olsen gives her a vulnerability that makes her slide into the cult understandable. Adding to that is Hawkes, who is mesmerizing as a non-traditional villain. His calm manner and unassuming stature don't immediately inspire fear, but as Patrick works his way into Martha's mind, he becomes a terrifying figure. Watching his influence unfold on Martha is truly chilling; we hear Patrick making declarations, then Martha eerily repeating them later, perpetuating the cycle on others.
What's so disturbing is how organic her transformation is — Martha's not just a sympathetic character because her situation is terrible, but the way the movie is shot often puts you in her shoes. Many scenes begin without making it clear whether you're in a flashback or in present day and that disorientation makes you as paranoid as Martha throughout the film.
First time writer and director Sean Durkin deserves as much praise as his talented leads. The direction is meant to baffle you as an audience member, which only adds to the experience, and his script builds a tension that keeps you on the edge of your seat. Durkin makes Martha Marcy May Marlene scarier than other thrillers because Martha starts out as a healthy, seemingly even-keeled individual who falls victim to a situation that begins so innocuously. By the end of the film, you may still be unsure of what exactly happened, but you can be sure that the haunting psychodrama will stay with you.